As expected, the John Wick 4 box office is off to a franchise-best as the Thursday preview numbers are in, and I did see the movie last night and I'll offer my review and thoughts below.
John Wick 4 opened Thursday with $8.9 million, which beats out the $5.9 million Thursday preview by Chapter 3 in 2019 which went on to open to over $56 million.
It's now estimated Chapter 4 will have an opening weekend of $70 million or more, again the franchise's best.
Critics and fans are loving what they are seeing as the Rotten Tomatoes Score is also the best of the franchise at a current 96%, with the Audience Score at 97%.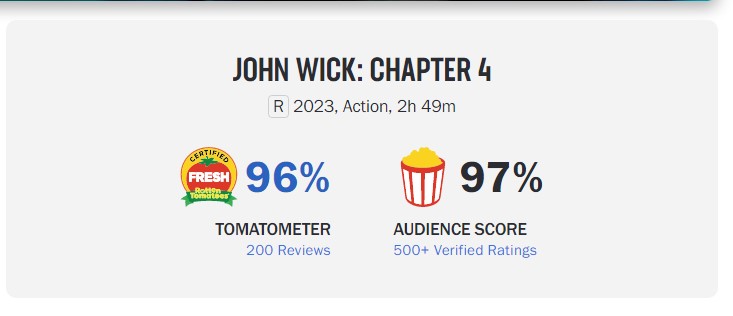 Chapter 3 has a Rotten Tomatoes Score of 89% and an audience score of 86%; Chapter 2 has a critics score of 89% and an audience score of 85%, and Chapter 1 has an 86% and 81% score, respectively.
Fans at IMDb give John Wick 4 an 8.6 rating, another best, with Chapters 1, 2, and 3 a 7.4 rating.
Lionsgate also has a cool promotion going where fans who signed up for John Wick text alerts receive info about ticket sales and a video was event sent featuring Keanu Reeves featuring a special message.
Note: Spoilers follow.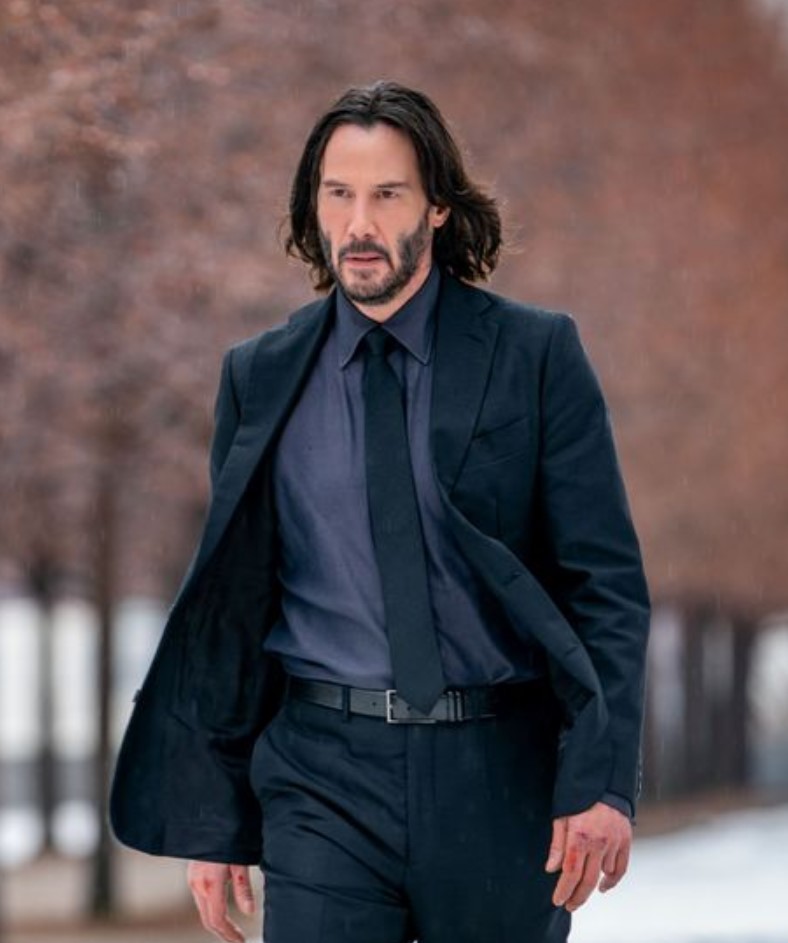 What did I think of John Wick 4?
I'll start off by stating if you like Chapters 2 and 3, you'll probably love Chapter 4 even more. Also, don't continue reading if you haven't seen the movie.
That said, I love the first John Wick and have watched it over and over. I'm from a martial arts background myself and appreciate the more grounded and realistic approach the first film takes compared to the rest of the movies in the franchise and the rest of Hollywood and even foreign films (I can't stand Chinese Kung Fu which is akin to dancing). I also like action flicks where the idea of a loner comes back with a vengeance. That plays out well in the first movie; however, not so much in Chapters 2, 3, and 4, as the franchise moves away from what the first film is about to something closer to The Matrix movies.
Basically what happened with the franchise is that the first movie was a low-budget success so the studio upped the budget and allowed them to go bigger. Well, bigger isn't always better, and big don't spell bad.
John Wick went from being an assassin to a super-assassin, something more like a superhero who seemingly even has superpowers as he is able to dodge bullets and recover from injuries that no one outside of Wolverine would be able to do.
Regarding Chapter 4, it's so over the top I thought it was directed by Michael Bay. The flick is really long with non-stop action that tries to one-up itself constantly that the audience I watched it with started to laugh at how outrageous things got as it comes off at times as really goofy.
What did it in for me was the ridiculous use of the bulletproof suits where all the characters walk and run around with their suits covering their face to deflect bullets (the Sumos looked absolutely ridiculous doing that). It was awful and hilarious at the same time. There are a couple of other scenes that also did the flick in for me, again which found the audience laughing at, which includes John falling from a building, the fight and shoot-out scenes in the Paris circle with all the cars driving by, and the stair fight scene at the end was laughable at best.
Speaking of laughs, the audience enjoyed and laughed at scenes involving Shamier Anderson and his dog, which was a throwback to the first movie with John Wick and his own dog, as instead of John killing the tracker who is trying to kill him, John saves the dog (I also laughed at that but I didn't find it funny).
I will say the score and cinematography are great (the birds-eye view of the shotgun battle is really cool but goes too long), and the story is decent enough which offers a fitting finale.
There's not much to say about Keanu Reeves in the flick as the acting is all one-dimensional, but that's a given and expected.
Donnie Yen's Caine in this is really good but the post-credit scene comes off as rather lame which comes off as having a post-credit scene just for the sake of having one (the three previous movies don't).
I did like the ending (Caine and Wick planned it and I think he's still alive), and while Bill Skarsgård's villain starts off really interesting and scary (I had no idea Skarsgård was 6'4″ as he looks huge and intimidating in this but I guess that explains Pennywise), he ends up coming off as just another generic and moronic bad guy. Yawn.
Also, hats off to Lance Reddick who recently passed away, and it was also shocking to see his character, Charon, killed off so fast at the start of the film.
Ana de Armas is next starring in the spinoff, Ballerina, and a prequel series is in development about Winston's character, so more from the Wick universe is on the way. I'll definitely be checking those out.