Sunday night saw Joaquin Phoenix take home the Best Actor award for Joker at the SAG Awards where he paid tribute to Heath Ledger.
Following having paid tribute to his fellow actors nominated in the "Outstanding Performance by a Male Actor in a Leading Role" category, Phoenix made mention of Ledger.
"Really I'm standing here on the shoulders of my favorite actor, Heath Ledger," Phoenix said in his acceptance speech. "So thank you and good night."
Of course, Heath Ledger played the Joker in Christopher Nolan's The Dark Knight movie, which saw Ledger, posthumously, win the Academy Award for Best Supporting Actor, as Ledger passed in January of 2008.
Joaquin Phoenix also paid tribute to the other nominees in the category which included Leonardo DiCaprio for Once Upon a Time in Hollywood; Christian Bale, who played Batman opposite Heath Ledger in The Dark Knight, for Ford v Ferrari; as well as Star Wars actor Adam Driver for the Neflix movie also starring Scarlett Johansson with Marriage Story, and Taron Egerton for Rocketman.
You can watch the full speech below; head on over here for the complete winners list for the 2020 SAG Awards.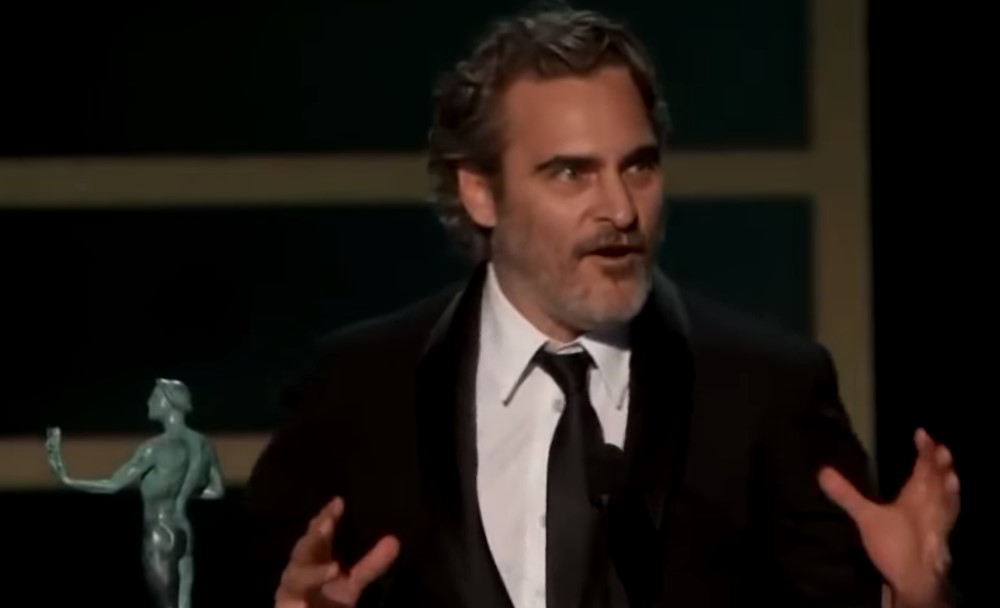 Joaquin Phoenix pays tribute to Leonardo DiCaprio:
"When I started acting again, going to auditions I would always get to the final call back, and I think many people know what that's like, and there would always be two other guys that I was up against, and we'd always lose to this one kid," explained Phoenix. No actor would ever say his name because it was like 'too much,' but every casting director would whisper, 'It's Leonardo. It's Leonardo. Who is this Leonardo?'
Phoenix continued: "Leonardo, you have been an inspiration for over twenty-five years to me and so many people. I thank you very, very, very much."
Joaquin Phoenix pays tribute to Christian Bale:
"Christian, I don't know where you are… Christian, you commit to your roles in ways that I can only dream of. You never turn in a bad performance. It's infuriating. I wish you would. One time, just suck once. It would be great okay," jokes Phoenix.
Joaquin Phoenix pays tribute to Adam Driver:
"Adam, I've been watching you the last few years and you've just been turning in these beautiful nuances incredible profound performances, and I'm just so moved by you and you were just devasting in this film and should be here," Phoenix said.
Joaquin Phoenix pays tribute to Taron Egerton:
"Taron, where are you? I'm so happy for you wherever you are… Hey, hey man [laughter]. You're so beautiful in this movie, and I'm so happy for you, and I can't wait to see what else you do, Phoenix said.
Joaquin Phoenix acceptance speech at 2020 Sag Awards for Joker: