Joining a bunch of other J.J. Abrams projects, now it is said that the Justice League Dark series has been canceled at Warner Bros. Discovery.
The news comes with the announcement that HBO Max has greenlit Abrams' Duster series which has been in development since around 2020 (full details below).
In THR's report about HBO Max moving forward with Duster, it is noted (bold my own emphasis):
In April 2020, Duster was one of three Bad Robot projects announced for the yet-to-launch HBO Max, along with The Shining offshoot Overlook and a Justice League Dark project. The latter two have since been scrapped (Bad Robot has shopped Overlook to other possible buyers), as has Abrams' long-developing sci-fi series Demimonde (which was for the HBO parent channel) after concerns over its projected $200 million-plus budget.
Justice League Dark getting scrapped isn't surprising as in addition to a number of J.J. Abrams projects getting canceled, James Gunn and Peter Safran are now in charge of DC Studios which includes DC TV.
Just yesterday also saw the announcement that Keanu Reeves will be back for Constantine 2, where in the comics and the animated movies, John Constantine happens to be a member of the Justice League Dark, so it makes sense the TV series isn't happening.
DC TV series that Gunn has in the works include the Creature Commandos animated series, the Viola Davis Waller series, Lanterns, Booster Gold, and the Themyscira Wonder Woman Paradise Lost series.
J.J. Abrams now only has the Black Superman movie in the works at DC which is said to be still happening, and if it does, will be a part of the DC Elseworlds slate as the Black Superman movie won't be a part of the James Gunn DCU.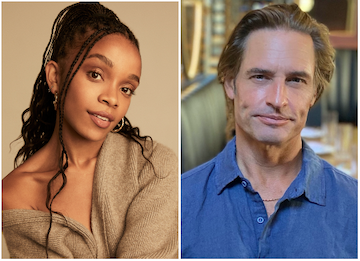 What is J.J. Abrams' Duster about?
Regarding J.J. Abrams' Duster, HBO Max announced it has given a series order to Duster from Abrams and LaToya Morgan (Shameless, Parenthood, Complications, TURN: Washington Spies, Into the Badlands, The Walking Dead).
Starring in the series is Rachel Hilson as the first Black female FBI agent who in 1972 heads to the Southwest and recruits a gutsy getaway driver (Josh Holloway) in a bold effort to take down a growing crime syndicate.
"We are delighted to bring this high-voltage crime caper from the brilliant minds of J.J. Abrams and LaToya Morgan to the HBO Max audience. This show has all the elements of a great Max Original, with propulsive storytelling, fantastic characters, and some truly bad-ass car chases," said Sarah Aubrey, Head of Original Content, HBO Max.
Abrams said, "LaToya and I are thrilled at the chance to bring the wild, wily and wacky world of Duster to life, especially with this exceptional cast, crew and network.."
LaToya Morgan said, "Duster is an amalgam of all my favorite things – high octane storytelling with deep characters and so much heart. It's a dream project and I'm supremely grateful to all the folks at Warner Bros. and HBO Max for believing in this show. And I couldn't have asked for a better partner in crime than J.J. to build this incredible world."
The cast includes Keith David as Ezra, Sydney Elisabeth as Genesis, Greg Grunberg as Abbott, Camille Guaty as Izzy, Rachel Hilson as Nina, Josh Holloway as Jim, Asivak Koostachin as Awan, Adriana Aluna Martinez as Luna, Benjamin Charles Watson as Royce.
Produced by Warner Bros. Television; first two episodes are written by J.J. Abrams and LaToya Morgan; first two episodes directed by and executive produced by Steph Green; series is executive produced by J.J. Abrams and Rachel Rusch Rich for Bad Robot through its content partnership with Warner Bros. Discovery and WBTV; executive produced by LaToya Morgan for TinkerToy Productions via its overall deal with WBTV.