Just like my insiders told me, it's learned that James Gunn has talked with Zack Snyder and that Netflix is not interested in any of Snyder's Justice League.
The Snyder Cultists haven't been happy since James Gunn and Peter Safran were named as the co-heads of the DCU.
One of the first things Gunn did was to announce a new Superman movie and that Henry Cavill won't be back as the Man of Steel.
So since Zack Snyder is now at Netflix developing his Rebel Moon universe, fans came up with the bright idea to have Warner Bros. Discovery sell the Zack Snyder DCEU and Justice League to Netflix.
Thursday saw James Gunn tweet an image of Swamp Thing, as a Swamp Thing movie is also in development (possibly directed by James Mangold), which saw a fan respond with a hashtag to sell the Snyder Verse to Netflix.
Well, Gunn got wind of the tweet as he often does and responded.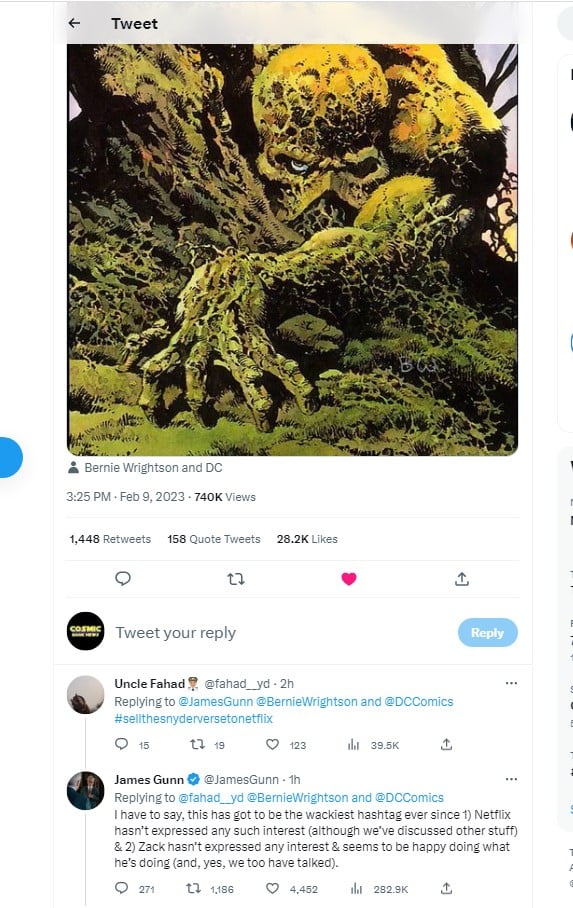 James Gunn tweets about Zack Snyder and Netflix
"I have to say, this has got to be the wackiest hashtag ever since 1) Netflix hasn't expressed any such interest (although we've discussed other stuff) & 2) Zack hasn't expressed any interest & seems to be happy doing what he's doing (and, yes, we too have talked)," said Gunn.
Regarding what James Gunn and Zack Snyder talked about, Gunn said, "He contacted me to express his support about my choices. He's a great guy. Again, he seems really happy with the massive world building he's doing now."
Back when I was at Comic-Con, DC insiders filled me in not to count Zack Snyder out just yet, but as of now, it seems there are no plans for Zack Snyder to be a part of the new DCU.
Gunn also fielded questions relating to his favorite Swamp Thing run ("Moore"), responded to a fan asking if the Elseworlds movie universe will connect to the DCU ("There's a multiverse that's connectable in places, if that's your question"), and responded "Yea both in and out," to question if he is going feature animated movies set in (or out) the DCU like Spider-Verse or Super Pets?
James Gunn is writing the new Man of Steel movie, Superman: Legacy, that gets released July 11, 2025, and which he is also expected to direct; the flick features a younger version of the character that will kick off the new DCU.