You knew it was only a matter of time before James Gunn had one of his epic meltdowns on Twitter as following the Superman casting leaks, the co-head of the DCU loses it completely on his followers who continue to barrage him for info.
Various trade sites and scoopers have been reporting actors that are up for roles in Superman: Legacy including Henry Cavill look alike David Corenswet up for the role of the titular character, Nicholas Hoult up for the role of Superman and/or possibly Lex Luthor, along with a variety of actresses up to play Lois Lane including Emma Mackey, Rachel Brosnahan, and Samara Weaving.
Following those initial rumors, James Gunn kept a semi-cool head and tweeted he wouldn't comment on actors auditioning for roles.
"For all of you asking, I would never comment on who is or isn't AUDITIONING for a role. That's the actor's business only & isn't something I'd make public unless they did it first after the fact (like @GlennHowerton or @ZacharyLevi having auditioned for Star-Lord & being top choices). For now, only one person has been CAST in Superman: Legacy, and it isn't any of the regular players in the Superman world," tweeted Gunn.
It wasn't until Jeff Sneider and John Rocha on The Hot Mic YouTube show revealed additional actors that caused Gunn to really lose it.
Sneider said Bradley Cooper was being looked at for the role of Lex Luthor and even name-dropped Cobra Kai's Mary Mouser as a potential for Lois Lane.
Update: It's claimed Brainiac is confirmed as the villain.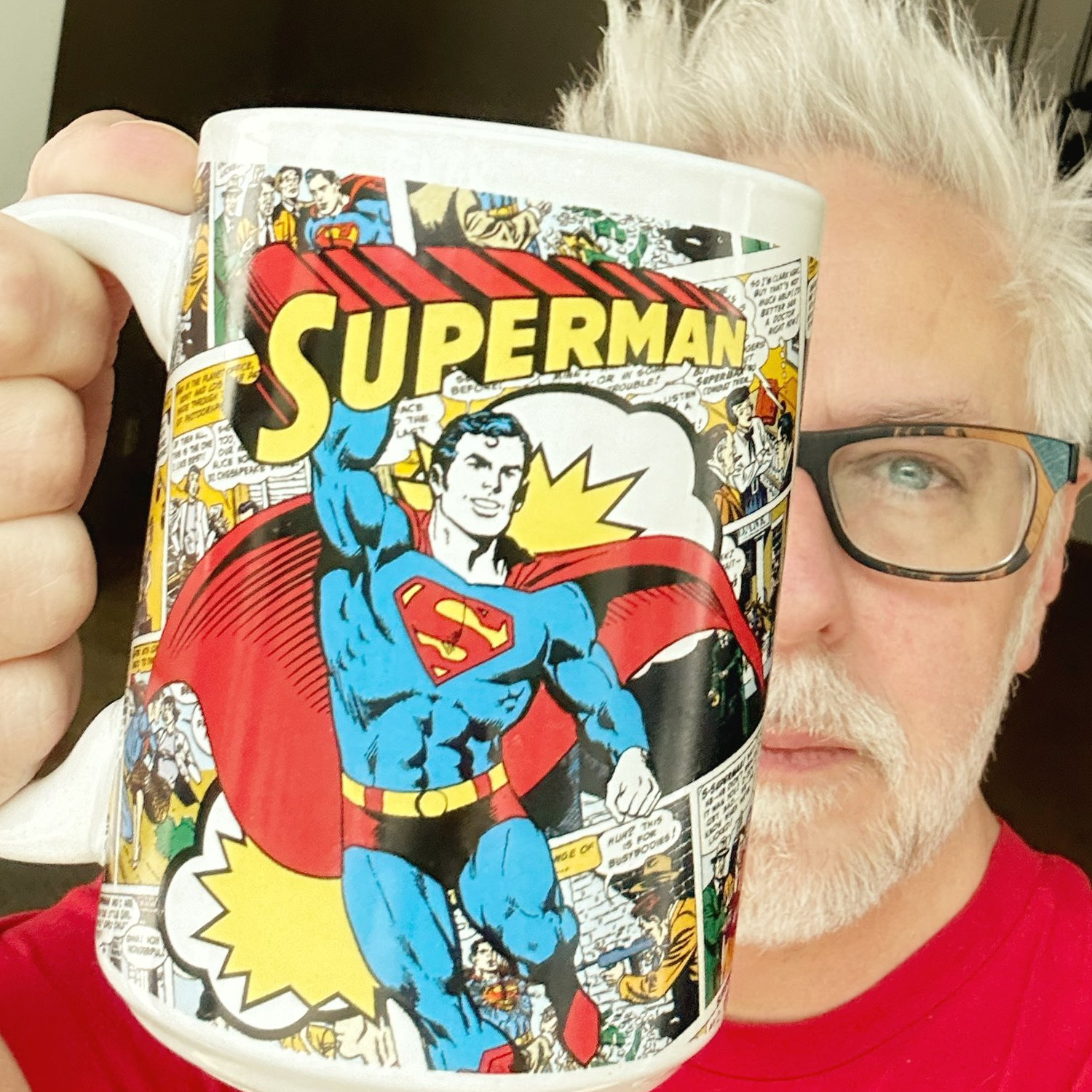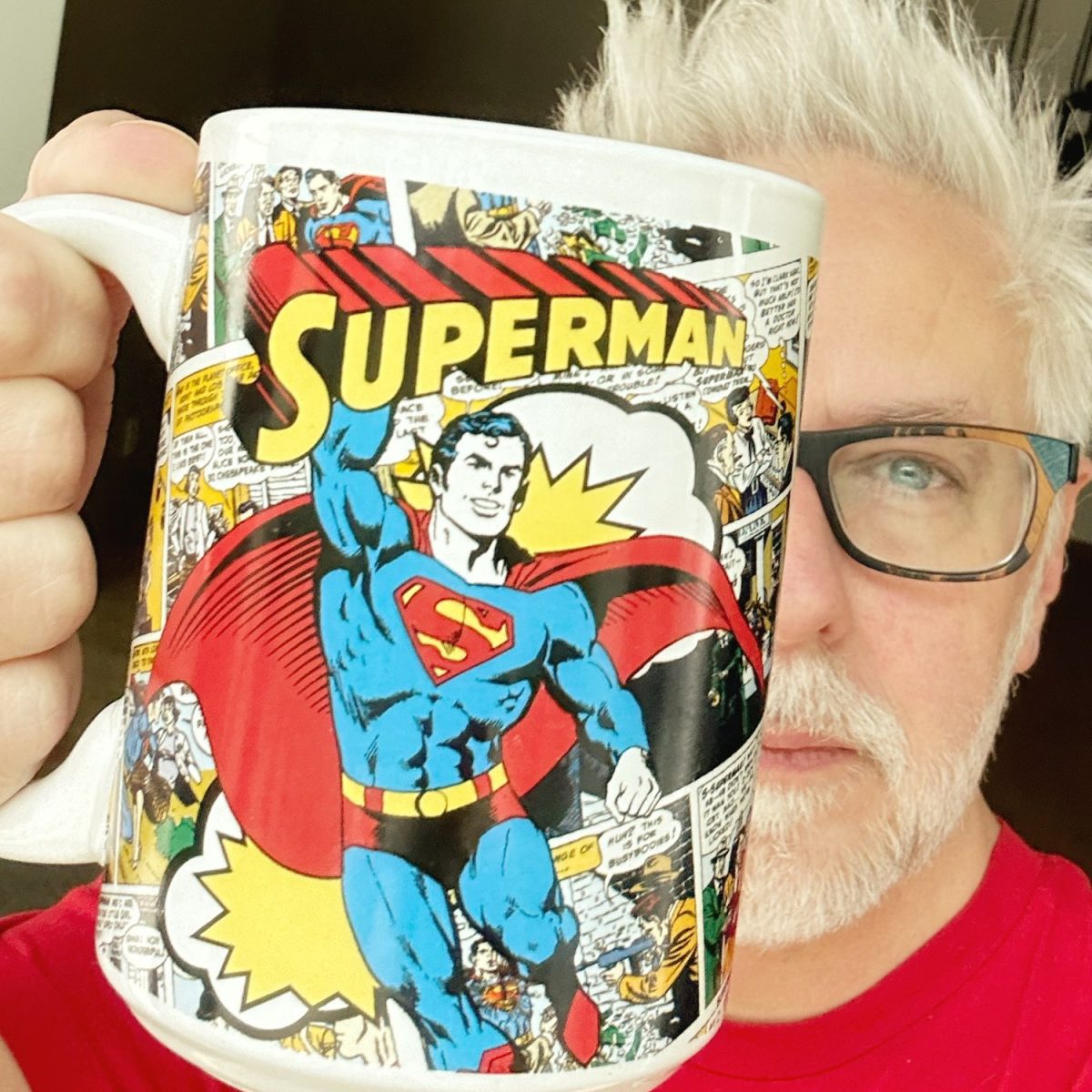 James Gunn says Superman: Legacy rumors are BS
Well, since James Gunn set himself up nicely by responding to all the rumors – like from people with no Twitter followers – when asked about all the latest rumors, Gunn loses it completely.
"I'm getting barraged with bullshit DC rumors this morning. I'll just reiterate the general rule not to believe anything unless it comes from me or Peter," tweeted Gunn.
Worth a mention is that you'll never see Kevin Feige tweet at the Marvel fans using such foul language, but of course, this is James Gunn we are talking about who got himself into trouble and fired by Disney over tweets with worse language. Gunn now says he is going to slow down on shooting down rumors (which suggests the latest ones are probably legit, and I am also guessing Gunn and his team were putting out fake rumors to mislead fans).
"But, unless it's especially egregious, I'm going to slow down on calling shit out. (Sorry, I know, it's one of my favorite traditions)," Gunn tweeted. "There are three reasons for this: 1) Some people are making up lies to get attention from me or to get clicks & I don't want to encourage that. 2) I've read a hundred rumors this morning. ONE of them is half-true. So I don't want to be used as a way for people to throw nonsense at the wall until something sticks. 3) I'm storyboarding Superman Legacy and don't have time! Have a great day!"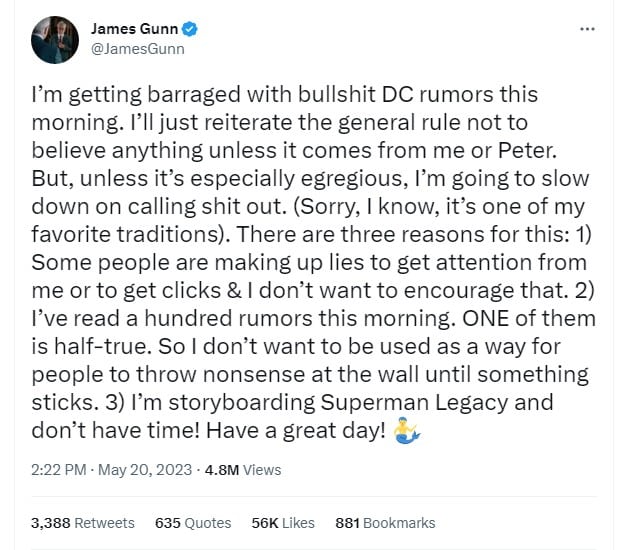 It should probably be pointed out that in no way is Gunn going to be able to keep a cap on all the leaks surrounding Superman: Legacy as this is Warner Bros. we are talking about who are renowned for putting out leaks. And it's just not Warner Bros., it's the actors, it's their managers, it's the business, etc.
Superman: Legacy flies into theaters on July 11, 2025. Happy birthday to me.
The film is described as telling the story of Superman's journey to reconcile his Kryptonian heritage with his human upbringing as Clark Kent of Smallville, Kansas. He is the embodiment of truth, justice, and the American way, guided by human kindness in a world that sees kindness as old-fashioned.