Following having started filming on Friday, James Gunn takes to social media to post an image of himself with some members of the cast of The Suicide Squad.
"Hanging out with part of #TheSuicideSquad team this weekend. What a great group of people!" Gunn posted on Instagram.
A fan also asked where Peter Capaldi is which saw Gunn reply, "In Scotland. Guys, obviously not every single cast member is in the photo."
Another fan remarked that these are all the people that are going to die, which saw Gunn shoot back, "Sadly, all of the rest of us are going to die as well."
A fan also remarked that next year Gunn will be hanging out with the cast of Guardians of the Galaxy 3, which saw Gunn say, "I still hang out with them now."
From left to right, the photo features German comedian-actor Flula Borg, Daniela Melchior, David Dastmalchian, James Gunn, his girlfriend Jennifer Holland, Nathan Fillion, his brother Sean Gunn (who interestingly enough has gone bald just like Peter Capaldi), and Mayling NG.
Mayling NG actually played the Amazon, Orana, in Wonder Woman, though it is considered uncredited, so I wonder who she is playing?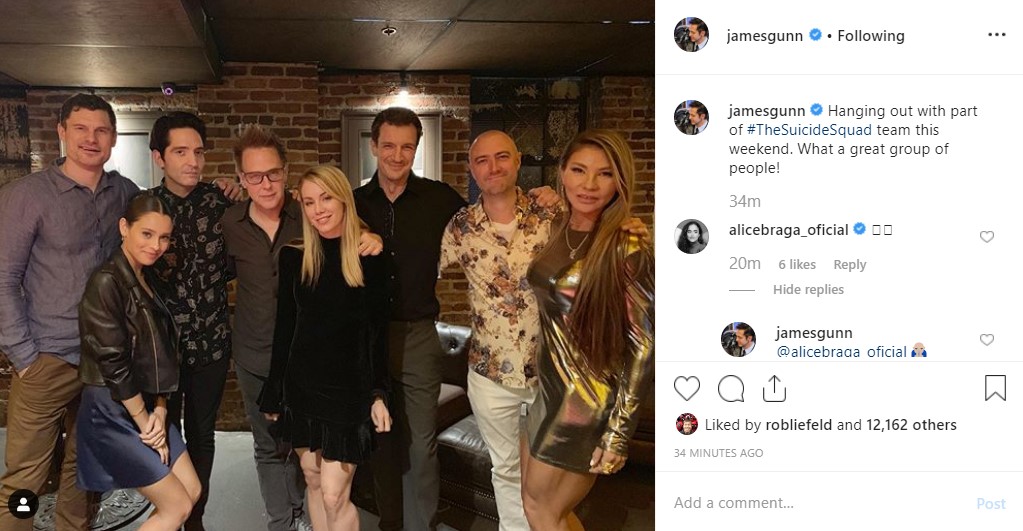 James Gunn now filming Suicide Squad
It's unknown who the actors are playing, as Gunn previously said the rumored list of characters wasn't exactly true, but what has previously been said is that making up the cast of The Suicide Squad includes:
Margot Robbie (Harley Quinn), Viola Davis (Amanda Waller), Jai Courtney (Captain Boomerang), and Joel Kinnaman (Rick Flag).
Steve Agee is said to play King Shark, David Dastmalchian as Polka-Dot Man, and Daniela Melchior has been said to be playing Ratcatcher, with John Cena thought to be playing the role originally meant for Dave Bautista with Peacemaker.
Also in the flick includes German comedian-actor Flula Borg, Nathan Fillion, Taika Waititi, Peter Capaldi, Pete Davidson, Sean Gunn, Michael Rooker, Jennifer Holland, Joaquin Cosio, Mayling NG, Juan Diego Bottom, Storm Reid, Alice Braga, Tinashe Kajese, and Julio Ruiz.
The Suicide Squad gets released on August 6, 2021.