Responding to fans on Instagram, The Suicide Squad director James Gunn confirms there are no rules against DC and Marvel using the same actors.
James Gunn posted an image of Michael Rooker and Pom Klementieff, which saw fans argue over the question if there is some sort of rule that prevents actors from working with the competition.
"Disney does not have that rule. That's how Sean Gunn, Dave Dastmalchian, and Taika Waititi are all in the film," Gunn replied.
Gunn also added that "no one said Pom was" in The Suicide Squad.
A fan also remarked that Thor actor Chris Hemsworth said something about there being a rule, but Gunn shot back that Hemsworth was probably just kidding.
"No, they don't. He was joking when he said that," Gunn said.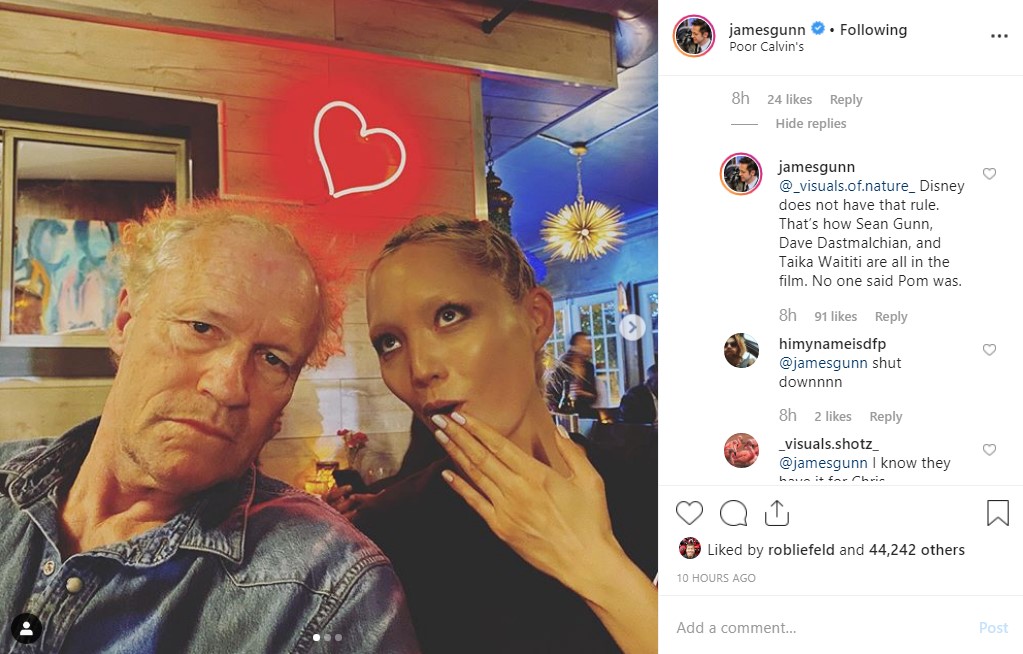 No DC / Marvel rules says James Gunn
The same question actually come up in my article about how Dwayne Johnson could be coming to the MCU (he's rumored for Namor). I said I believed it is actually against the law in California to have a non-compete clause in an actor's contract. Regardless, we see now that Gunn does confirm there is nothing at DC or Marvel preventing actors from appearing in each of the franchises.
The first set pics from The Suicide Squad have also hit the net revealing a first look at costumes and characters.
The Suicide Squad gets released on August 6, 2021 starring Margot Robbie (Harley Quinn), Viola Davis (Amanda Waller), Jai Courtney (Captain Boomerang), Joel Kinnaman (Rick Flag), with Steve Agee, said to be playing King Shark, David Dastmalchian as Polka-Dot Man, Daniela Melchior as Ratcatcher, with John Cena thought to be playing the role originally meant for Dave Bautista with Peacemaker, German comedian-actor Flula Borg is in the flick, Nathan Fillion, Taika Waititi, Peter Capaldi, Pete Davidson, Sean Gunn, Michael Rooker, Jennifer Holland, Joaquin Cosio, Mayling NG, Juan Diego Bottom, Storm Reid, Alice Braga, Tinashe Kajese, and Julio Ruiz.