It's learned that He-Man is now black in the Kevin Smith Masters of The Universe: Revelation series coming to Netflix where it has also become known they passed on using an original black character.
Before we continue, it should actually be noted all the ideas for the Masters of the Universe: Revelation series are coming from Netflix exec Ted Biaselli, as Smith was simply hired to develop and promote the series (Kevin Smith isn't even a He-Man fan).
So apparently Ted Biaselli's big idea for He-Man is to make the character as woke as possible, as it already appears Teela will become the new He-Man based on the trailers and official series descriptions.
But Ted Biaselli didn't stop there as He-Man's grandfather has been race-swapped, changed from a white dude to a black dude.
Recall how I have said Hollywood would never allow He-Man – a blond white male – to be made out to look good in the series, and now we see the character is changed to have black ancestors and get replaced by the woke Teela.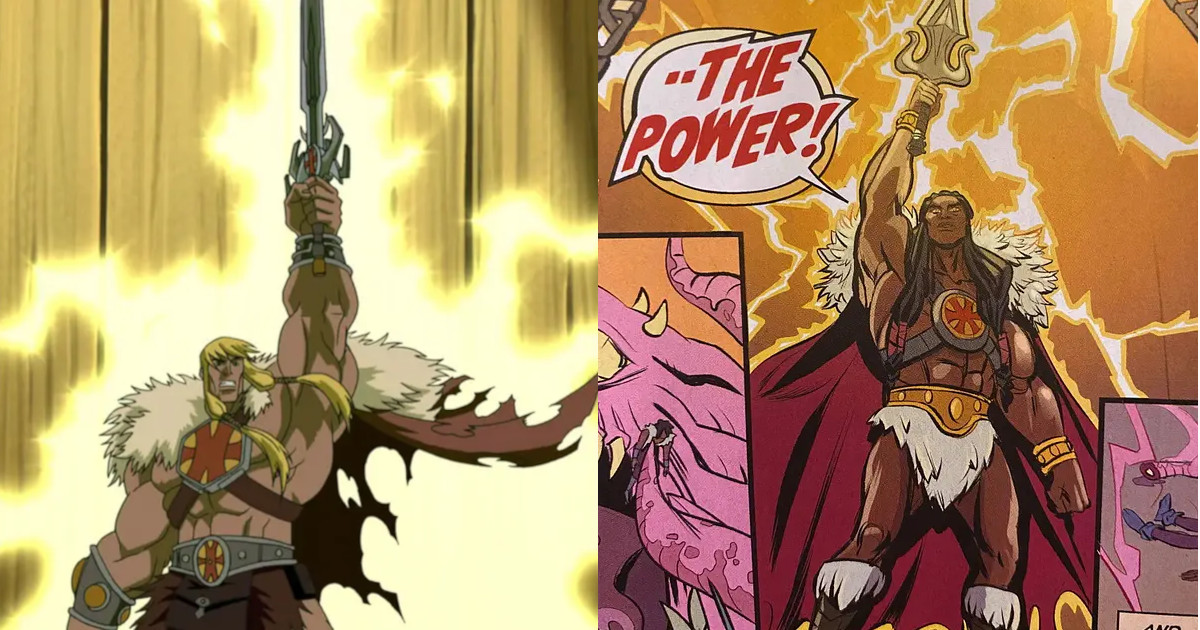 2002 He-Man and the Masters of the Universe / Masters Of The Universe: Revelation tie-in comic book
King Grayskull race swapped to a black dude
A couple of days ago, spoiler pages from the official Masters Of The Universe: Revelation tie-in comic book from Dark Horse leaked online revealing that He-Man's grandfather is now black.
As Bleeding Cool has pointed out, the 2002 version of He-Man and the Masters of the Universe cartoon showed He-Man's grandfather to be King D'Vann Grayskull, a blond white dude, but the Masters Of The Universe: Revelation tie-in comic book shows He-Man's grandfather to be black (pictured above), with it known the character will be voiced by African American actor Dennis Haysbert in the Netflix animated series.
The spoiler made its way onto a He-Man and She-Ra fan Facebook group where a fan remarked about preferring they make new black characters instead of race swapping original white characters, where Ted Biaselli defended his choice to make He-Man black and said no one gives a "shit" about an original black character:
I hear you. And that will indeed be a party of our story too. But a big hurdle when you're introducing a new character to a line of so many well established characters is that they are bound to be outsiders, and harder to accept as cannon, at least for a while. Nobody gives a shit about Sir Lazer Lot.

We asked ourselves early on about the need for two giant white blond dudes in the pantheon of MOTU. And honestly, it makes both characters less special in their iconography. I wish I could take credit for being the one with the idea to make Grayskull black. Because now, in the history of all the champions of Grayskull a black man has a role of prominence. As opposed to just being the guy with the clamp who's king Randors body guard.
Ted Biaselli also addressed race-swapping Lieutenant Andra:
Same thing with Andra. She was initially created as a new character… it was my idea to dig into the lore and raise up a character who had a small appearance but a strong following. People have been wanting to see Teela and Andra fight side by side for a while. As opposed to creating a new character that could easily be rejected. Honestly, do we really need two badass redheads? MOTU had no women of color, and we saw an opportunity and took it. Why not give little black girls a hero that looks like them.
Worth a mention is that the Sir Lazer Lot character Ted Biaselli is referring to is an original black character created by Geoff Johns that Johns came up with when he was 8 years old, which saw Mattel develop years later as officially a part of MOTU.
Clamp Champ is also an original black character in the MOTU and was the only black character to get a toy as a part of the original line in the '80s.
So Ted Biaselli is stating instead of developing a black character they already have, that he doesn't give a "shit" about, he would rather race swap the entire lineage of He-Man and replace other characters?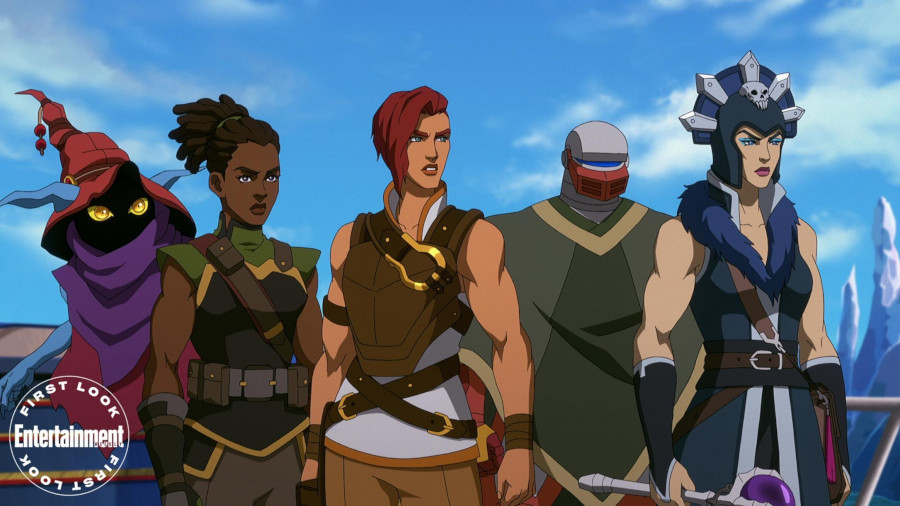 Orko (Griffin Newman), Andra (Tiffany Smith), Teela (Sarah Michelle Gellar), Roboto (Justin Long), and Evil-Lyn (Lena Headey)
(via That Star Wars Girl YouTube)