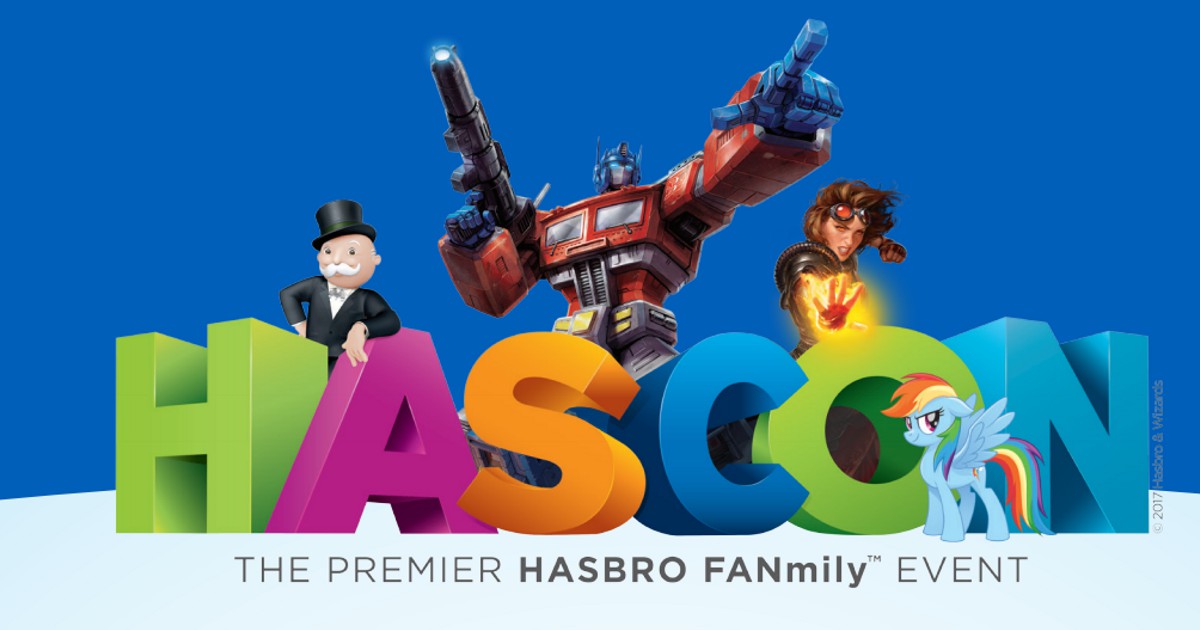 Hasbro released the full programming schedule for its first-ever FANmily event, HASCON, presenting a wide variety of entertainment programming, including over 45 individual panels, VIP and add-on events, meet and greets with top HASCON talent and much more.
In addition, Hasbro is proud to announce some fantastic new talent, including New England Patriot players Danny Amendola and online filmmaker Zach King, joining the already star-studded lineup of Mark Wahlberg, Maddie Ziegler, Isabela Moner, Flo Rida, Daya, Lorenzo di Boneventura and more. We also have an infographic on the fun happenings of HASCON, which you can find below:
HASBRO UNVEILS FULL ENTERTAINMENT PROGRAM FOR FIRST-EVER HASCON
Newly added special guests including NEW ENGLAND PATRIOT Danny Amendola and Online Filmmaker Zach King, join previously announced guests Mark Wahlberg, Isabela Moner, James Gunn, Stan Lee and more
Pawtucket, R.I. – September 1, 2017 – With one more week until HASCON – the first-ever FANmily™ event from Hasbro, Inc (NASDAQ: HAS) created for fans to enjoy their favorite stories and characters they love in a whole new way – the company is excited to share with fans the full programming schedule for all of Hasbro's major brands and talent in attendance
Attendees will get the chance to celebrate their iconic brands with an abundance of entertainment programming. These include behind-the-scenes panels with their brands, larger-than-life games to play, meet-and-greets with HASCON's talented guests and unforgettable brand experiences. Fans of Hasbro's iconic franchises, including TRANSFORMERS, MY LITTLE PONY, G.I. JOE, NERF, MAGIC: THE GATHERING, DUNGEONS & DRAGONS and premier partner brands such as MARVEL, STAR WARS and DISNEY PRINCESS will have many ways to experience the joy and power of play during the three-day event.
Fans will have a chance to meet and snap a pic with Zach King, the online filmmaker whose magical and inventive videos have entertained millions of fans across the globe. Joining Zach on stage will also be Internet Personality Action Movie Kid, Actor/Filmmaker and Impressionist Jamie Costa and Internet Make-Up Sensation Charisma Star.
HASCON activity highlights include:
· Newly added talent including New England Patriot player Danny Amendola and online filmmaker Zach King
· Over 45 individual panels that highlight the breadth of Hasbro's popular brands, from comic books and toys to television, film and games – with select panels featuring notable guests such as Mark Wahlberg, Stan Lee, Isabela Moner, Candace Payne and James Gunn among others
· VIP and add-on events for attendees interested in a more intimate and engaging fan experience with TRANSFORMERS, MY LITTLE PONY, G.I. JOE, MAGIC: THE GATHERING, and top talent such as Mark Wahlberg, and Dude Perfect.
· Musical performances from award-winning musicians, including Flo Rida, Daya, and Hasbro's own Toys 2 Men
· Check out the latest VR, game tech and sneak peeks of digital games for some of Hasbro's biggest brands, including TRANSFORMERS, MONOPOLY and MY LITTLE PONY at the HASCON HASCADE
· Over 20 individual meet and greet / autograph sessions with HASCON talent, including Daya, Dude Perfect, the voices of My Little Pony: Friendship is Magic, Flo Rida, James Gunn, Peter Cullen, Frank Welker, Maddie Ziegler David Ortiz, James White and more
· The IDW Publishing Artist Alley that features appearance from industry-recognized comic illustrators, artists and designers.
· Opportunities for youth fans (Ages 3-15) to audition for the opportunity to be in a real Hasbro video.
· Activities for Hasbro's youngest fans including PLAY-DOH creation stations, photo opps with costume characters and an interactive sing-along with Sesame Street's beloved Muppets Elmo and Abby Cadabby.
· Access to merchandise for purchase (including exclusives) at HASCON's on-site Hasbro FANmily™ Boutique from TRANSFORMERS, MY LITTLE PONY, MAGIC: THE GATHERING, MARVEL, STAR WARS and more.
HASCON will bring Hasbro's most iconic and imaginative brands to life like never before, including TRANSFORMERS, MY LITTLE PONY, NERF, MAGIC: THE GATHERING, PLAY-DOH, MONOPOLY and G.I. JOE and exceptional partner brands such as BEYBLADE BURST, DREAMWORKS TROLLS and SESAME STREET. Fans will get a sneak peek behind the Hasbro curtain during the three days filled with exciting first-look previews and panels from Hasbro's biggest television and movie series, including Hasbro's TRANSFORMERS: RESCUE BOTS, LITTLEST PET SHOP and MY LITTLE PONY: FRIENDSHIP IS MAGIC as seen on Hasbro's joint-venture television network Discovery Family.
To view the full list of HASCON panels, guests and an overall schedule, visit https://hascon.hasbro.com/schedule.
HASCON is set in Providence at the Rhode Island Convention Center and Dunkin' Donuts Center from Sept. 8-10, 2017. To purchase General Admission and VIP tickets, view complete package details and stay up to date on all the latest information on HASCON 2017, please visit http://hascon.hasbro.com.
The inaugural HASCON FANmily™ event is presented in part by IDW Publishing, Ultra PRO, Discovery Family and Norwegian Airlines.
STAR WARS and related properties are trademarks and/or copyrights, in the United States and other countries, of Lucasfilm Ltd. and/or its affiliates. © & TM Lucasfilm Ltd.
© Hiro Morita, BBBProject, TV TOKYO. © 2017 Sesame Workshop. All Rights Reserved.