The first batch of Guardians of the Galaxy 3 reactions are in as Disney and Marvel premiered the movie in France where they offer the flick is out of this world.
It should be said the early reactions for every movie are all overwhelmingly positive as they were for duds such as Thor: Love and Thunder, Ant-Man and the Wasp: Quantumania, and Shazam: Fury of the Gods, so bear that in mind.
However, even I can admit the first two Guardians of the Galaxy movies are entertaining and the characters have connections to Marvel's past Phases when things were good, and Chris Pratt is coming off the soon to be billion dollar Super Mario movie, so I'm guessing Guardians of the Galaxy 3 will do pretty well, even though it's out there that it could be another MCU flop.
It will be interesting to see how well Guardians of the Galaxy 3 does at the box office as James Gunn has jumped ship and is now in charge of DC. What happens if Guardians is a massive bomb? I think that would spell disaster for Gunn's new DCU.
As I've said before, I could see Ant-Man and the Wasp: Quantumania hurting Guardians of the Galaxy 3 big time as audiences didn't turn out for the flick, and based on the footage from the trailers and such, Guardians of the Galaxy 3 looks a lot like Quantumania. We'll see.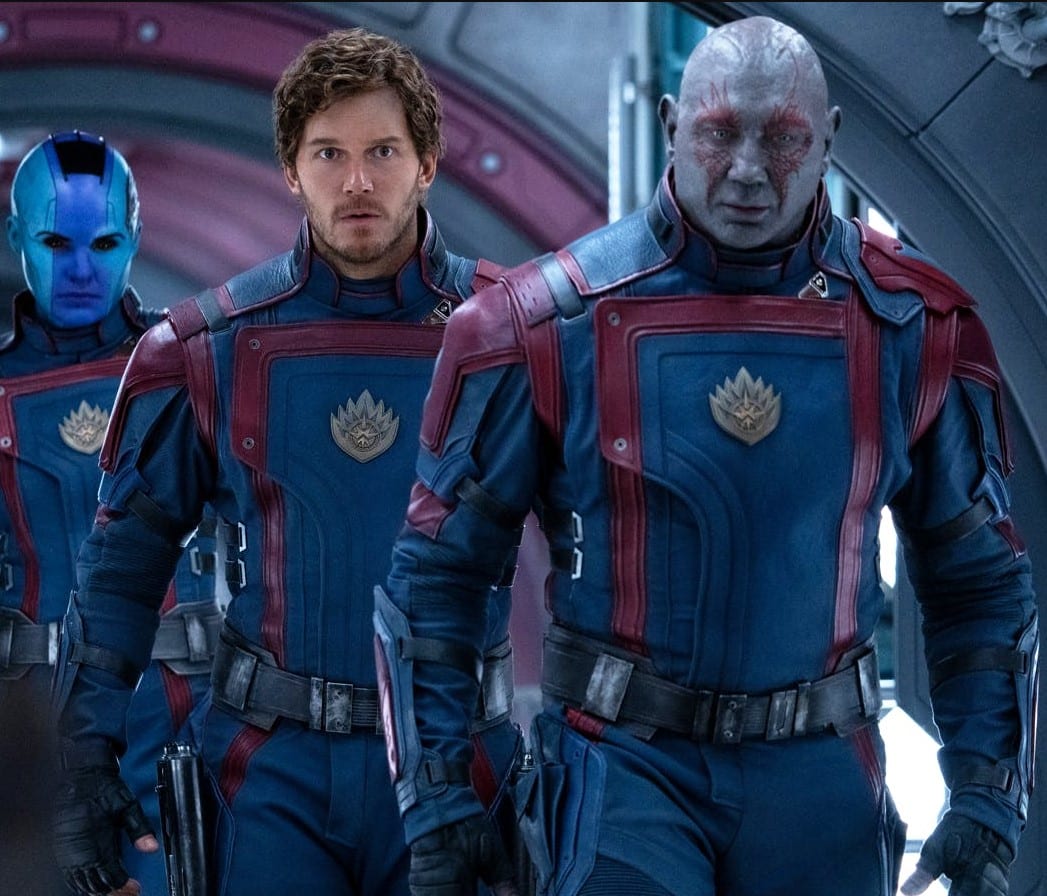 What do the Guardians of the Galaxy 3 reactions say?
So what do the reactions say?
Well, one goes so far as to say it's the best movie since The Avengers: Endgame, which if you think about it, isn't saying much. Aside from Spider-Man: Far From Home from Sony, the MCU post-Avengers: Endgame hasn't been all that good.
"It has spectacular action set pieces, is fun, entertaining and emotional. It is a perfect and beautiful closure for its characters and the saga. And it's the best Marvel movie since Endgame (and Top 3 in general)," states a tweet (translated).
Another tweet offers that the flick is a tear-jerker and that it's the saddest and darkest MCU film.
"Despite the humor Guardians Of the TheGalaxy Vol 3 is probably the saddest & darkest MCU film & a wonderfully rounded conclusion to Gunn's trilogy, where everyone in the fight against a mean (but rather shallow) villain gets their big moment again. Have tissues ready!" says another.
Another adds it's also darker with mention of terror.
"I went with a preconceived idea to Guardians Of the TheGalaxy 3 and James Gunn has managed to surprise me for good. It is darker and has even touches of terror, but it is still very funny and with a lot of personality. Rocket and Nebula excel in a very dignified send-off," adds a tweet.
Another reaction compares the flick to Star Wars as a "stoner comedy" with "loveable weirdos" and has "goofy jokes."
"Guardians Of the TheGalaxy Vol 3 is, more than ever, Star Wars as a stoner comedy. Lovable weirdos, big Marvel action and goofy jokes. But nothing can prepare you for all the emotions. Rocket Raccoon's origin story is beautiful and heart-wrenching," says the tweet.
Another adds, "Can confirm that I shed a tear during Guardians Of the TheGalaxy Vol 3. And that I would very happily watch an Adam Warlock solo movie. Full review (and interviews with the cast) coming very soon."
As the movie features the last iteration of the team and Gunn is leaving for DC, another reaction says the Guardians will be missed.
"Guardians of the Galaxy Vol 3 is a brilliant end to a brilliant trilogy. It's very funny, emotional and everybody gets their stand-out moment. Will Poulter's Warlock is a terrific addition, yet the focus is rightly on telling a satisfying end for the Guardians. Gonna miss them," says the Twitter user.
The movie opens May 5.
#GuardianesDeLaGalaxia3
tiene set pieces de acción espectaculares, es divertida, entretenida y emotiva. Es un cierre perfecto y precioso para sus personajes y la saga. Y es la mejor película de Marvel desde Endgame (y Top3 en general) 💜 pic.twitter.com/XI21QgKpqR

— Valentina Morillo (@thursnext) April 22, 2023
#GuardiansOfTheGalaxyVol3 ist trotz des Humors der wohl traurigste & düsterste MCU-Film & ein wundervoll-runder Abschluss von Gunns Trilogie, wo jeder im Kampf gg. einen hundsgemeinen (aber eher flachen) Bösewicht noch mal seinen großen Moment bekommt. Taschentücher bereithalten! pic.twitter.com/EnPS5qXmWe

— Markus Trutt (@Thr3eHeadedMonk) April 22, 2023
Iba con una idea preconcebida a #GuardianesDeLaGalaxia3 y James Gunn ha conseguido sorprenderme para bien. Es más oscura y tiene hasta toquecillos de terror, pero sigue siendo muy divertida y con mucha personalidad. Rocket y Nebula sobresalen en una despedida muy digna. pic.twitter.com/PpdyqAoWdb

— Jesús Agudo (@jesuagumar) April 22, 2023
#GuardiansOfTheGalaxyVol3 is, more than ever, Star Wars as a stoner comedy. Lovable weirdos, big Marvel action and goofy jokes. But nothing can prepare you for all the emotions. Rocket Raccoon's origin story is beautiful and heart-wrenching.

— Alexander Kardelo (@dunerfors) April 22, 2023
Can confirm that I shed a tear during #GuardiansOfTheGalaxyVol3 . And that I would very happily watch an Adam Warlock solo movie. Full review (and interviews with the cast) coming very soon. pic.twitter.com/JqzoybOHQx

— Rory Cashin (@roarEcashin) April 22, 2023
Guardians of the Galaxy Vol 3 is a brilliant end to a brilliant trilogy. It's very funny, emotional and everybody gets their stand-out moment. Will Poulter's Warlock is a terrific addition, yet the focus is rightly on telling a satisfying end for the Guardians. Gonna miss them. pic.twitter.com/ot6L67Q9Cf

— Ian Sandwell (@ian_sandwell) April 22, 2023