A new kaiju stands revealed in the prequel comic book from Legendary for Godzilla: King of The Monsters. While its identity is currently unknown, it does look very similar to the MUTO monsters from the first movie, so perhaps it is related or even evolved.
Godzilla: Aftershock is the name of the upcoming graphic novel that is a prequel to the King of the Monsters movie. The comic book gets released April 15 written by the writer of Skull Island The Birth of Kong, Arvid Nelson, with art by Drew Johnson. It has also been confirmed Godzilla will be battling a new monster, which judging by the following art is the mysterious Titan, as the kaiju are being referred to in the movie.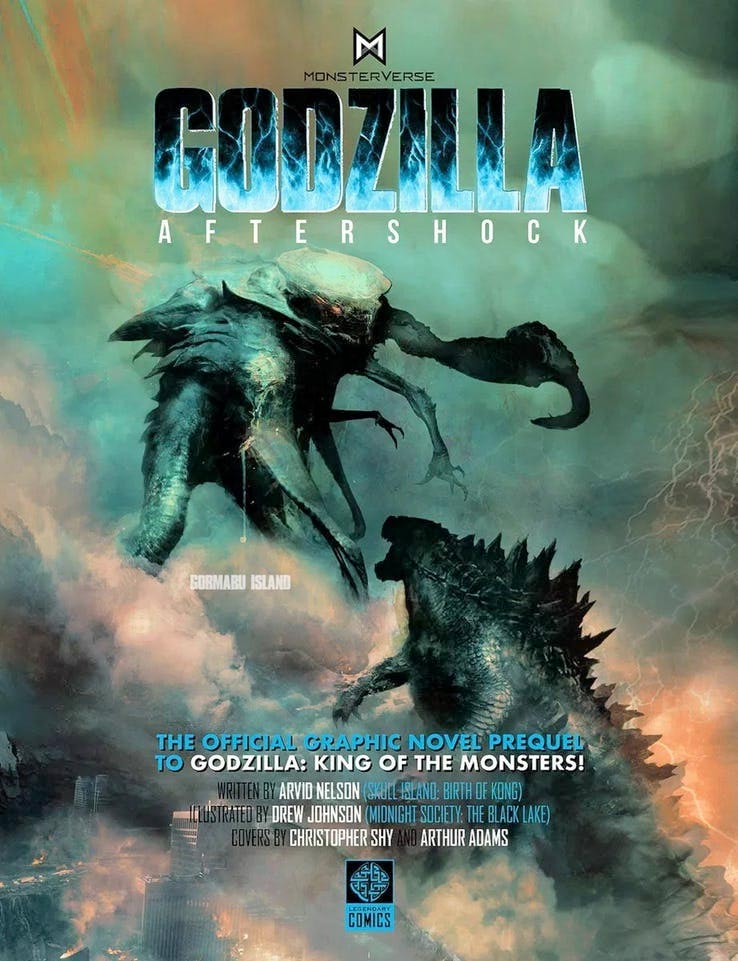 Details for Godzilla: Aftershock include that it continues the story from the first film after the catastrophic events in San Francisco where the comic book finds Godzilla threatened as a terrifying new foe rises from the depths of the earth, unleashing a series of devastating earthquakes and driven by an unstoppable primal instinct that will test the King of the Monsters like never before. The graphic novel will introduce characters from Godzilla: King of the Monsters and delve further into the activities of cryptozoological agency Monarch. The brilliant and driven Monarch operative Dr. Emma Russell (Vera Farmiga) races to stop the threat as clues emerge to reveal a terrible secret — a tragedy of apocalyptic proportions from the distant past that changed the course of human history, is returning to threaten it once more. A shadowy figure stalks Emma's every move as she travels the globe to uncover secrets, while Godzilla clashes in an ancient rivalry as old as the earth itself.
"Godzilla: Aftershock is yet another exhilarating entry into the canon of the MonsterVerse, and it is especially exciting to introduce fans to a brand new original monster unique to the comic, but true to the legacy of Godzilla," Robert Napton, Senior Vice President of Legendary Comics, told EW.com.
Godzilla: King of the Monsters gets released May 31, 2019 directed by Michael Dougherty and stars Millie Bobby Brown, Vera Farmiga, Charles Dance, Kyle Chandler, Bradley Whitford, Thomas Middleditch, Sally Hawkins, O'Shea Jackson Jr., Ziyi Zhang, and Ken Watanabe.