A wild rumor has hit the net that The Flash movie will see the return of none other than Antje Traue as Faora, the badass Kryptonian from Zack Snyder's Superman movie, Man of Steel.
While the rumor might seem like a stretch, as it is based on speculation in regards to Antje Traue having gone back to a short haircut and being in England for filming where The Flash is also filming and that director Andy Muschietti liked the photo (via Reddit), interestingly enough, back in November of 2019, Antje Traue teased a return to the Faora role.
Back in 2019, the German actress posted a throwback pic of herself on Instagram noting, "In pain #throwback #manofsteel #training #faora," where a fan questioned if she is ever going to return: "Are you going to come back, or is that a TBT?"
Antje Traue responded, "Working on it."
The Flash director "likes" Antje Traue on Instagram:
Será que a Faora estará em #TheFlash?

No IG, a atriz Antje Traue revelou que estava gravando algum projeto no Reino Unido e teve inclusive que voltar a ficar de cabelo curto.

E o Andy Muschietti curtiu a foto dela — pic.twitter.com/xnVrMOJu6n

— DCVERSO (@DCverso1) October 4, 2021
Antje Traue confirms working on a return to Faora in 2019: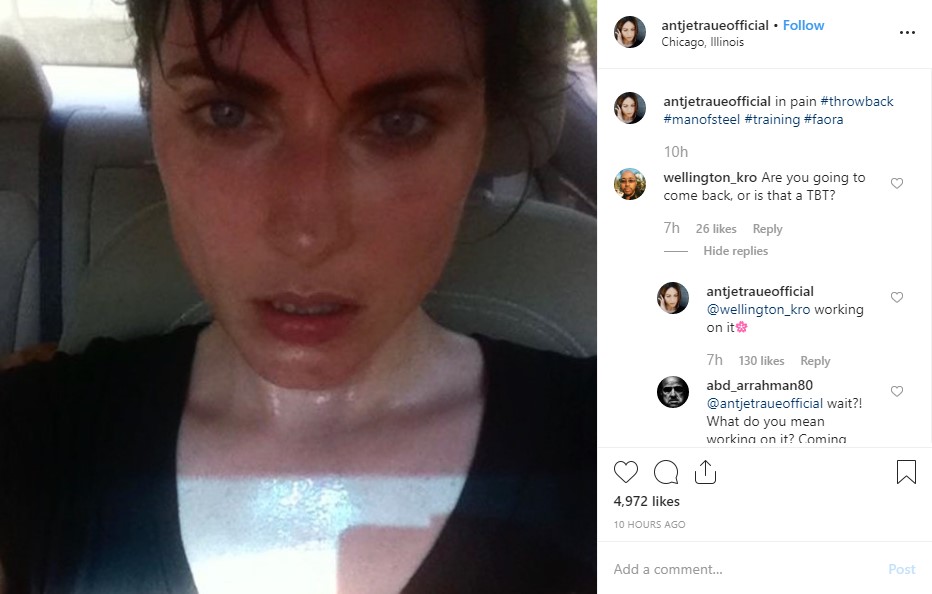 Antje Traue returning as Faora to the DCEU?
Regarding how Antje Traue could return as Faora, as the last we seen of her was at the end of Man of Steel where she was forced back into the Phantom Zone, maybe Faora has escaped?
Another possibility is that the Ezra Miller Barry Allen could be time traveling throughout the various DC movies and appears in Man of Steel along with Faora in some way?
Still another possibility, and since The Flash movie will be introducing the DC Multiverse, Antje Traue could be playing a Multiverse version of Faora or even a totally new character.
I always thought Antje Traue's Faora in Man of Steel was pretty epic and I have always wanted the actress and character to return to the DCEU. A Faora vs Wonder Woman battle would be pretty epic.
The Flash gets released Nov, 4, 2022.