Fans are rejecting the recent announcement by Disney that will see Black Widow released on Disney Plus as a "premier access" cost.
YouTuber Grace Randolph posted a poll on her Twitter account asking fans if they will pay for premier access on Disney Plus for Black Widow and/or Cruella.
While we see some of the MCU zombie fans responded positively to the Disney Plus premiere cost release, nearly half of the over 7k fans responded to the poll stating they will not pay the extra cost for either Black Widow or Cruella.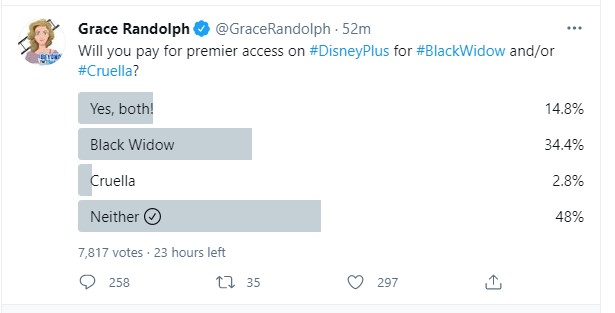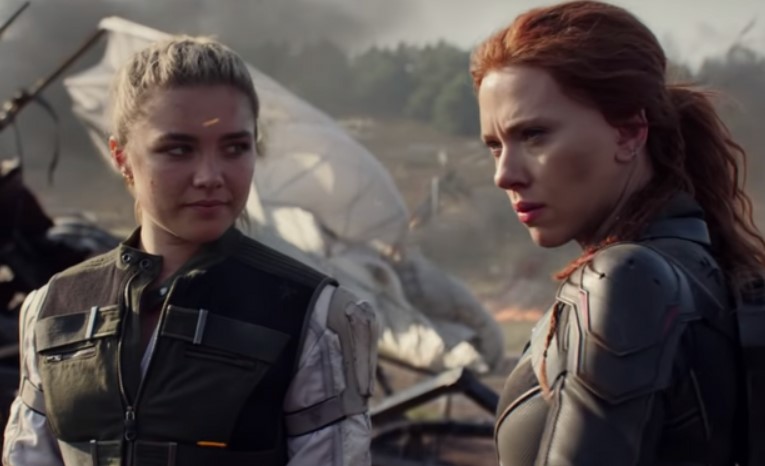 Fans want to watch movies in theaters
The premier cost for Disney Plus is said to be around $30, so that would be at least $60 for both movies, and that is in addition to the monthly Disney Plus subscription, which Disney just raised by almost 15%.
While the good news is that it seems fans want to watch their movies in theaters (or obviously for "free" with no added streaming cost), the problem is that not all theaters are open and/or at 100% capacity, so all the release dates would have to get pushed back even further than they already have been.
With today's news about Black Widow getting released on Disney Plus and in theaters at the same time, Disney also announced a slew of new release dates, including that Shang-Chi has been pushed back to Sept. 3, 2021, with the present plan to release Shang-Chi in theaters.
The notion that fans want to watch their movies in theaters also fits with it said that both Wonder Woman 1984 and Zack Snyder's Justice League fizzled on HBO Max, as WarnerMedia has announced they are switching up their strategy from a day-and-date HBO Max and theater release in 2021 to an exclusive theater release in 2022.
Fans like binge-watching TV series on their streaming services, but when it comes down to it, they want to see their favorite blockbusters in all their glory in big-screen theaters with like-minded fans (imagine not being able to watch Avengers: Endgame in theaters).