Just when it seemed as if Brie Larson had begun to fix her image, the Marvel actress is now again the center of controversy, this time regarding a tweet about comparing herself to Shirley Temple, perhaps the most famous child actor of all time.
On Sunday, Brie Larson tweeted an image of herself as a young child with curly hair next to a present-day photo where she seemed to insinuate that she's better than Shirley Temple–Temple who was given an Oscar at the age of seven for Bright Eyes where she is known for singing "On the Good Ship Lollipop" which sold over 500k copies of sheet music at the time.
"Shirley Temple could never," Larson posted on Twitter, which has backfired and caused a lot of backlash from fans.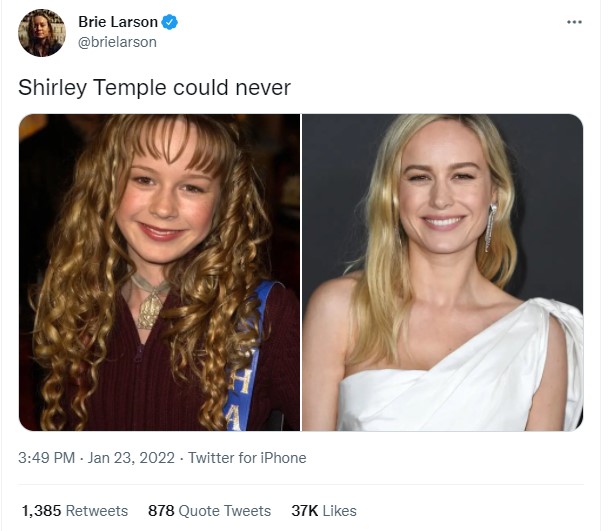 Fans not happy with Brie Larson
Fans weren't happy at all with the tweet, as the tweet does seem as if Brie Larson is coming off as rather arrogant as she is tweeting about herself, something more than one fan pointed out.
Temple was beloved by the world as a child actress, then went on to become Ambassador to Ghana, Chief of Protocol of the US, and finally Ambassador to Czechoslovakia.

Maybe check that ego a bit.

— Unwarranted Design (@UnwarrantedDes) January 27, 2022
Losing a battle you started with a dead person is funny as hell

— Rando (@tbhijdgafa) January 26, 2022
to be completely fair Shirley hands down would've been a better Captain Marvel

— Ricardo Gutiérrez (@icaito) January 27, 2022
— Aaron Isaacs (@AaronIsaacs69) January 26, 2022
The question is whether it would contain alcohol.

— New Year, Same Old Nathan (@VoVat) January 23, 2022
Brie what does this mean

— Brett ________ (@BrettRedacted) January 25, 2022
Brie… what does this even mean pic.twitter.com/EluP6CCCzd

— –️‍–Helios–️‍⚧️ (@Light_of_Helios) January 26, 2022
Could never what? Straighten her hair? Someone help me out here.

— Cate —— (@CateSJewels) January 25, 2022
— ⚠️Mr Dystopian⚠️ (@DystopianMr) January 26, 2022
Fucking hilarious when Shirley had accomplished more by 22 than you have now.

— Spartan DeadExo-3 (@DeadExo_3) January 26, 2022
Why are we shading someone who is dead —-

— The Book of Hunter Amidala (@PadmeMaximoff) January 23, 2022
this is rude and disturbing don't ever disrespect miss shirley again, thank you

— ♔ taes ᴮᴱefy– (@FUCCC8) January 26, 2022
Could never what? Be good looking when she got older? Because she could.

— Vidor (@Vidor1) January 25, 2022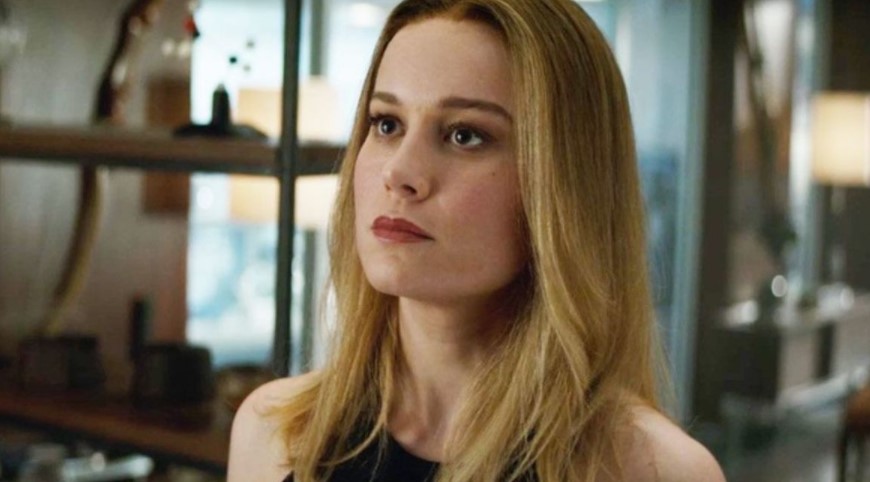 Brie Larson is unlikeable
Again, this isn't the first time that Brie Larson has been the center of controversy, but it was thought the 32-year-old actress was done with all the nonsense, but that doesn't seem to be the case.
It's thought that due to Brie Larson's unlikeability, that Disney dropped "Captain Marvel" from the title of the sequel and brought in Teyonah Parris and Iman Vellani to co-star in the movie.
Larson's acting slate isn't full as well, and when compared to someone like the much more likable Gal Gadot who has an overflowing plate of upcoming projects, Larson is no marvel.
The Marvels comes out Feb. 17, 2023 directed by Nia DaCosta.