One of my first picks for Marvel's Eternals movie happens to be the speedster known as Makkari, and who Mark Gruenwald featured in his epic Quasar run from the '90s as the best buddy of the Protector of the Universe, Wendell Vaughn.
A report offers that Makkari is a part of the movie along with Thanos' brother Starfox and additional characters, maybe even Hercules.
Possible character descriptions have hit the net for Marvel's Eternals movie.
Regarding Makkari, it's said Marvel Studios is looking for male actors ages 25-45 to play the part.
While Hercules is not specifically named, a description offers a character in the movie is an unknown male described only as a Greek god, leading to speculation it might be the Olympian champion (or how about Ares?).
Thanos' brother Starfox, Marvel is said to be looking for males 25-45, to play Eros of Titan.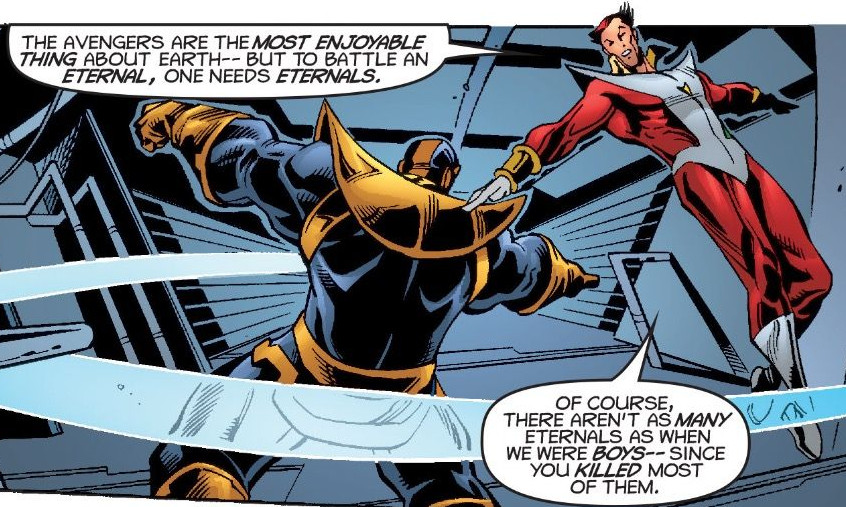 Other descriptions include:
The lead of the movie with Ikaris, with Marvel looking for a male, 20-40
The female lead with Sersi, age 20-40
"KAREN," early 30s; open to any nationality or ethnicity particularly Middle Eastern, African and Native American
Druig, said to be the possible villain of the film
Piper, 10-16 years old of any nationality or ethnicity
Elysisus, female 20-40, for a supporting role
Forgotten One, male age 25-45, aka Gilgamesh
Thena, female 20-40
Zuras, son of the Eternals Kronos and Daina, and brother of A'Lars (Mentor)
Eternals has no release date as of yet, but does have a director with Chloe Zhao and a description offering: involving a love story between Ikaris, a man fueled by cosmic energy, and Sersi, who relishes moving amongst humans.
(via hashtag show)