Warner Bros. released the first look at Timothee Chalamet in the upcoming Dune movie that adapts Frank Herbert's science fiction epic.
Timothee Chalamet plays Paul Atreides who can be seen on his native planet of Calada.
The character is described as:
… the young royal who prepares to leave the comfortable life he knows for a desolate, dangerous mining planet known as Arrakis, where his wealthy family will oversee the extraction of a spice vital to the galaxy. If he only knew the chaos and death that awaited him, he might be even more sorry to leave.
The character is further described as a child of privilege raised by a powerful family, but not one strong enough to protect him from the dangers that await.
"The immediately appealing thing about Paul was the fact that in a story of such detail and scale and world-building, the protagonist is on an anti-hero's-journey of sorts," Chalamet told Vanity Fair. "He thinks he's going to be sort of a young general studying his father and his leadership of a fighting force before he comes of age, hopefully a decade later, or something like that."
The scene the image also takes place is described:
… the transport ships descend to take the Atreides leadership to their new destination. At this point, Paul is being taught the ways of war by a veteran soldier named Gurney Halleck, played by Josh Brolin. Paul's parents, Duke Leto and Lady Jessica Atreides (Oscar Isaac and Rebecca Ferguson), must not only manage the spice mining on Arrakis—but also the politics at play in the broader galaxy.

Beyond the fortifications on Arrakis, giant carnivorous sandworms rule the landscape, while a tribe of indigenous humans known as Fremen, led by Javier Bardem's Stilgar, somehow survive in the crevices, fearful that their world is about to be turned inside out by those they see as invaders.
A trailer was recently shown off featuring footage of Jason Momoa, Dave Bautista and more.
Timothee Chalamet in Dune: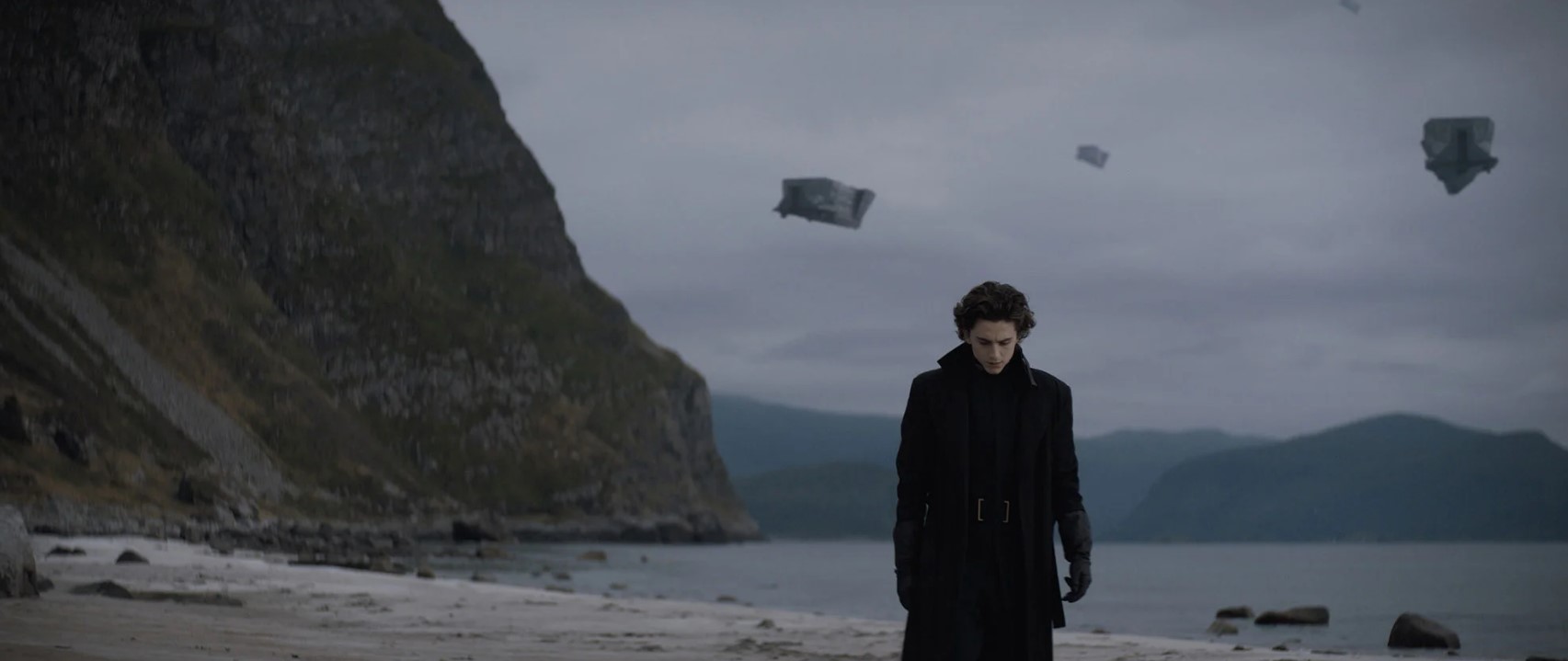 Dune has a December 18, 2020 release; the film also stars Stellan Skarsgard, Rebecca Ferguson, Zendaya, David Dastmalchian, Stephen Henderson, Charlotte Rampling, and Chang Chen.
Synopsis: A mythic and emotionally charged hero's journey, Dune tells the story of Paul Atreides, a brilliant and gifted young man born into a great destiny beyond his understanding, who must travel to the most dangerous planet in the universe to ensure the future of his family and his people. As malevolent forces explode into conflict over the planet's exclusive supply of the most precious resource in existence—a commodity capable of unlocking humanity's greatest potential—only those who can conquer their fear will survive.