Disney's secret gay animated kids' movie, Strange World, has crumbled at the box office and is estimated to lose close to hundreds of millions of dollars.
In Deadline's failed report on how Strange World was supposed to dominate the Thanksgiving box office, it's noted "Strange World's marketing hasn't included anything about the gay character."
True enough, the Daily Mail points out tweets where one features a father and son going to see the movie where they learned it's not at all like they thought it was going to be.
"Took the kids to the movies today to watch a Disney cartoon called 'Strange World.' Within 10 minutes of the movie, my 10 year old son said 'Dad, I have no desire to watch this movie. Can we leave?' We left. The leaders at @Disney have forgotten who the PAYING customer is," says the tweet.
The flick is reported to be a $147 million loss, as currently, it has only brought in $18.6 million domestically, and only $27.8 million worldwide, on a budget of close to $200 million.
The Thanksgiving break is typically big for the movie business but even though it has Marvel's Black Panther: Wakanda Forever out this year, the Thanksgiving break also failed to perform as it's 14% lower than last year and didn't even make the top ten best Thanksgiving box office list. Can't blame the "pandemic" for that.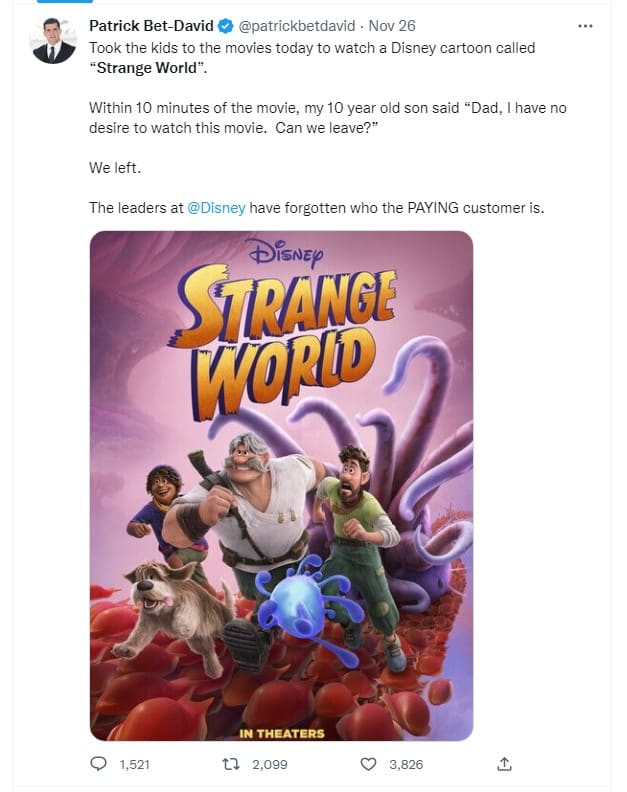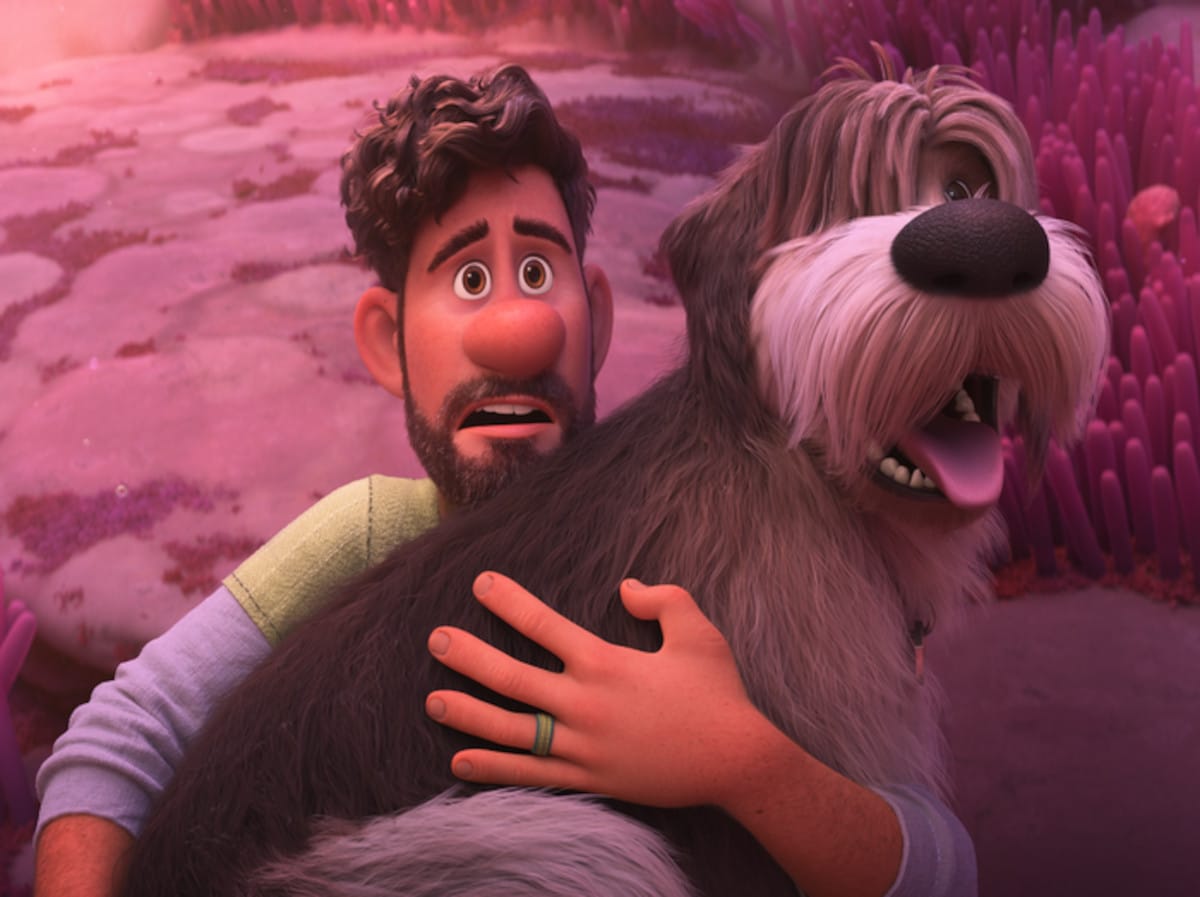 Disney was well aware Strange World would flop
Strange World also follows Disney Pixar's big bust with Lightyear, another kids' animated movie that features LGBTQ representation, and of course, then there is the Bros. movie, another massive flop, where the lead actor blames straight people for not going to see the movie.
It should be said Disney was well aware the flick was going to be a big flop, also as Deadline points out, Disney didn't edit the content for its foreign releases, as the flick isn't getting released in the Middle East, China, Malaysia, Indonesia, Pakistan, Turkey, Vietnam, East Africa (Tanzania, Uganda, Kenya), West Africa (Nigeria, Ghana), Maldives, Nepal, and Bangladesh.
Eric July, known for the YoungRippa59 YouTube channel and for launching his own comic book and RippaVerse comic book publishing company, sums it up best.
"Disney's new movie, Strange World is flopping at the box office. Mainstream creatives don't care about these projects being successful so long as they spite the audience and their ideological enemies," July tweeted.
Back last March saw a series of internal Disney videos leak where executives are seen admitting to implementing a "not-at-all-secret gay agenda" and regularly "adding queerness" to children's programming.
A Twitter user also celebrates that Strange World won't be liked by conservatives and even that the dog is disabled in the movie.
"If you thought conservatives freaked out over Lightyear, they're gonna s*** the bed over #StrangeWorld, which is great. Main protagonist is gay. Older people don't find it remarkable. Biracial marriage. Almost no one is white. Climate change metaphor. Even the dog is disabled!" states the tweet.