Currently trending on Twitter is the topic of Disney having fired Gina Carano from the Star Wars series, The Mandalorian, in regards to comments about Jews and the Holocaust, but not Whoopie Goldberg, who found herself in the hot seat for comments made while appearing on ABC's The View.
Goldberg made a comment about how "the Holocaust isn't about race," which has seen Goldberg suspended from The View for two weeks.
"Effective immediately, I am suspending Whoopi Goldberg for two weeks for her wrong and hurtful comments," ABC News President Kim Godwin said in a statement, which is a network owned by Disney. "While Whoopi has apologized, I've asked her to take time to reflect and learn about the impact of her comments. The entire ABC News organization stands in solidarity with our Jewish colleagues, friends, family, and communities."
Gina Carano trends on Twitter: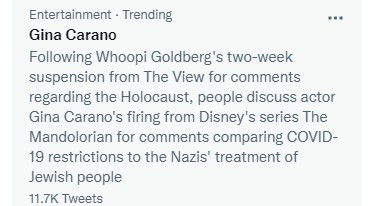 In regards to Gina Carano, Carano was fired by Disney a year ago for a social media post comparing political oppression to the Nazi treatment of the Jews in WWII, and Carano responded to the treatment of Whoopi Goldberg and herself on Twitter as follows:
Two weeks to slow the double standards.

— Gina Carano — (@ginacarano) February 2, 2022
I want to send blessings & love out to the Jewish community. ❤️
When I was being smeared, cancelled & misunderstood, it was a Jewish man @benshapiro who reached out & asked if I'd like to talk about it.

Maybe @WhoopiGoldberg could talk to Ben.

Conversation over cancellation.

— Gina Carano — (@ginacarano) February 3, 2022
Fans and various media figures are also calling out Disney. Check out the tweets below.
Whoopie Goldberg has since apologized and retains her position on The View.
"On today's show, I said the Holocaust 'is not about race, but about man's inhumanity to man.' I should have said it is about both," Goldberg posted on Twitter. "As Jonathan Greenblatt from the Anti-Defamation League shared, 'The Holocaust was about the Nazi's systematic annihilation of the Jewish people — who they deemed to be an inferior race.' I stand corrected. The Jewish people around the world have always had my support and that will never waiver. I'm sorry for the hurt I have caused."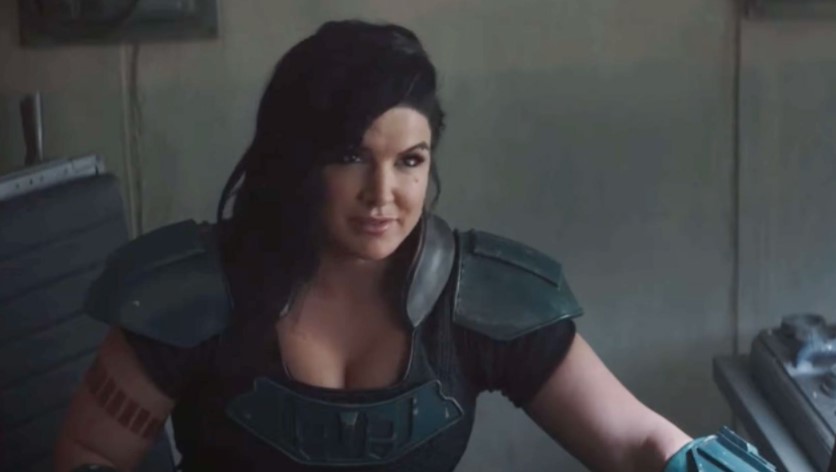 Twitter reactions to Gina Carano and Whoopi Goldberg:
Gina Carano was fired by Disney, which owns ABC over an Instagram post comparing inhumane restrictions and dehumanization to the Nazis' treatment of Jews.

Whoopi Goldberg got a two week vacation from ABC for minimizing the Holocaust as "y'all whites against whites."

— Ian Miles Cheong (@stillgray) February 2, 2022
Why is it that Rosanne (a Jewish woman) gets canceled for off color remarks but Whoopi's gets a total pass for antisemitism and downplaying the Holocaust? I can't help but notice that only people on the right face consequences for their mistakes.

— Donald Trump Jr. (@DonaldJTrumpJr) February 1, 2022
Once again, Disney is making it clear there's a double standard for employees based on their political opinions. Whoopi Goldberg gets a slap on the wrist for something far worse than anything Gina Carano got fired for.https://t.co/X1CpvxQgOe pic.twitter.com/uPEgoMi4iY

— Ryan Kinel – RK Outpost (@KinelRyan) February 2, 2022
Double Standards for Disney Employees. Gina Carano was fired while Whoopi Goldberg gets a 2-week vacation.

— https://t.co/HH3yx8Yfka — pic.twitter.com/6EzzprC9Z7

— Drunk3po ———- (@Drunk3po_Joay) February 2, 2022
'Liberal privilege is real': People are asking why Disney fired Gina Carano but only suspended Whoopi Goldberg https://t.co/vFHE4eVBFd via @twitchyteam

Nice! My tweet got used!

— EMPEROR VICTORIOUS SUPREME (@EthanVanSciver) February 2, 2022
A lot of people are telling me I should watch the most recent episode of Book of Boba Fett.

I appreciate it but I simply don't have any interest at this point.

I know who showed up. I'm glad people enjoyed it.

I stand with Gina Carano.

— DDayCobra (@DDay_Cobra) February 2, 2022
Gina Carano is trending because Disney and ABC have double standards. @realdailywire only has high standards. This is your reminder that Gina has a Daily Wire movie coming out this year.

"They can't cancel us if we don't let them." – @ginacarano pic.twitter.com/nkdVxKlY2U

— DW Entertainment (@DailyWireEnt) February 2, 2022
Roseanne: Fired over a tweet

Gina Carano: Fired over an Instagram post

Whoopi Goldberg: makes racist/anti-Semitic statements about the Holocaust and gets a slap on the wrist

Liberal privilege is real!

— Brigitte Gabriel (@ACTBrigitte) February 2, 2022
Gina Carano was run out of Hollywood for comparing Covid restrictions to the social stratification imposed by Nazis. Whoopi Goldberg said the Holocaust wasn't about race and got a two-week break.https://t.co/ovfp26wW1E

— libby emmons (@libbyemmons) February 2, 2022
If you're confused as to whether or not liberal privilege is real… do a side-by-side comparison of how ABC handled Gina Carano vs. how they handled Whoopi Goldberg.

— Tim Young — (@TimRunsHisMouth) February 2, 2022