Yikes! DC Comics is again cutting its line as it has become known that as of March only 34 single titles will be published.
The news came with the release of DC Comics' March 2021 solicitations, which follows its "Future State" event in January and February where it is learned Aquaman has been canceled indefinitely.
So we see that – yet again – former DC Comics artist Ethan Van Sciver is right, as back in February of 2019, Van Sciver said DC Comics would be cuttings its line even further following DC Comics laying off its staff:
Well, here is another bit of news, DC cut their line down to 52 comics. Obviously, talent is going to get cut as well, and they are laying off seven employees as of today. I'm sure more fat-trimming will be coming. They probably just don't want a blood bath all at once. We are going to see this get whittled down.
Recently saw it suggested that AT&T may sell off DC Comics and license out the characters, another prediction made by Ethan Van Sciver.
Regarding the 34 titles, we also see Van Sciver is right again as it's basically only the popular characters from TV and the movies.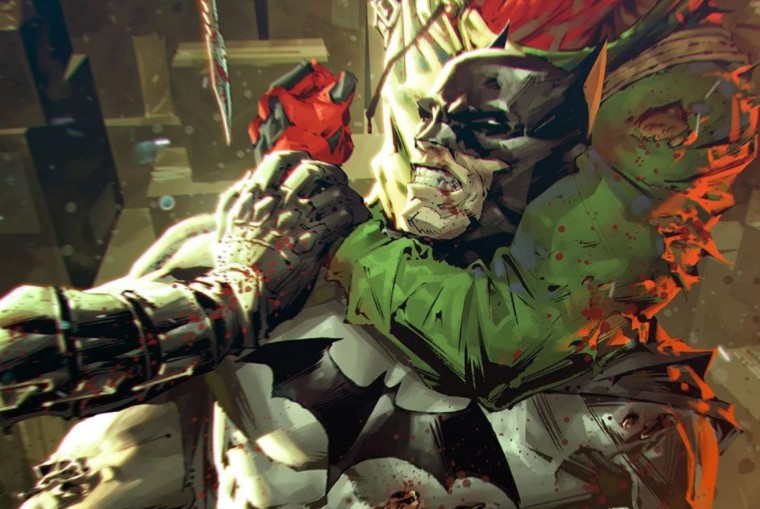 DC Comics March 2021 titles:
INFINITE FRONTIER #0
BATMAN: URBAN LEGENDS #1
THE JOKER #1
HARLEY QUINN #1
CRIME SYNDICATE #1
SUICIDE SQUAD #1
SUPERMAN RED & BLUE #1
THE SWAMP THING #1
TEEN TITANS ACADEMY #1
SUPERMAN #29
ACTION COMICS #1029
BATMAN #106
DETECTIVE COMICS #1034
BATMAN/SUPERMAN #16
CATWOMAN #29
THE FLASH #768
JUSTICE LEAGUE #59
NIGHTWING #78
WONDER WOMAN #770
SENSATIONAL WONDER WOMAN #1
AMERICAN VAMPIRE 1976 #6
BATMAN BLACK & WHITE #4
BATMAN/CATWOMAN #4
BATMAN: WHITE KNIGHT PRESENTS HARLEY QUINN #6
BATMAN VS. RA'S AL GHUL #5
THE DREAMING: WAKING HOURS #8
THE GREEN LANTERN SEASON TWO #12
JOKER/HARLEY: CRIMINAL SANITY #8
MAN-BAT #2
THE OTHER HISTORY OF THE DC UNIVERSE #3
RORSCHACH #6
STRANGE ADVENTURES #9
SWEET TOOTH: THE RETURN #5
TRUTH & JUSTICE #2