It's claimed that Charlie Cox, who played Daredevil, is confirmed for Spider-Man: No Way Home.
The info comes from Daniel RPK where it is claimed the scooper has been able to confirm Charlie Cox is in Spider-Man: No Way Home.
A user on Twitter is also claiming that photographer Atlanta Filming was going to release set pics featuring Charlie Cox, but didn't for some reason.
Spider-Man: No Way Home: Charlie Cox claims: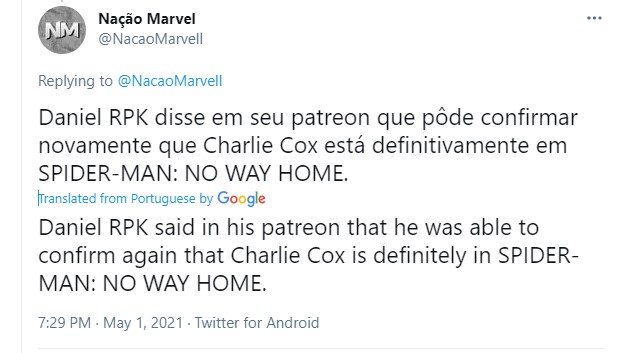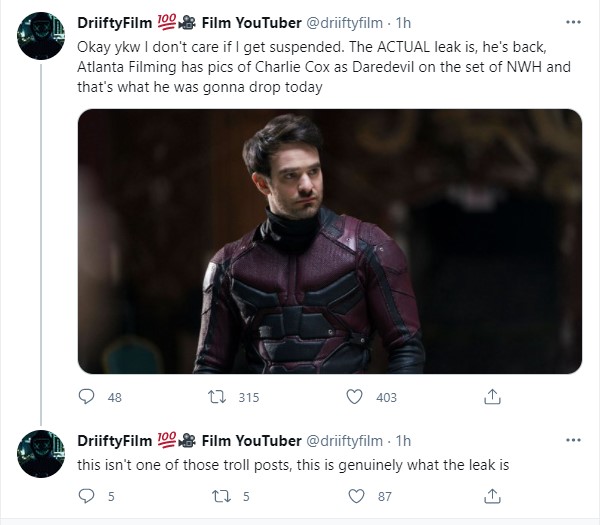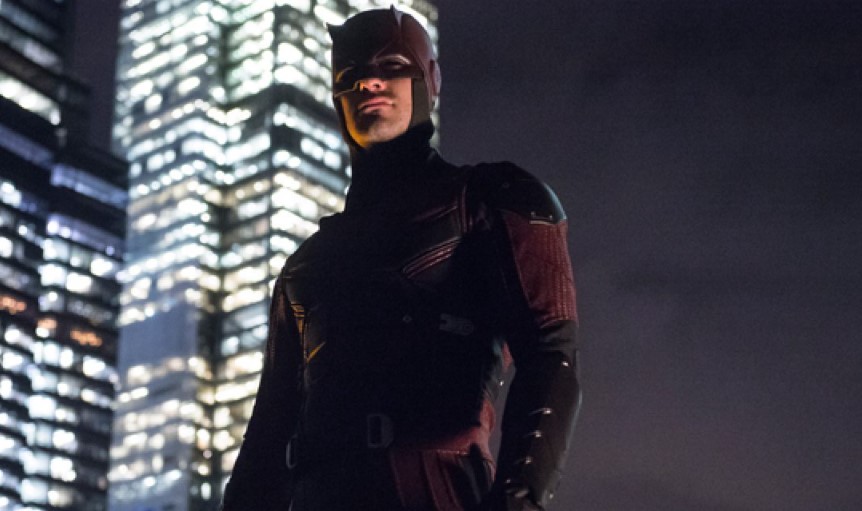 Daredevil Charlie, Marvel Netflix characters rumored for MCU
The claim of the return of Charlie Cox follows a recent rumor that said the Marvel Netflix characters will be coming to the MCU, including the Jon Bernthal Punisher, Krysten Ritter as Jessica Jones, and Vincent D'Onofrio as Wilson Fisk/Kingpin, but that more than likely the Luke Cage and Iron Fist actors would be replaced (I've been told Heroes For Hire is happening).
Fans have been speculating for a while that Charlie Cox could be appearing in Spider-Man: No Way Home as it is thought Peter Parker will need a lawyer, which could be Cox's Matt Murdock, and Cox is also thought to be appearing in the She-Hulk series coming to Disney Plus, which is about lawyers as well.
It could also be possible that Charlie Cox makes an appearance from the Multiverse and/or similar to how WandaVision handled the return of Evan Peters, more of a nod to fans than a full return.
Also, to be clear, as of right now, consider this all rumor, and recall all the rumors from the "scoopers" surrounding Doctor Strange, Mephisto (the writer of the show never even heard of Mephisto) and WandaVision were wrong, so bear that in mind.
Spider-Man: No Way Home has a Dec. 17, 2021 release directed by Jon Watts starring Tom Holland as the titular character, Zendaya as MJ, Benedict Cumberbatch as Doctor Strange, with Jamie Foxx, Marisa Tomei, Alfred Molina back as Otto Octavius / Doctor Octopus, Jacob Batalon, Tony Revolori, and it's said both Tobey Maguire and Andrew Garfield are back as their respective versions of Spider-Man.