Rumors are again swirling that Charlie Cox will be back as Daredevil in both Spider-Man: No Way Home and She-Hulk, and just as I said, fans can expect a new costume when the Man Without Fear debuts in the MCU.
Lots of spoilers have been landing online about Spider-Man: No Way Home, with it said Charlie Cox will appear in the flick as Matt Murdock, as earlier rumors have offered Matt Murdock could be Peter Parker's lawyer.
The Disney Plus She-Hulk series is also a lawyer show, with rumors offering Charlie Cox will also appear in the series, but now YouTuber Grace Randolph says Charlie Cox will not only appear as Matt Murdock in She-Hulk, but he'll also suit up as Daredevil, with a new costume hinted.
"I can ALSO tell you that not only is Charlie Cox in She-Hulk but he'll appear in costume as Daredevil not just as Matt Murdock like in Spider-Man: No Way Home. When you see him, you're gonna go crazy," tweeted Randolph.
Recall following the cancelation of the Daredevil Netflix series how all the costumes and the props were auctioned off, and knowing how Kevin Feige likes to do things his way or the highway, it's all but guaranteed Charlie Cox will have a new Daredevil costume.
It's also been said that the She-Hulk series will feature the titular character breaking the fourth wall (i.e. knowing she is in the MCU and directly talking to the audience) which is similar to the comics and Deadpool, and something Randolph also says is going to happen.
"I can confirm this – it's true," Randolph tweeted about the She-Hulk rumors.
Daredevil Charlie Cox MCU rumors: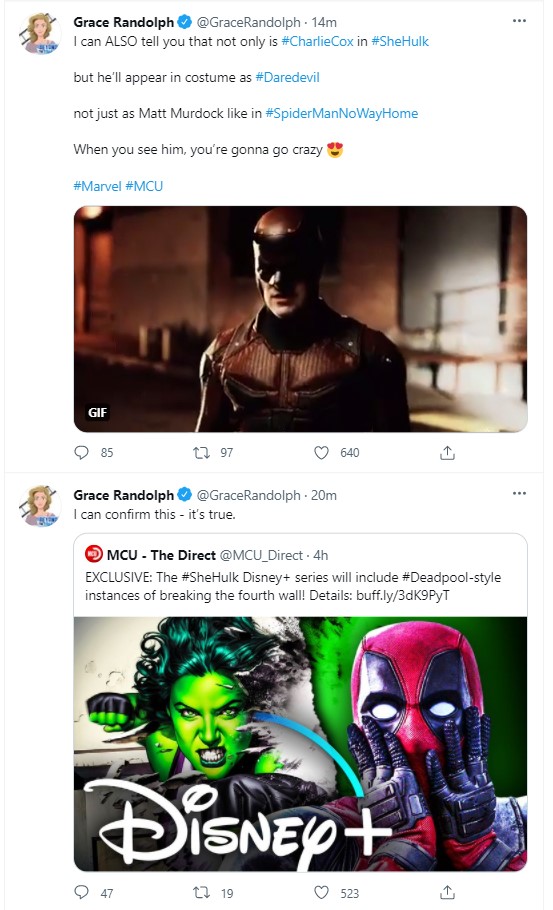 With Charlie Cox back as Daredevil, it seems Feige will not be recasting the character in the MCU, with rumors also offering Feige will be bringing in the Vincent D'Onofrio Kingpin into the MCU, and possibly other characters including Jon Bernthal's Punisher.
Charlie Cox and Daredevil are also rumored for Hawkeye.