The San Diego Comic-Con is right around the corner where the convention is mandating all guests to wear masks and if they don't wear masks or wear them properly, the fans will be forcibly removed by security.
That's not all as the San Diego Comic-Con is also mandating fans provide proof of their COVID-19 vaccination status or proof of a negative test within 72 hours of the event.
"Everyone attending Comic-Con will be required to wear an approved face covering regardless of vaccination status. Face coverings should completely cover the nose and mouth, fit snugly against the sides of the face, and not have any gaps," states Comic-Con's COVID-19 FAQ.
Children age 5 and up will be required to also wear masks and provide documentation.
"All children aged 5 and older are required to show proof of full vaccination or a negative COVID-19 test using the methods listed above. If providing a negative COVID-19 test, your child's negative COVID-19 test documentation needs to be directly from the healthcare provider that performed the test. A negative test result must show the specimen was collected within 72 hours," states the policy.
The site also advises that if you cannot wear a mask due to a medical condition that "we recommend that you not attend Comic-Con 2022."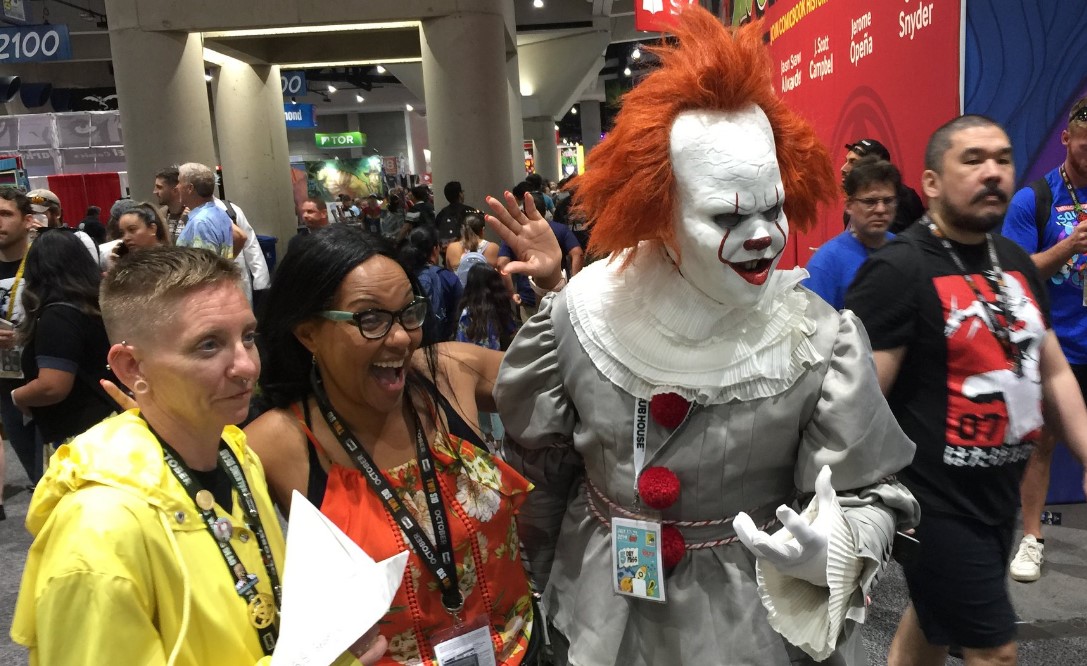 Cosplayers need to wear visibly approved covid masks
The same applies to cosplayers as "an approved mask or face covering must be worn at all times," and your cosplay mask cannot cover the covid mask: "Approved face coverings must be visible at all times and may not be concealed under costume headwear/masks."
Regarding the removal of "guests who do not comply with the face mask policy," the Comic-Con policy says, "Yes. This policy is in place to ensure the health and safety of all fans. Security will be on-site to support adherence to the policy."
Regarding the on-site security, I'm reaching out to Comic-Con and the San Diego Police Department to see who is handling security and how well trained are they in physically removing people from large events safely. Also, what about eating and drinking at the convention? Or is that not allowed?
"Proof of vaccination or a recent negative test will be required for all in attendance aged 5 years or older," states Comic-Con. "In accordance with State recommendations, negative PCR test results must be from a test taken within 72 hours of the start of the show. Masks will be required indoors regardless of vaccination status."
The acceptable methods of proof of vaccination include:
Green Comic-Con 2022 Health Pass via the CLEAR mobile app on your smartphone
The CDC or WHO COVID-19 vaccination record card received when you were vaccinated
A photocopy of the vaccine card (front and back)
A photo of the vaccine card (front and back) on a phone or any other electronic device
A digital record issued by the Department of Public Health or an approved company that includes a QR code that when scanned by a SMART Health Card reader displays your date of birth, vaccine dates, and vaccine type
Only two tests are allowed for the negative Covid test as the take-home or self-administered tests are not allowed:
"There are two types of viral tests that can be used: nucleic acid amplification tests (NAATs) and antigen tests. Test results must be provided in the form of written documentation (paper or electronic copy). The documentation must include:"
Type of test (indicating it is a PCR/NAAT or antigen test)
Entity issuing the result (e.g. laboratory, healthcare provider, or telehealth service)
Specimen collection date. A negative test result must show the specimen was collected within 72 hours
Information that identifies the person (full name plus at least one other identifier such as date of birth) and matches ID shown
Negative test result
"Please note: these policies apply to all attendee groups, including but not limited to exhibitors, guests, staff, press, professionals, volunteers, and cosplayers," states the Comic-Con Covid Policy.
For those who might not want to abide by the mandates, there is still a lot to do outside and around the San Diego Comic-Con where I don't think the mandates will be in place.
Comic-Con runs July 21-24.
San Diego Comic-Con 2019 images: