Chris Pratt is a man of many talents and now the actor can add Batman to his resume.
No, he's not starring as DC's Dark Knight, but he now has his own Batman action figure.
Wait, what's that you say?
In what looks to be a hilarious mix-up, a Twitter user posted images of a Robert Pattinson Batman action figure received from Amazon, but the figure doesn't look exactly right.
The Batman action figure features the head of Chris Pratt's Star-Lord from Marvel's Guardians of the Galaxy!
"Yall I was so excited because my Batman unmasked I ordered arrived and look at what I saw when I opened the package wtf is this?" tweeted Chase SAW THE MAN x21 @BatChase13.
The reactions to the tweet are hilarious, and it should be said this could all be a joke, but it's still pretty funny, as following the recent announcement about how Chris Pratt will provide the voice of Garfield, Twitter users began tweeting that Pratt is playing and voicing every character under the sun, as Pratt is also voicing Super Mario. Well, now Chris Pratt is Batman.
Check out the tweets below.
For the record, here is what The Batman Unmasked Robert Pattinson action figure from McFarlane Toys looks like: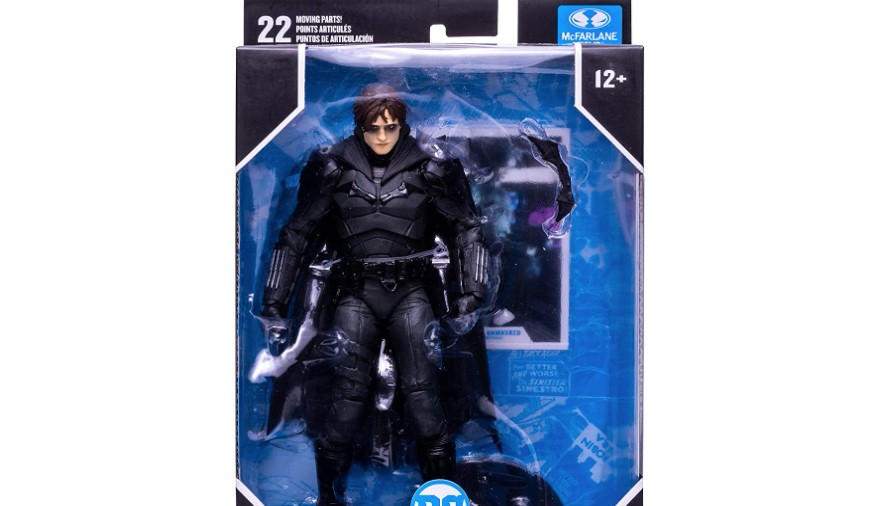 Chris Pratt Star-Lord head featured on Robert Pattinson Batman action figure:
Yall I was so excited because my Batman unmasked I ordered arrived and look at what I saw when I opened the package — wtf is this?! — pic.twitter.com/7WH058NcCh

— Chase SAW THE –MAN x21 (@BatChase13) April 6, 2022
WAIT pic.twitter.com/JqzogQNbDq

— nicky (@Nicky1612Ishida) April 6, 2022
You have got to be kidding me. It's a damn starlord head?!

— Chase SAW THE –MAN x21 (@BatChase13) April 7, 2022
A cruel joke — I have to take it to an Amazon drop off/return location. It has the wrong card and a lego batarang too upon further inspection —

— Chase SAW THE –MAN x21 (@BatChase13) April 7, 2022
Assistant: "We're out of Pattinson Bruce Wayne heads, what do we do?"

McFarlane: "Do we still have that extra crate of Starlord heads?"

Assistant: "Yeah…"

McFarlane: "Grab a sharpie, I have an idea…" pic.twitter.com/Gc3mvtrakF

— ——– —-' Davey–❓0❓❓–#DROPHEAD– (@DaveyIsCinema) April 7, 2022
That's exactly how my reaction was —-

— Chase SAW THE –MAN x21 (@BatChase13) April 7, 2022
Yes — plus it has the wrong card too

— Chase SAW THE –MAN x21 (@BatChase13) April 7, 2022
That's what I'm saying —

— Chase SAW THE –MAN x21 (@BatChase13) April 6, 2022
What's worse is they have the wrong card and put a lego batarang too. This some cruel joke. Returning this asap.

— Chase SAW THE –MAN x21 (@BatChase13) April 7, 2022
No fucking clue ——–

— Chase SAW THE –MAN x21 (@BatChase13) April 6, 2022
I'm at a loss for words —

— Chase SAW THE –MAN x21 (@BatChase13) April 6, 2022
He's everywhere pic.twitter.com/y8braLRf1k

— Jak (@Jak70760853) April 6, 2022
Seriously, someone needs locked up in Arkham for this

— Chase SAW THE –MAN x21 (@BatChase13) April 6, 2022
—-

— Chase SAW THE –MAN x21 (@BatChase13) April 6, 2022