Well, that didn't last long as the introduction of a new superhero sees Captain Marvel sales drop by 10k and return to its normal low numbers.
Sales for September's Captain Marvel #10 reveal 27,498 issues sold to local comic book shops, while sales for the previous issue were at 37,888, a drop of over 27%.
So we see speculators bought Captain Marvel #9 simply because of it featuring the first appearance of the new character, Star, and nothing to do with the character or the book, and they didn't bother buying another issue.
The series is also due to take another change in a different direction that is once again away from the regular version of Carol Danvers, as the series and character are set to go dark, ironically, similar to Dark Phoenix (see solicits below). Marvel is also having the issues sport upwards of three variant covers in an attempt to keep the series afloat.
Introducing new characters, having them fight more popular characters (the Avengers), making them darker and drastically different, and giving the titles multiple variant covers is something that happens when a series is on life support.
It's also pretty funny that prior to the Brie Larson Captain Marvel movie being released that Kevin Feige said the comic book was one of Marvel's best selling. Maybe things will change now that Feige is in charge of the comics (doubt it)?
Marvel has launched and relaunched this character so many times that I have lost count. More than likely we can expect another relaunch whenever Brie Larson appears again in the MCU, but when that is set to happen is unknown as Feige hasn't announced Captain Marvel 2 for some reason or even where and when Brie Larson as Carol Danvers will appear next in the MCU.
Captain Marvel sales:
May #5 – 26,086
June #6 – 31,297
June #7 – 26,141
July #8 – 32,939
August #9 – 37,888 (introduces new character)
September #10 – 27,498
Solicits:
Captain Marvel #12
KELLY THOMPSON (W) • LEE GARBETT (A) • Cover by MARK BROOKS
VARIANT Cover by JUNGGEUN Yoon
CONNECTING VARIANT by InHyuk Lee (1 OF 5)
2099 VARIANT BY TBA
CAPTAIN MARVEL VERSUS THE AVENGERS!
THE LAST AVENGER!
Captain Marvel has fought off alien hordes. Rescued X-Men. Punched Thanos in the face. Literally saved the world. She now faces her greatest challenge: kill the Avengers. Has one of the world's most powerful heroes gone dark? But why? And what does this mean for Carol…for the world? Life on earth will never be the same. Kelly Thompson teams up with Eisner-nominated artist Lee Garbett for a brand-new arc – and a bold new direction!
32 PGS./Rated T+ …$3.99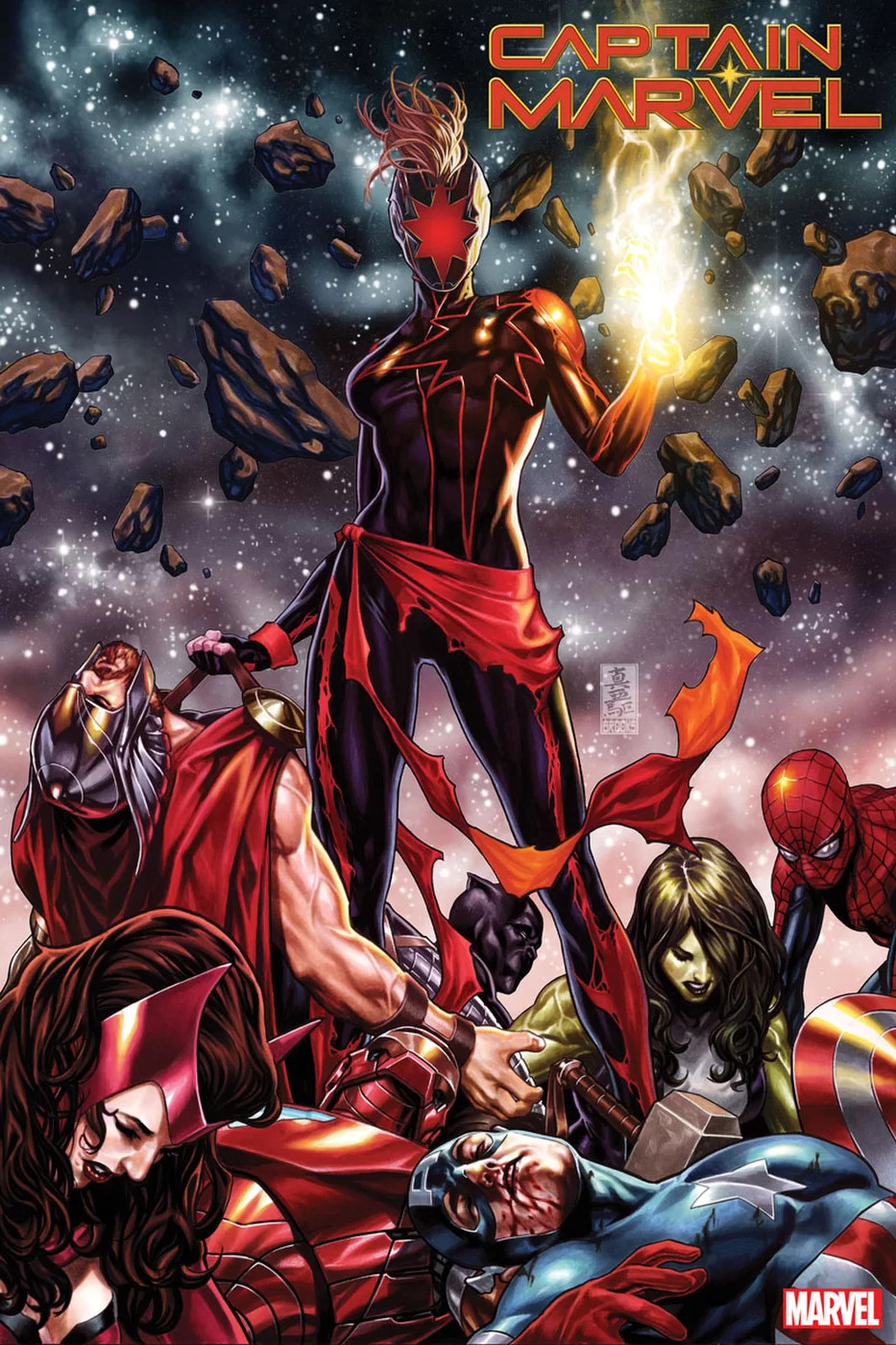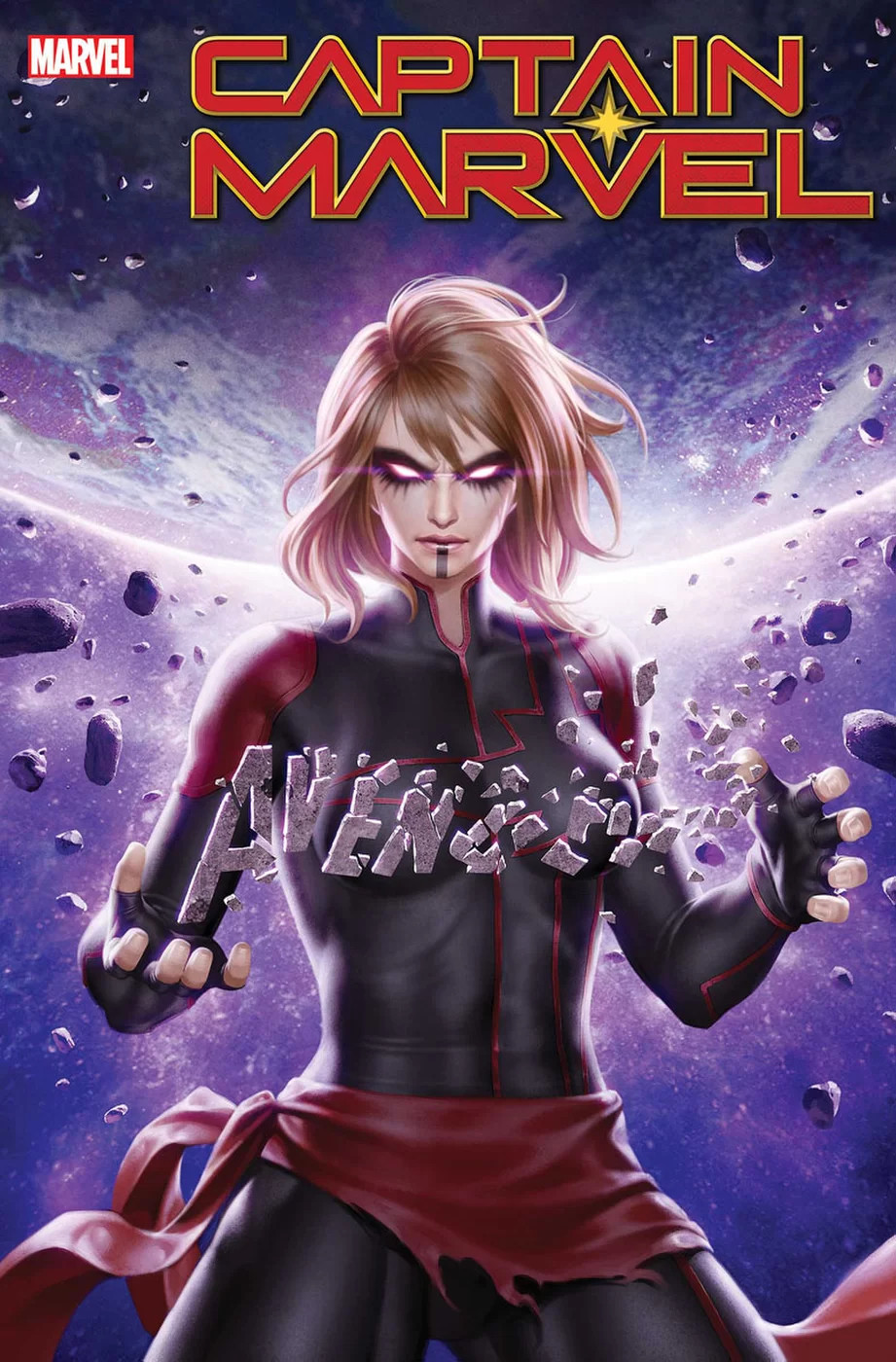 CAPTAIN MARVEL #13
KELLY THOMPSON (W) • LEE GARBETT (A) • Cover by MARK BROOKS
CONNECTING VARIANT COVER BY Inhyuk Lee (2 OF 5)
2020 VARIANT COVER BY KRIS ANKA
VENOM ISLAND VARIANT COVER BY JOSH CASSARA
"THE LAST AVENGER" PART 2: FIVE TO GO.
One Avenger is dead at Captain Marvel's hand. Who will be next? And why? What strange allegiance is driving Captain Marvel to the darkest edge?
32 PGS./Rated T+ …$3.99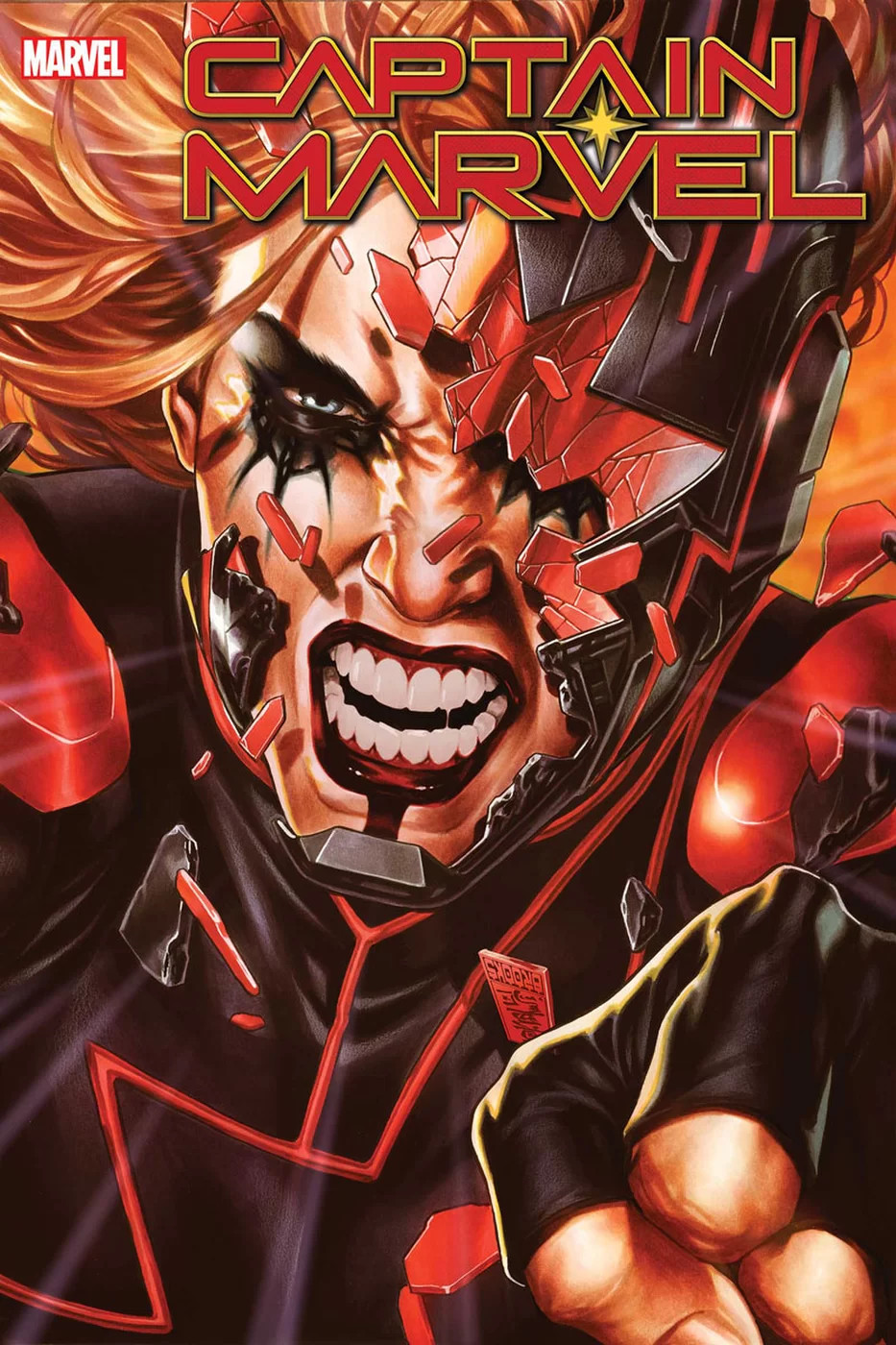 CAPTAIN MARVEL #14
KELLY THOMPSON (W) • LEE GARBETT (A) • Cover by MARK BROOKS
CONNECTING VARIANT COVER BY INHYUK LEE (3 OF 5)
MARVELS X VARIANT COVER BY ALEX GARNER
"THE LAST AVENGER" PART 3: DESPERATE MEASURES
Two down. But time is running out, and there are Avengers left to kill. Can Captain Marvel finish off her former friends before the clock runs down — and all is lost?
32 PGS./Rated T+ …$3.99