With the launch of her controversial YouTube channel, Captain Marvel star Brie Larson confirms she tried out for both the failed Disney Star Wars movies and the Terminator franchise that is a complete disaster.
"I actually was thinking about the Terminator reboot today because I got a flat tire and I was like, 'Oh the last time I got a flat tire was when I was driving into my audition for Terminator. Got a flat tire at the audition, and then didn't get the job,'" Larson said.
Regarding her Star Wars audition, a friend she was chatting with in the video told her they auditioned for the Solo movie, which saw Larson confirm she auditioned for Star Wars as well: "I auditioned for Star Wars, too."
Regarding the potential roles Brie Larson could have played, we can guess she might have either auditioned for the role Mackenzie Davis played in Terminator: Dark Fate or even Emilia Clarke's in Terminator: Genisys. Both of the films failed at the box office, with the franchise now on hold indefinitely.
For Star Wars, it could be possible that Brie Larson was auditioning for Rey in the main trilogy, Felicity Jones' role in Rogue One, Emilia Clarke's in Solo, or something else.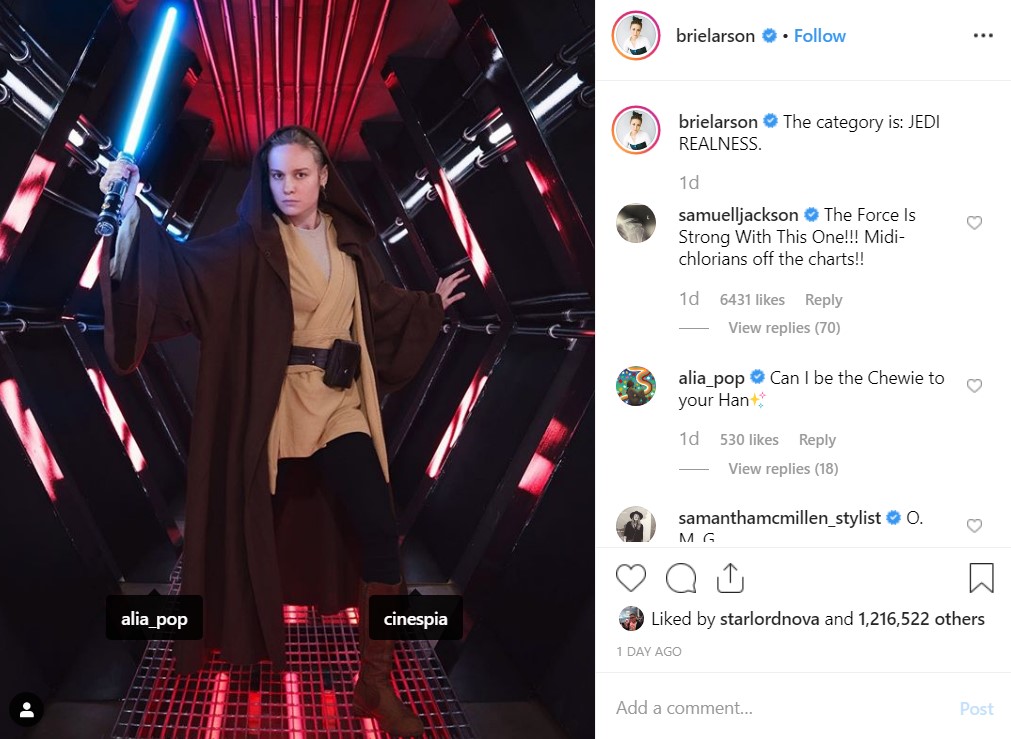 Brie Larson wants to appear in Star Wars
Brie Larson has gone on record she wants to appear in a Star Wars movie as she has teased images of herself with a lightsaber.
Head of Marvel Kevin Feige is currently developing a Star Wars movie for Disney, with some rumors offering it could star Brie Larson, possibly as the wife of Luke Skywalker, Mara Jade.
Similar to Terminator, new Disney Star Wars movies have been on hold due to the poor performance of the Abrams and Johnson trilogy, though LucasFilm does have a Star Wars movie release date set for 2022. With the coronavirus shutting down Hollywood, Disney may be forced to push back the release date as nothing has been announced, no title, no director, no cast, and no start of production.
Captain Marvel also isn't without its problems as the sequel will get a new director and writing team.