A black Captain America is confirmed for the Marvel Cinematic Universe, which is not really a surprise if you have been following the MCU.
Anthony Mackie, who plays Sam Wilson aka The Falcon, will don the red, white, and blue of Captain America in the upcoming The Falcon and the Winter Soldier Disney Plus series for Marvel.
Mackie's make-up artist confirmed the news in a recent post on Instagram.
"We're getting a black Captain America this year, so let's not cancel 2020 just yet," Latoya Henderson posted to her Instagram story about the Black Lives Matter movement.
As Marvel fans know, the end of The Avengers: Endgame saw Chris Evans' Steve Rogers pass the shield to Mackie's Sam Wilson.
Black Captain America for Marvel: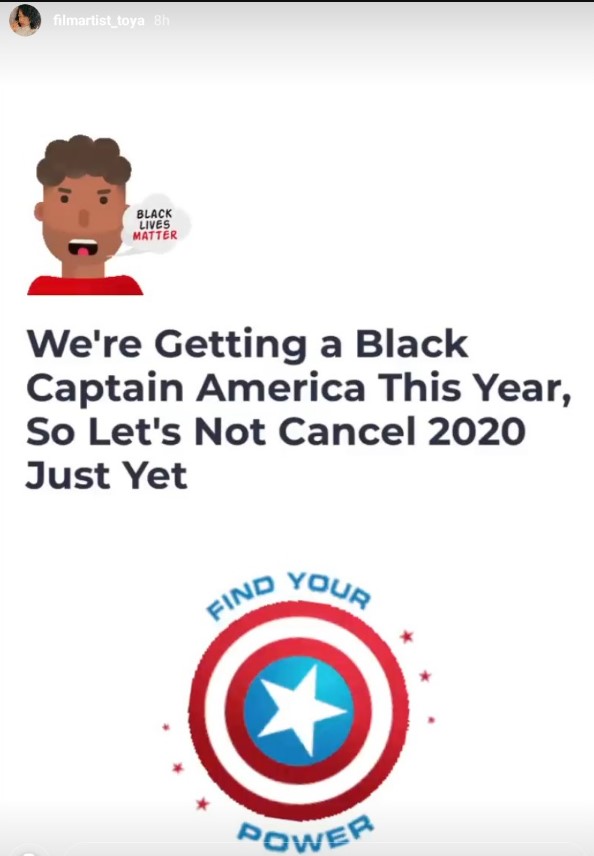 Marvel's "Big Game" spot from a few months ago saw Sam Wilson wielding and throwing Captain America's shield, but it was unclear if Sam would be using Cap's shield as The Falcon or fully becoming Captain America.
"Big Game" Spot | Marvel Studios | Disney+:
Anthony Mackie confirms Captain America:
Anthony Mackie recently appeared on The Tonight Show with Jimmy Fallon where Mackie also stated he is Captain America while explaining and joking around how the show is not canceled.
"I'm happy to say we are not canceled, we are on hold. So we're going back, hopefully sometime soon to finish it up. We have very little stuff to do, but I am very happy with it. We have a little bit more to go back and do, but everybody rest assured, it will come out. We are not canceled," Mackie told Fallon. "Because you know, in this business, people are like, 'Take a little break, we'll come back to it,' that means they're never coming back to it [laughs]. I'm like, 'Man, I was Captain America for all of two weeks, this sucks! How did I get fired on my day off?"
The Falcon and the Winter Soldier concept art: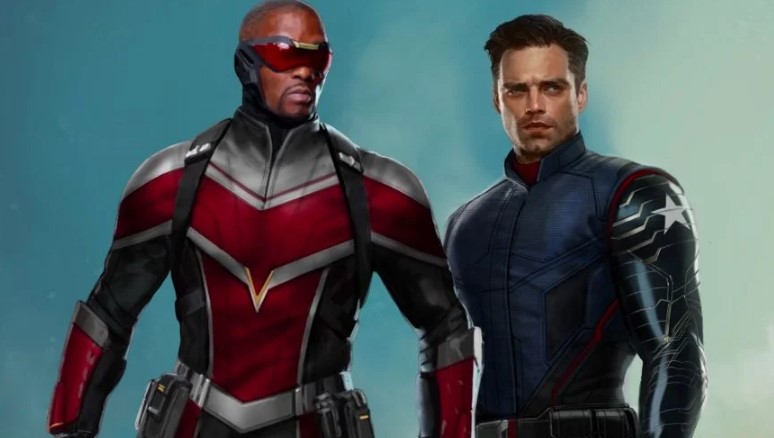 What remains to be seen is whether Anthony Mackie will don an actual Captain America suit or whether the Disney Plus series will create some sort of Captain America and Falcon hybrid suit, which concept art may have teased (pictured above).
Fans of Marvel Comics are familiar with The Falcon replacing Captain America, with Bucky also replacing Captain America for a time as well.
The Falcon and the Winter Soldier is supposed to air on Disney Plus in August; however, due to the coronavirus, there is still filming left to do, with rumors offering Marvel Studios may release half seasons for their shows on Disney Plus, which will give them enough time to catch up the shows filming schedules, which also includes WandaVision and Loki.
Anthony Mackie Falcon Captain America fan art: