DC Comics reveals a look and unmasks the new Black Batman that will be written by John Ridley as part of its upcoming "Future State" event that launches in January.
However, the identity of the new Batman is still unknown and will remain a mystery for at least the start of the "Future State" event.
Details for The Next Batman comic book series from Ridley include:
In this future, Gotham City is controlled by the Magistrate. This villainous regime has taken control of the city, now under constant surveillance. All masked vigilantes have been outlawed and Batman has been killed. But led by an all-new Batman, a new assembly of Gotham's guardians rise to give hope to all of those who lost it!
The list of comics, concept and preview art, and more about the new Batman can be found below.
The Next Batman: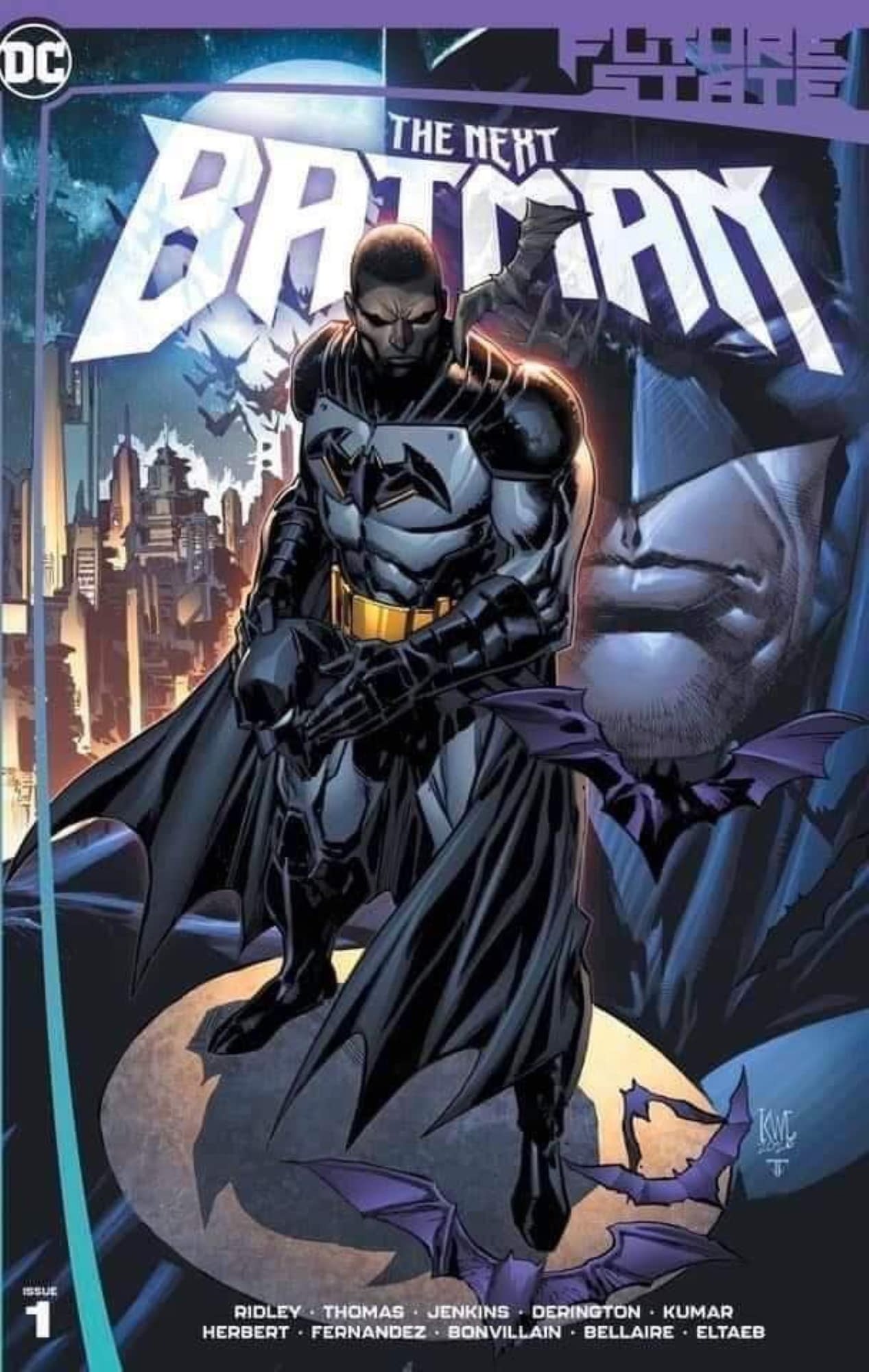 John Ridley, Mariko Tamaki tease The Next Batman
"It really is a logical extension of what we've seen going on with the Joker War," explains Ridley in a free DC Comics giveaway about The Next Batman comic book. "What happens when Gotham turns into a total battleground? When people start to think, 'Ther are no good masks. They're all a threat.' Even the police are not equipped to handle them. When you have a city that decides to bring in a private security force, when they decide to turn law and over to an outside entity, what does that mean? It's a private army driven not by morality, not by law, but really one edict — that all masks are bad."
Ridley also comments on how the new Batman will have unexpected resources to go along with the changes in Gotham City.
"It's really difficult to avoid technology and facial recognition," says Ridley. You have a Batman who has to operate in a space where the only advantage he can have is to be analog. When you start removing those digital tools, you're like a caveman fighting computers. It really is rolling back Batman to being an individual who is so much about his wit, his guile, and his physical acumen. You're out-manned, you're outgunned, and the only thing you can really do is go back to the original Batman — the shadows are your friend. The night is your ally The city is your battleground."
Mariko Tamaki, writer of Future State: Dark Detective, also tackles the question that if there is a new Batman, what happened to the Batman who protected Gotham City for all these years?
"I think the Magistrate wants a lot of things that are all helped by Batman being dead," says Mariko. "You'd almost have to know who you were dealing with if you wanted to kill him. And you'd have to have some pretty hefty sources at your disposal."
Regarding if the real Batman is actually alive, Tamaki says to read his series for more.
"Bear in mind that Batman is many things, but he's not one to share his feelings all that readily. You'll have to read issue #3 of Dark Detective to find out more!"
Concept art further reveals the new Batman maintains the mystery with a mask that covers his entire face.
The Next Batman concept art:
Future State: The Next Batman #2 preview art: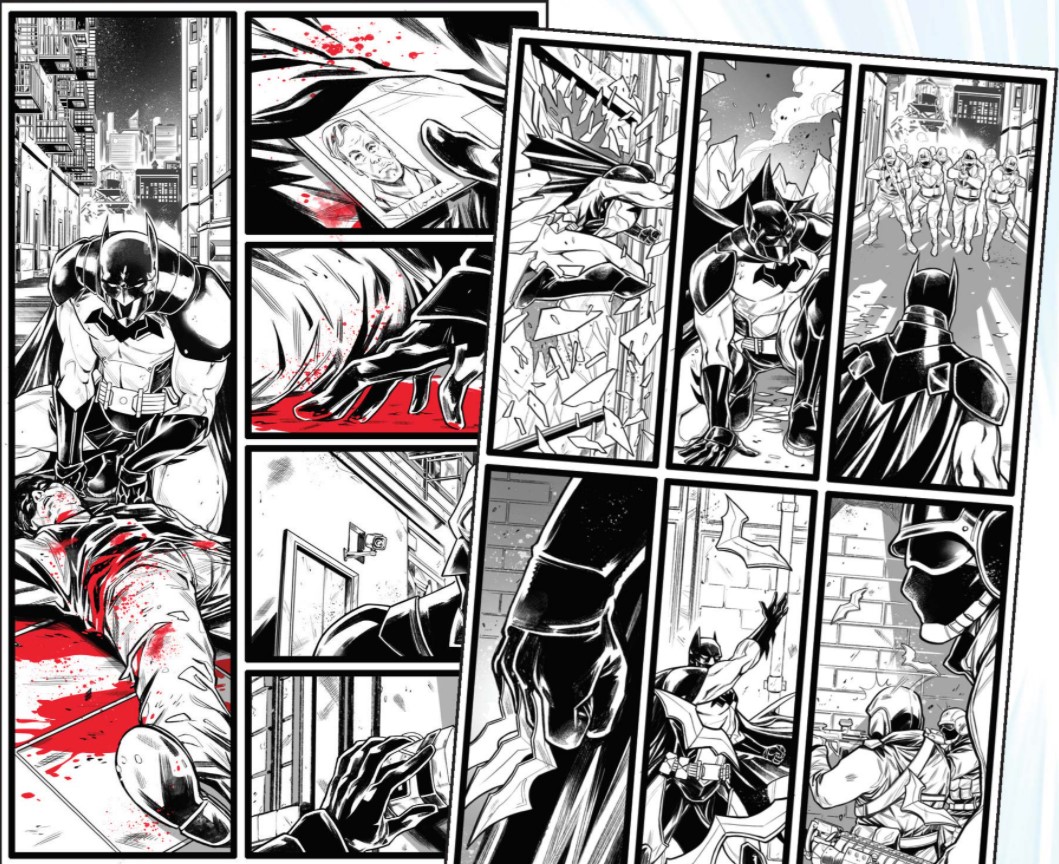 The Next Batman comics:
Oversized Comics:
Future State: The Next Batman #1-4
The Next Batman, by John Ridley, Nick Derington and Laura Braga
Outsiders, by Brandon Thomas and Sumit Kumar
Arkham Knights, by Paul Jenkins and Jack Herbert
Batgirls, by Vita Ayala and Aneke
Gotham City Sirens, by Paula Sevenbergen and Emanuela Lupacchino
Future State: Dark Detective #1-4
Dark Detective, by Mariko Tamaki and Dan Mora
Grifters, by Matthew Rosenberg and Carmine di Giandomenico
Red Hood, by Joshua Williamson and Giannis Milonogiannis
Monthly Miniseries:
Future State: Batman/Superman, by Gene Luen Yang and Ben Oliver
Future State: Catwoman, by Ram V. and Otto Schmidt
Future State: Harley Quinn, by Stephanie Phillips and Simone Di Meo
Future State: Nightwing, by Andrew Constant and Nicola Scott
Future State: Robin Eternal, by Meghan Fitzmartin and Eddy Barrows