The first reactions to Birds of Prey have hit social media, and Warner Bros. has also released three new clips.
The general consensus about Birds of Prey is that it's a lot of fun; check out the reactions below.
The new clips include "Hair Tie," "You Lost Something, Right?" and "He's After All of Us."
Tickets are now on sale and WB is also holding early screenings.
Birds of Prey: And the Fantabulous Emancipation of One Harley Quinn​ gets released on February 7, 2020 directed by Cathy Yan and stars Margot Robbie as Harley Quinn, Mary Elizabeth Winstead as Huntress; Jurnee Smollett-Bell as Black Canary; Rosie Perez as Renee Montoya; Chris Messina as Victor Zsasz; and Ewan McGregor as Roman Sionis, the Black Mask, and newcomer Ella Jay Basco also stars as Cassandra "Cass" Cain in her feature film debut.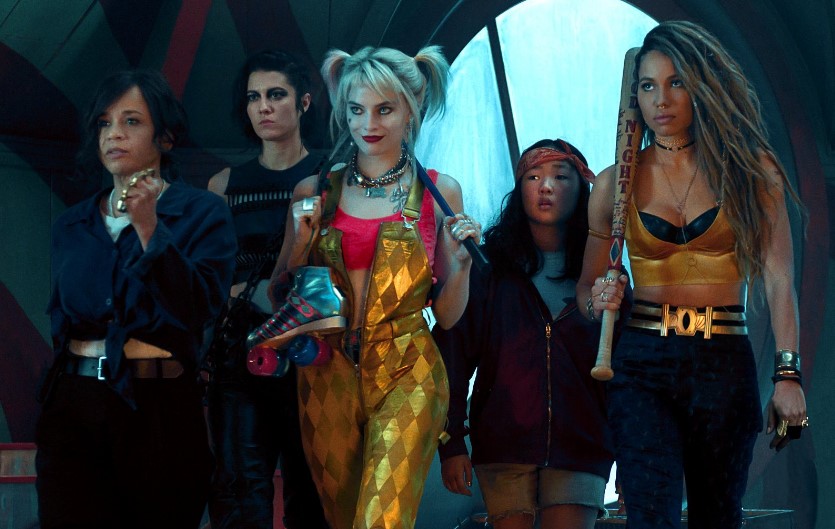 Birds of Prey clips:
Birds of Prey reactions:
Also, Ewan McGregor and Chris Messina are so out of their minds in this film – probably my favorite villains in this new era of DC movies. They are both nuts in all the best ways & the R rating certainly helps. Plus, a shout out to Rosie Perez, who steals a lot of scenes, too pic.twitter.com/LBBWO84MSa

— Erik Davis (@ErikDavis) January 29, 2020
Also would like to send a lil prayer of thanks for the costume, makeup, and hair people responsible for Chris Messina's entire situation here because wow yes thank you #BirdsOfPrey pic.twitter.com/chr4HhfkNA

— Angie J. Han (@ajhan) January 29, 2020
My favorite moment? When one of the women asks the other for a hair tie in the middle of a fight scene.

FINALLY!!!! Who actually kicks ass with long ass hair flinging around? Extra —— for Yan & Hodson for putting that in knowing this is how women would do it!! #BirdsofPrey

— Yolanda Machado (@SassyMamainLA) January 29, 2020
At times the style can be a bit too abrasive, pacing a bit jolty, and it does feel like it's balancing two movies (HQ & BoP), but as opposed to Suicide Squad, the story, characters and themes are confidently carried through by Cathy Yan's terrific direction. #BirdsofPrey pic.twitter.com/ppbekIdtMq

— Griffin Schiller (@griffschiller) January 29, 2020
#BirdsOfPrey is a lot of fun and violent as hell. The Birds are so entertaining and distinctly different from each other. Ewan McGregor is so sinister and often hilarious. pic.twitter.com/4scxbS6GwT

— BD (@BrandonDavisBD) January 29, 2020
BIRDS OF PREY: Cathy Yan has created a music infused celebration of female badassery. DC continues to take big risks and push boundaries. The perfect Harley Quinn movie. Margot Robbie crushes it. I loved all these ladies & am looking forward to the sequel/spin-off. #BirdsofPrey pic.twitter.com/eRF5FJzahP

— Scott Menzel @ Sundance (@TheOtherScottM) January 29, 2020
#BirdsofPrey is KILLER. A slow start and awkward plotting doesn't stop the movie, and these characters, from soaring in the end. Wildly violent, F bombs out the wazoo, and the best bat fight scene since The Raid 2. If Margot Robbie could control this part of the DCEU, she should. pic.twitter.com/bewnj8npaJ

— Eric Francisco (@EricFrancisco24) January 29, 2020
#BirdsofPrey is an absolute blast & undeniably fun live wire jolt of adrenaline. Delightfully devilish & deliriously wicked,this irreverent, rule-breaking riot delivers a contact high. Cathy Yan is a genius. Robbie, Smollett, Winstead, Perez & Basco are perfection. @birdsofpreywb pic.twitter.com/D72F2D1apY

— Courtney Howard (@Lulamaybelle) January 29, 2020
Cathy Yan's #BIRDSOFPREY is a criminally fun celebration of sisterhood, with some of my favourite fight scenes in recent memory. I was grinning from ear to ear the entire thing; making a pub debut with my review soon! pic.twitter.com/QBEgyf6oan

— Millicent Thomas (@MillicentOnFilm) January 29, 2020
So #BirdsofPrey was an absolute blast. Harley feels exactly like the human Looney Toon she ought to be, Black Mask is a scene stealer; Dinah, Helena, Cass, and Renee all rule. This was everything I want from DC movies and then some.

— Meg Downey (@rustypolished) January 29, 2020
Really enjoyed #BirdsofPrey! The action reminded me a lot of John Wick. The chemistry amongst the cast was great and I would love to see more #BlackCanary & #Huntress in the future. pic.twitter.com/9ySVvh1yyz

— Dorian Parks (@DorianParksnRec) January 29, 2020
#BirdsofPrey is one word: FUN! A frenetic hyper stylized Harley Quinn comic book come to life (it's her movie). It's DC's Deadpool w/ a dash of Tarantino. COULD NOT get enough of McGregor's Black Mask; hysterical, eccentric, & deliciously pathetic. A rockin' kick ass good time! pic.twitter.com/QZ4t95sa7M

— Griffin Schiller (@griffschiller) January 29, 2020
Just saw #BirdsofPrey and am happy to report that it's my favorite modern DC movie yet. Like Shazam, it carves its own path with totally unique aesthetic, action, and tone. Margot, Ewan and all the rest are 100% fantabulous. Why aren't there more roller skate action scenes?? pic.twitter.com/BDipKiB0qU

— Mike Rougeau (@RogueCheddar) January 29, 2020
Just got out of the #BirdsofPrey premiere here in London, and folks – #BOP is a bop! Badass, hilarious, with some killer twists and an emotional Colin Powell cameo that actually grows into a full-on supporting role. Best DC flick since The Dark Knight and I don't say that lightly

— ben mekler (@benmekler) January 29, 2020
#BirdsofPrey is what Suicide Squad should have been.

The cinematography was smooth (you can actually see the actions). The fight scenes were fun. The action was on point. The villains were bat shit crazy. But I did wish the final 3rd act was developed more.#HarleyQuinn

— Juicy Smalleé — Ashtray, Bitch (@sagesurge) January 29, 2020
#BirdsofPrey is delightfully unassuming and unconcerned with its place in a larger context. It's a bonkers bananas crime comedy and a genuine party movie. Everyone is having a blast but Mary Elizabeth Winstead plays Huntress like a supporting character from THE TICK. It rocks. pic.twitter.com/7MRMKkZ0oi

— Scott Mendelson (@ScottMendelson) January 29, 2020
Believe this. #BirdsofPrey whips all sorts of ass. It is a hard-hitting, unapologetic origin story for the team, and a terrific, vicious vehicle for #MargotRobbie. Violent, funny with CRAZY fun action. And Ewan McGregor is on a different frequency, but wildly entertains! See it! pic.twitter.com/g66RYuwwlD

— Sean O'Connell (@Sean_OConnell) January 29, 2020