The Wyld Stallyns are back as Keanu Reeves and Alex Winter share a video announcing Bill & Ted 3 is a go.
"Hi. I'm Alex Winter. And I'm Keanu Reeves," the pair say. "And together we are… Wyld Stallyns!
"We are here to announce something," they say. "We want to say thank you to you the fans because it looks like we might actually hopefully make a movie this Summer. Bill & Ted 3: Face The Music. Yes. And it is all because of you guys, so we owe you a huge debt of gratitude."
Details for Bill & Ted 3 Face the Music include that it has an August 21, 2020 release date, and it picks up with the best friends, now middle-aged, as they meet a visitor from the future who warns them only their song can save life as we know it and bring harmony to the universe. It's also confirmed the flick will feature their kids.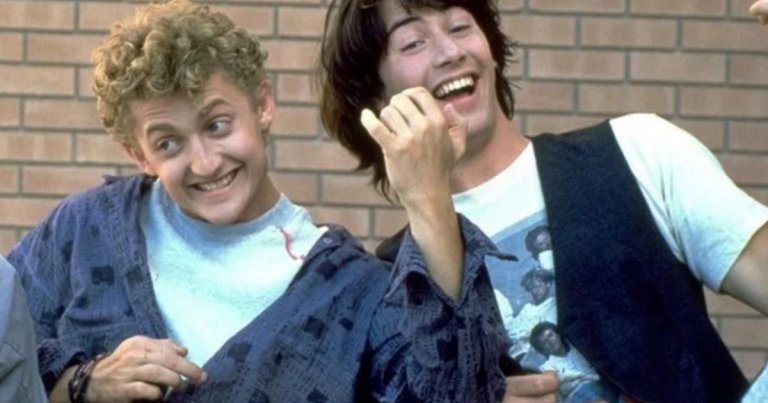 Here is the synopsis: When we last met Bill and Ted they were time-traveling teenagers trying to pass history class and win the battle of the bands. Once prophesized to save the universe with their rock and roll, middle age and the responsibilities of family have caught up with these two best friends who have not yet fulfilled their destiny. They've written thousands of tunes, but they have yet to write a good one, much less the greatest song ever written. With the fabric of time and space tearing around them, a visitor from the future warns our heroes that only their song can save life as we know it. Out of luck and fresh out of inspiration, Bill and Ted set out on a time travel adventure to seek the song that will set their world right and bring harmony in the universe as we know it. Together with the aid of their daughters, a new crop of historical figures, and some sympathetic music legends, Bill and Ted find much, much more than just a song.
(via THR)