Peter Sarsgaard, who has an unknown role in Matt Reeves' The Batman, talks about the flick while attending the Television Critics Association press tour for the upcoming CBS All Access series Interrogation.
Sarsgaard mentions how excited he is for the movie.
"Matt directing this Batman [is exciting]. The cast is so awesome," he says. "It seems different from other Batman movies to me, just with the cast. There's something about it that has an edge, it's young. To me, just my perception of it, it reminds me of when I was in college, and I went to go see The Pixies play, and looking around and feeling the vibe at a Pixies concert. That's what it felt like to me, a song like 'I Bleed.' That it has the energy and that sort of thing, and isn't so specifically targeted to a very young audience, or a very old audience, but has that power of chaos in it…"
Sarsgaard continues with mention how emotional he feels the film will be when it's released to audiences.
"The Pixies were my favorite group of all time. I went to like 20 concerts, and it was that feeling of all of us in this. And it's very emotional. The Pixies were incredibly emotional band, and I think this Batman is very emotional in that way. I think it will be very powerful," says Sarsgaard.
This isn't the first time Peter Sarsgaard has been involved with a DC movie, as he played a villain in the 2011 Ryan Reynolds Green Lantern movie with Hector Hammond, and his wife, Maggie Gyllenhaal who confirmed the casting of her husband in The Batman – possibly as Two-Face – played Rachel Dawes for Christopher Nolan in The Dark Knight.
"I'm excited to do it. You know, my wife [Maggie Gyllenhaal] did Batman years ago, and I've had one previous experience with a thing like that with Green Lantern… I really liked doing that show. I think in the end, the film wasn't as successful as it could have been, but I had a blast doing that one," adds the 48-year-old actor.
Again, it is unknown who Peter Sarsgaard is playing in The Batman, but many think Harvey Dent, aka Two-Face or even Hugo Strange.
The Batman has a June 25, 2021 release directed by Matt Reeves, co-written by Reeves and Mattson Tomlin, Michael Giacchino is scoring the music, and the flick also stars Robert Pattinson as Batman, Colin Farrell as Penguin, Zoë Kravitz as Selina Kyle, aka Catwoman, Andy Serkis as Alfred Pennyworth, Paul Dano as Riddler, Jayme Lawson as Bella, and John Turturro as Carmine Falcone.
Peter Sarsgaard casting for The Batman: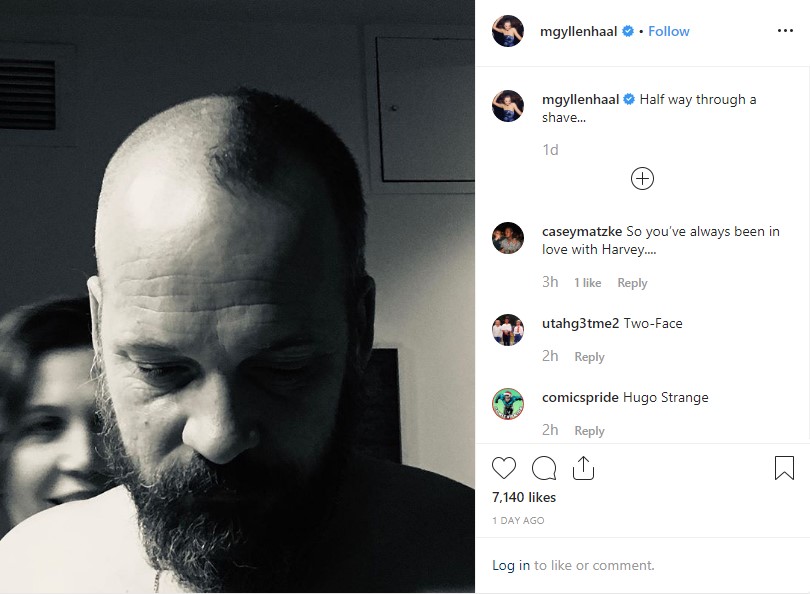 (via Cinema Blend)