Zoe Kravitz talks about the Catwoman costume for The Batman as she lets it be known she has already worn the suit while filming on set.
Though an official look at the Catwoman costume has yet to be released, Zoe Kravitz offers an insight into Oscar Award-winning costume designer Jacquelin Durran's design for The Batman (Durran recently won Best Costume Design for Little Women).
"The costume has been an evolution," Kravtiz tells Total Film Magazine. "Jacquelin Durran, our incredible costume designer, has been beautifully collaborative. It wasn't as though I came to set and she threw something on me. No, it's been a long process and we've had many conversations about what we wanted it to look like."
Kravitz continues with the mention that director Matt Reeves had a specific design in mind, but was open to interpretation.
"Matt, our director, had specific ideas, so there were many fitting where we would change things here and alter things there. Recently we got to a place where we would put it on and think: 'There she is. There is is.' It's exciting. There's no part of me that feels casual about it."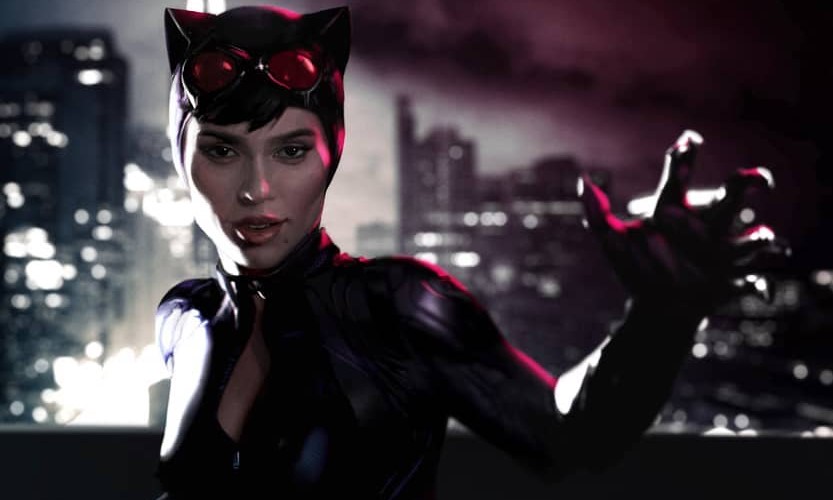 Regarding filming the Catwoman suit, Zoe Kravitz recalls wearing it on set for The Batman
"They called me to set recently and I was in the outfit — and I looked at everyone and it was so cool," said Kravitz. "I remember thinking: 'Oh my God… This is incredible. This is such a cool thing to do.' What they did with the costume is really exciting."
The recent set images featuring Batman riding the motorcycle may have also featured a look at a stunt double as Selina Kyle, but again, Reeves and Warner Bros. have yet to reveal an official look at Zoe Kravitz in the film.
The Batman has a June 25, 2021 release directed by Matt Reeves starring Robert Pattinson as Gotham City's vigilante detective, Batman, and billionaire Bruce Wayne.
Starring alongside Pattinson as Gotham's famous and infamous cast of characters are Zoë Kravitz as Selina Kyle; Paul Dano as Edward Nashton; Jeffrey Wright as the GCPD's James Gordon; John Turturro as Carmine Falcone; Peter Sarsgaard as Gotham D.A. Gil Colson; Jayme Lawson as mayoral candidate Bella Reál; with Andy Serkis as Alfred; and Colin Farrell as Oswald Cobblepot.
(note: fan art depicted)