Following the initial batch of early reviews from the shill sites, the Sonic The Hedgehog Rotten Tomatoes Score was only lukewarm, but the good news is that audiences around the world think the flick is hot.
With over 355 verified ratings at Rotten Tomatoes, the Sonic The Hedgehog Rotten Tomatoes Audience Score currently stands at an overwhelmingly positive 94%.
Update: The score is now at 95% with 2,750 fan ratings.
Original article continues:
The number happens to be a lot better than the recent Pokémon Detective Pikachu movie that featured the voice of Ryan Reynolds, which has a Rotten Tomatoes Audience Score of only 79%, and it's also a lot better than Angry Birds (46%), The SpongeBob Movie: Sponge Out of Water (54%), and Captain Underpants: The First Epic Movie (61%).
Audiences also see Sonic The Hedgehog on par with Toy Story 4 (94%) and Coco (94%), and better than Pixar's Toy Story 3 (89%), The Incredibles 2 (84%) and Cars 3 (84%).
Check out the fan reactions below.
Sonic is now in theaters.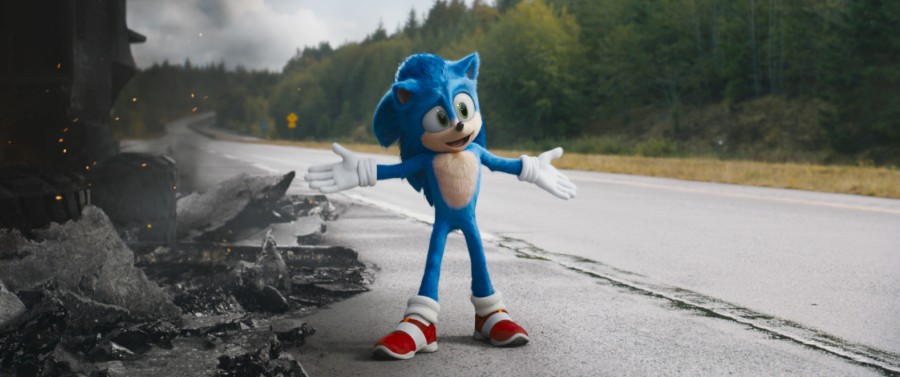 Fans love Sonic The Hedgehog; reactions:
"The SONIC movie blew me away to put it mildly, I don't think anyone apart from a 'glass half full' kind of guy thought it would turn out this good. The visuals, sound and acting are everything you would expect from a movie that is designed for fans of the game and family members who are just out for a good time. Well done Paramount, SEGA and all involved – you may have just created the best video game movie of all time. Here's hoping we get SONIC 2 and it releases on a Tuesday!" said a fan review at Rotten Tomatoes.
"100% really good funny love it," said user Dora L.
"My spoiler-free thoughts on #SonicTheHedgehog: A fun family-friendly video game movie that benefits from Ben Schwartz's wisecracking vocal performance as the titular Blue Blur, Jim Carrey as Doctor Robotnik and a last-minute redesign of Sonic's model. The opening scene is well put together and explains why Sonic had to stay on Earth, it's actually quite sad when you see it. The comedy is charming with the callbacks to Marvel movies, Star Wars, Fast and Furious and Keanu Reeves. And, the lore of Sonic they expand on the movie is actually established quite well. I think this is the second-best video game movie after Pokemon: Detective Pikachu and it's worth seeing. Also, make sure you stay for two post-credits scenes, one that will make you say 'I wanna see a sequel,' which my theater agreed with when they clapped in applause after it ended. Final score: 5 stars.10/10. P.S." said Alessio P.
"The Best videogame Movie ever," said Vic M.
"I grew up with Sonic throughout my childhood. The first design of him was left a lot to be desired. After the director and entire team that worked on this movie committed to redesigning the character, I was determined to watch this movie. I don't care if the movie was bad or the best thing I've ever seen. That aside, I loved this movie. It was fun, charming and a great time not just for fans but for any age group. Please if you are a Sonic fan, STAY FOR THE CREDITS!!!!" said Josh C."
"I just got out of the pre-release of Sonic The Hedgehog. I have been a fan since the first games and cartoons back in the 90's so I was looking forward to seeing how SEGA would do at their turn at the big screen. Between Sonic and Dr. Robotnic I was laughing most of the film. Sonic's teen like humor and Eggman's cocky confidence were the perfect mix for and salute to the original cartoons. Also, the potshots at Nintendo were priceless and bring back memories of the original console wars. If you had doubts about this movie because of how bad the original Super Mario Movie was, DON'T! SEGA did what NINTENDONT…lol. By the end of the film, I was satisfied and debating when the next time I would return to see the movie again! I know that fans new and old will enjoy every second of this fun thrill ride/comedy!" said Sherman V.
"Great, fun movie! They listened and changed the design for sonic, a big win for me! Shows that if they listen to fans it can go well! Great to see Jim Carey back to his weird zainy self! Would see again," said LW.
"Green Hill (zone), lost rings, gotta go fast. It's literally what you expect and it's amazing. And they couldn't cast anyone better than Jim Carrey for Dr. Robotnik. He legit embodies the character perfectly," said a user comparing the movie to "basically the game."
"A perfect love letter to fans of the franchise as well as great family film," said Jonathan K.