New details are learned about the upcoming Arrowverse Elseworlds crossover that sees Stephen Amell as The Flash and Barry Allen as Green Arrow in addition to featuring Melissa Benoist as Supergirl, Tyler Hoechlin as Superman and introduces Ruby Rose as Batwoman.
EW.com offers Dr. John Deegan of Arkham Asylum (Lost's Jeremy Davies) rewrites reality, which results in Oliver and Barry swapping lives. In this new reality, Oliver Queen looks like Gustin and Barry Allen looks like Amell, and the two heroes are the only ones who know they're in the wrong lives and have each other's powers.
"You're not going to see me playing Oliver Queen's mannerisms, or Stephen playing Barry's mannerisms. It's more being aware that for some reason we've switched lives and destinies. It's more the fun of the situational comedy that we keep finding ourselves in, and less us having a complete role reversal," Gustin said. "We get to see Stephen do some of the more goofy speed stuff I have to do on a regular basis, and I get some actual combat as Green Arrow. So, we just see different colors for each of us."
"Having superpowers is crazy! Wearing the Flash suit is crazy!" Amell added. "The idea is that in order to be the best version of Barry Allen, which I have to be because we face a threat, there are elements of his personality I have to embrace, and there are elements of my personality that he has to embrace."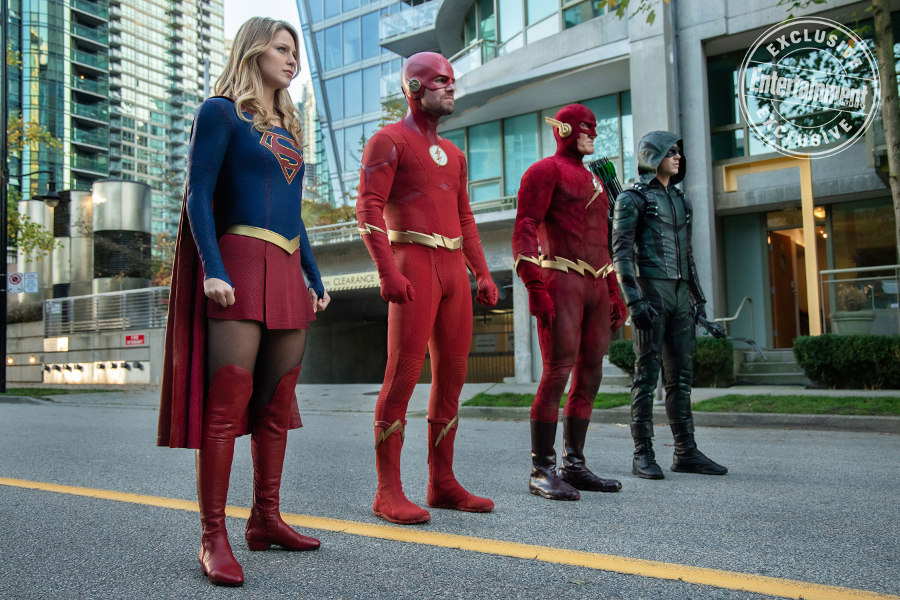 It's noted the Legends of Tomorrow aren't taking part in the crossover because it was just too much on the cast and crew as well as the story to fit them all in. Also, this year's crossover will feel more like individual episodes rather than like the four-parter from last year.
"It feels like it's going to be our strongest crossover, our funniest crossover. I don't know what fans are excited for, but I'm excited just to see Superman, Flash, Supergirl, Green Arrow, and Batwoman all on screen together. It's pretty amazing," Gustin said.
The three-night Arrowverse Elseworlds crossover airs Sunday, Dec. 9 with The Flash, followed by Monday, Dec. 10 with Arrow, and concludes Tuesday, Dec. 11 with Supergirl also featuring Elizabeth Tulloch as Lois Lane, Cassandra Jean Amell as Nora Fries, LaMonica Garret is playing The Monitor, an extraterrestrial being of infinite power, with John Wesley Shipp reprising his '90s The Flash.