Following the reports from a week or so ago, now Andy Serkis confirms he will be directing Venom 2.
"It's actually happening. I can feel it, the Symbiote has found a host in me, and I'm ready for the ride…Can't wait! Are you ready @tomhardy? #venom #venom2 #marvel," Serkis posted on Instagram that includes an image of himself holding the Venom "Lethal Protector" comic book.
It was previously reported that Andy Serkis will only be directing Venom 2 and won't be a character in the film, as Serkis is known for his stellar motion-capture work that includes Snoke in Star Wars, Caesar in Apes and Gollum in Lord of the Rings. Andy Serkis was also recently featured in the Marvel movies as Klau.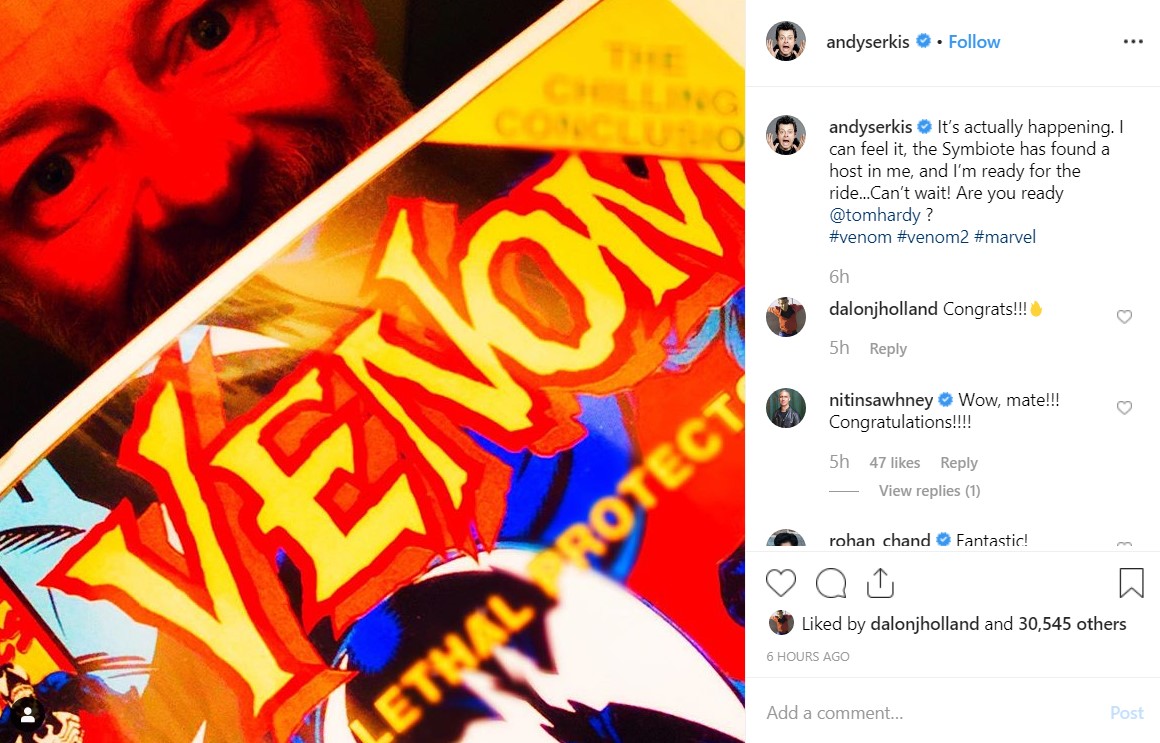 Sony continues its Spider-Man spinoff universe with Venom 2
Venom 2 has an October 2, 2020 release date and will feature Tom Hardy back as journalist Eddie Brock who joins with the alien symbiote. Michelle Williams may also return as Anne Weying, with Woody Harrelson likely to reprise as Cletus Kasady, aka Carnage, who was teased during the post-credit scene to the first film.
The first movie debuted last year and was a box office hit as it brought in over $856 million worldwide including a huge Chinese gross of over $269 million.
Venom 2 looks to continue Sony's success with the first flick as part of its Spider-Man spinoff cinematic universe which will continue with the Jared Leto Morbius the Living Vampire movie out on July 31, 2020.