Amy Jo Johnson won't be returning and suiting up as the Pink Ranger in the upcoming Mighty Morphin Power Rangers: Once & Always 30th Anniversary Special on Netflix, with the late Jason David Frank also not appearing as the popular Green Ranger.
The actress was cast as Kimberly Hart in the original Mighty Morphin Power Rangers series way back in 1993 and is a big-time fan-favorite, so more than a few fans are upset she isn't returning for the special which sees original actors, David Yost and Walter Jones, returning as their respective characters, the Blue and Black Ranger.
So as fans are upset, they appear to be blaming Amy Jo Johnson for not returning and accusing of her not doing the Special because of the money, meaning she wasn't getting enough or wasn't getting what she might have asked for.
On Sunday, Amy Jo Johnson addressed those claims along with the late Jason David Frank not returning who recently passed away at the age of 49.
"Please stop saying I didn't do reunion because of money. Simply not true," she tweeted. "Maybe I just didn't want to wear spandex in my 50s or couldn't go to NZ for a month. Or none of ur beeswax. JDF & I both chose not to for our own reasons. They filmed before he passed."
Amy Jo Johnson also added she is "excited to see my pals David Yost and Walter Jones rock it though" and she previously said she is "looking forward to watching my friends kick ass!"
"For the record I never said no…I just didn't say yes to what was offered. But other fun stuff is in-store! Looking forward to watching my friends kick ass!" she tweeted on Jan. 18.
While Amy Jo Johnson is not returning for the Mighty Morphin Power Rangers: Once & Always special on Netflix, she is still supporting the release as she tweeted the trailer to her 133.4k followers and she still attends conventions to meet with fans about the show.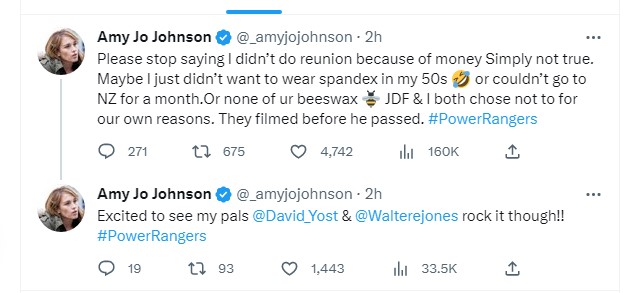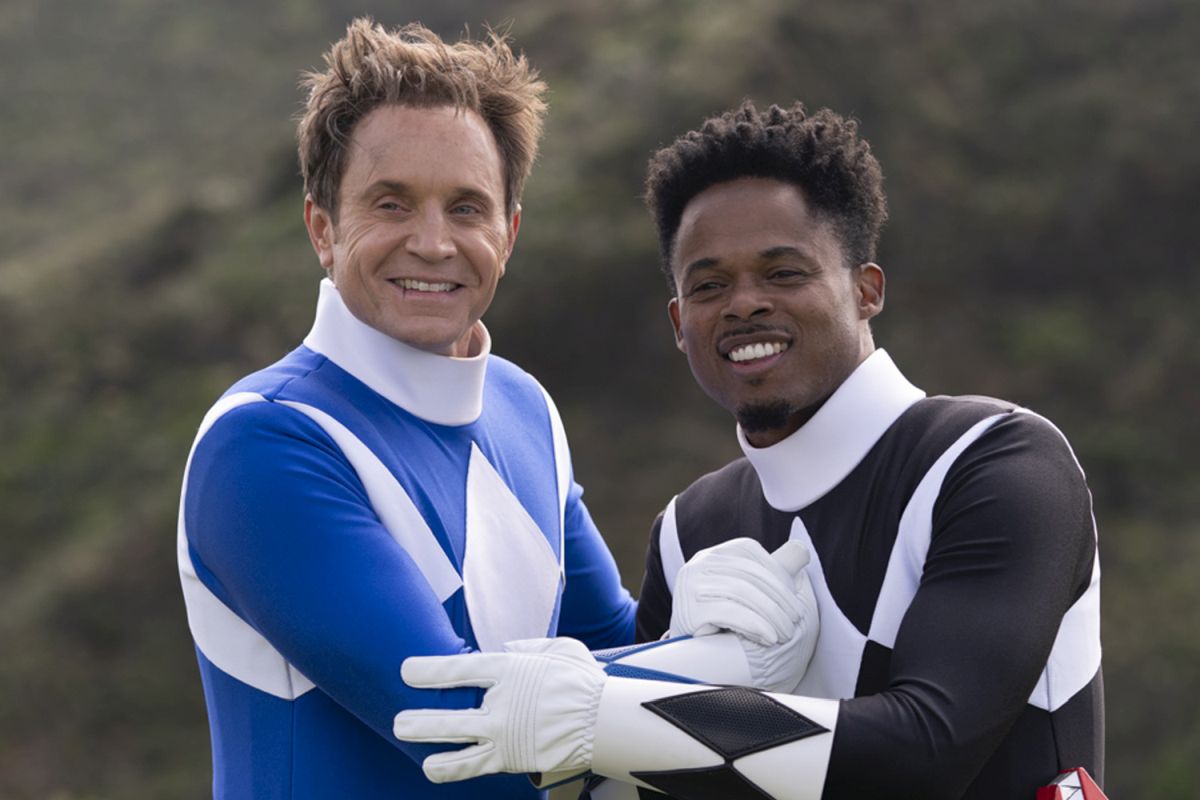 What is Mighty Morphin Power Rangers: Once & Always about?
The official synopsis for Mighty Morphin Power Rangers: Once & Always describes the special as taking place thirty years after the wise and powerful Zordon formed the Mighty Morphin Power Rangers, the team comes face to face with a familiar threat from the past. In the midst of a global crisis, they are called on once again to be the heroes the world needs. Inspired by the legendary mantra from the franchise "Once a Ranger, Always a Ranger," Once & Always reminds everyone when you become a Ranger, you are always a part of the Ranger family and always welcome.
In addition to David Yost returning as as Billy Cranston, the original Blue Ranger, and Walter E. Jones as Zack Taylor, the original Black Ranger, also returning includes Steve Cardenas as Rocky DeSantos, the second Red Ranger; Catherine Sunderland as Kat, the second Pink Ranger; Karan Ashley as Aisha Campbell, the second Yellow Ranger; and Johnny Yong Bosch as Adam Park, the second Black Ranger.
Voice actors returning include Barbara Goodson, the voice of Rita Repulsa, who can be seen in the trailer below, and Richard Horvitz voices the robot sidekick Alpha.
The stand-alone special premiers on Netflix globally on April 19.
Watch the trailer: