This past Wednesday saw Ryan Murphy and FX Networks premiere the first episode to American Horror Story: Apocalypse, and while a preview for the next episode wasn't released, the official season plot synopsis has been revealed, which at least offers a taste of what is to come.
Note: Spoilers follow.
This season has been touted as a crossover between the first season's Murder House and the third season's Coven; however, the first episode of American Horror Story: Apocalypse gave us neither, except for basically an Easter Egg or two.
The good news is that the following American Horror Story: Apocalypse plot synopsis at least seems to shed some light on what is to come, which we can speculate about following the information below:
Plot Synopsis
American Horror Story: Apocalypse is the eighth installment of the award-winning anthology series written by Ryan Murphy and Brad Falchuk.

After the nuclear apocalypse, the world's chosen elite survive in secure Outposts created by the mysterious Cooperative. On the American West Coast, Ms. Wilhemina Venable (Sarah Paulson) and Ms. Miriam Mead (Kathy Bates) run Outpost Three with an iron fist. The unexpected arrival of Michael Langdon (Cody Fern), a Cooperative representative determined to save society with a secret paradise, throws their order into chaos. However, underneath the surface of humanity's salvation lies a battlefield for the final conflict between good and evil.

American Horror Story is produced by Twentieth Century Fox Television.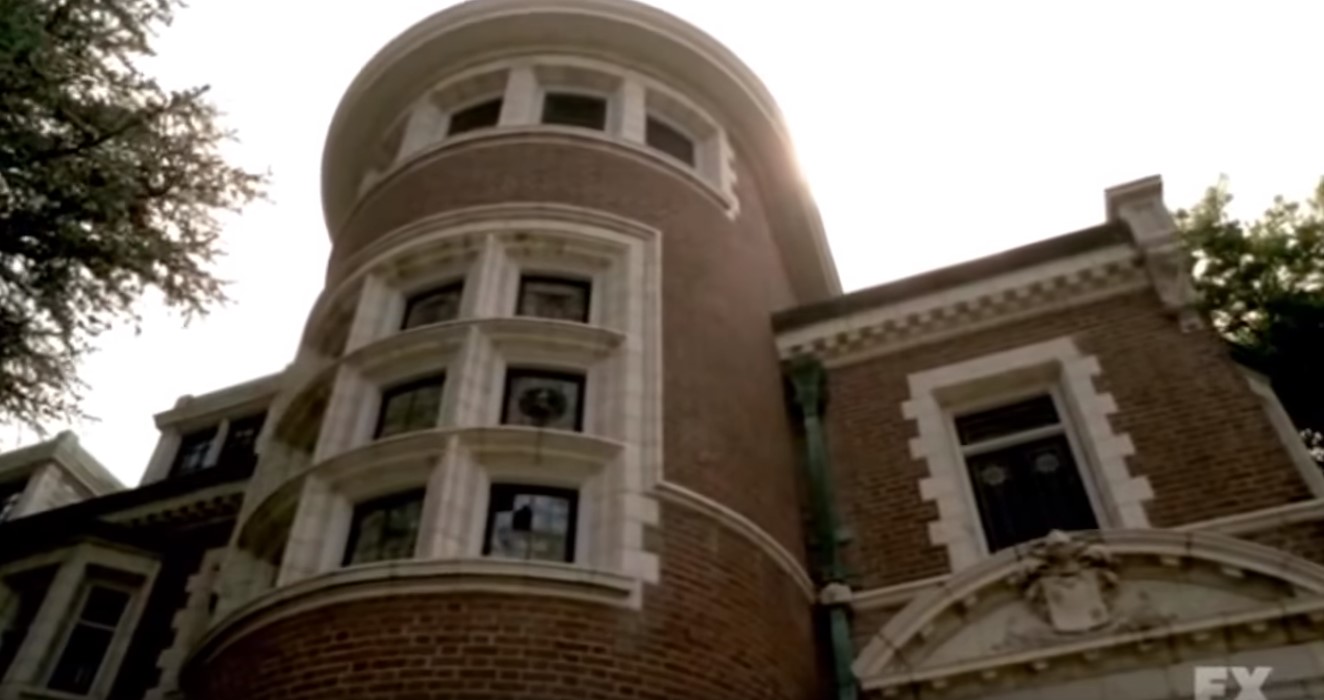 Murder House
The only real connection to any of the previous shows was Michael Langdon showing up at the end.
If you don't recognize the name, he is the anti-christ baby from Murder House that was birthed as a result of the evil ghost Tate Langdon (Evan Peters) raping Vivien Harmon (Connie Britton), the wife to Dylan McDermott's Dr. Ben Harmon and mother to Violet Harmon (Taissa Farmiga). The end of Murder House saw Constance Langdon (Jessica Lange) taking care of the baby where it was then revealed a couple of years later, the child killed his nanny, which seeme to have fulfilled the medium Billie Dean Howard's (Sarah Paulson) prediction about the child growing up to become the anti-christ.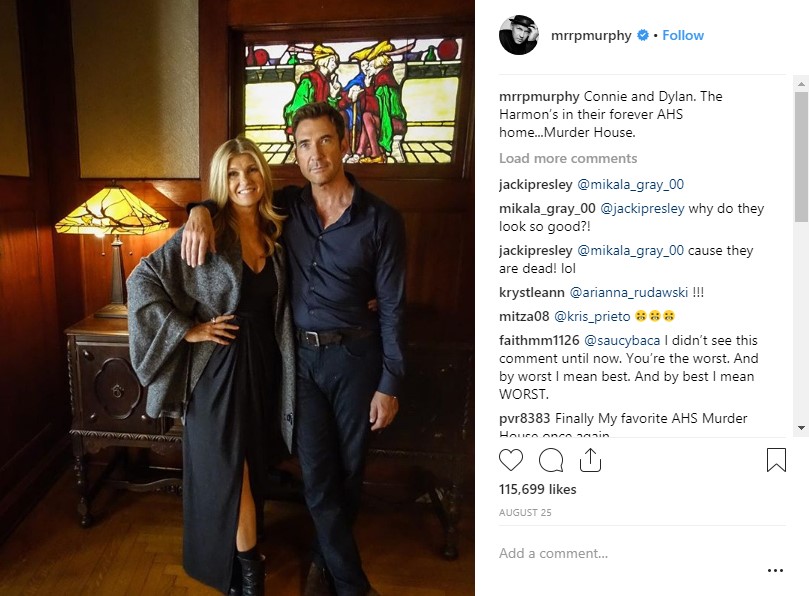 Worth a mention is that it seemed as if Michael Langdon in Wednesday's episode had powers of some kind as he knew his horses were getting killed. In addition, it seems as if his ID is signed by Lucifer, the president of the Cooperative.
How Murder House connects to Apocalypse remains to be seen. It is known Connie Britton, Dylan McDermott, Violet Harmon and Jessica Lange are returning this season, and also that scenes were filmed at the Murder House. We can speculate they could be flashback scenes to when Michael Langdon was growing up. Or another possibility is that Murder House survived the nuclear explosions due to its supernatural forces. More on Murder House below.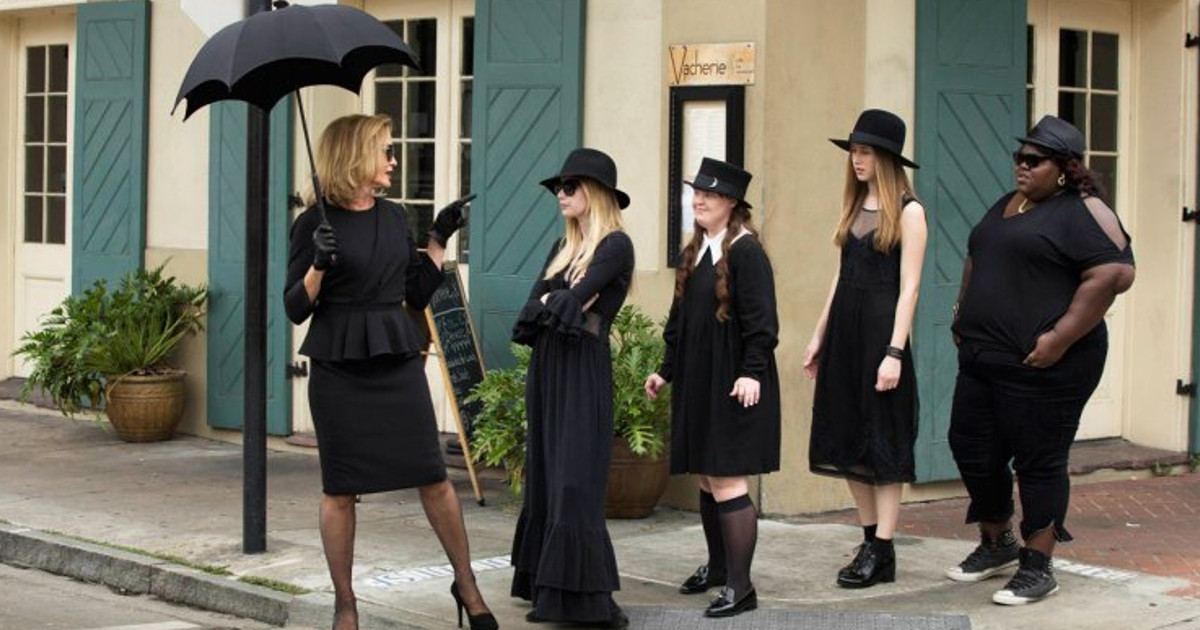 Coven
Raise your hand if you were expecting to see the caddy Witches back during the first episode? Okay, everyone can put their hand down. You can bet Ryan Murphy knew that too, but decided to hold them back, driving us all bat-sh-t insane in anticipation of the next episode.
While Wednesday's episode didn't give us such a direct connection to Coven as Michael Langdon to Murder House, it did drop a big Easter Egg in that Outpost #3 takes place at a boys gifted school, which is obviously reminiscent of Coven's Miss Robichaux's Academy. More than likely the boy's school was an academy for male witches, warlocks or what have you. The lay out of the Outpost also seemed pretty eerie and almost like some sort of Satanic church or Black Mass ritual room.
Worth a mention is that since the boy's academy had in essence a fallout shelter, does that mean Coven's Miss Robichaux's Academy in New Orleans does as well? Is that how the witches survive? It's possible since Cordelia is the new Supreme, that she could have foreshadowed the end of the world?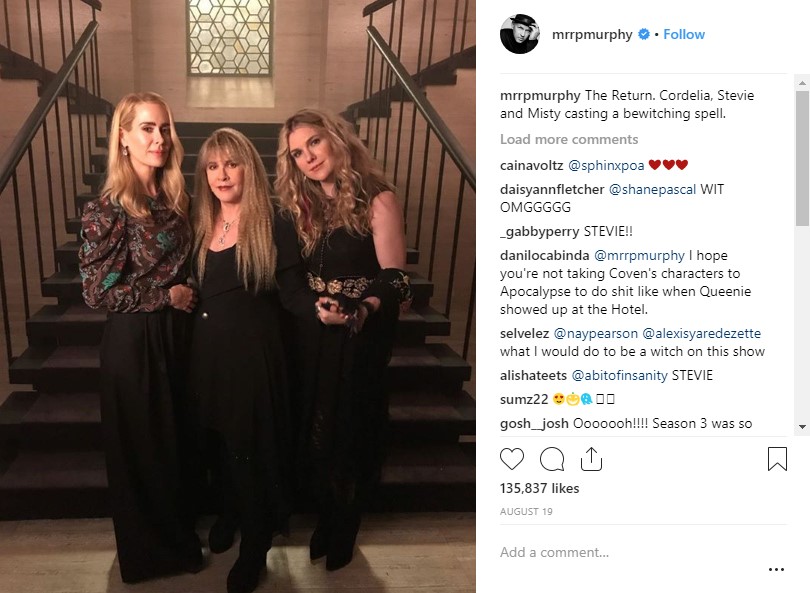 Confirmed witches that are returning: Sara Paulson as Cordelia Goode (Paulson is playing three characters), Stevie Nicks, Emma Roberts as Madison Montgomery, Lily Rabe as Misty Day, Taissa Farmiga as Zoe Benson (playing two characters), Gabourey Sidibe as Queenie and Frances Conroy is back as Myrtle Snow. Jessica Lange also returns in episode six, but her character(s) is unknown.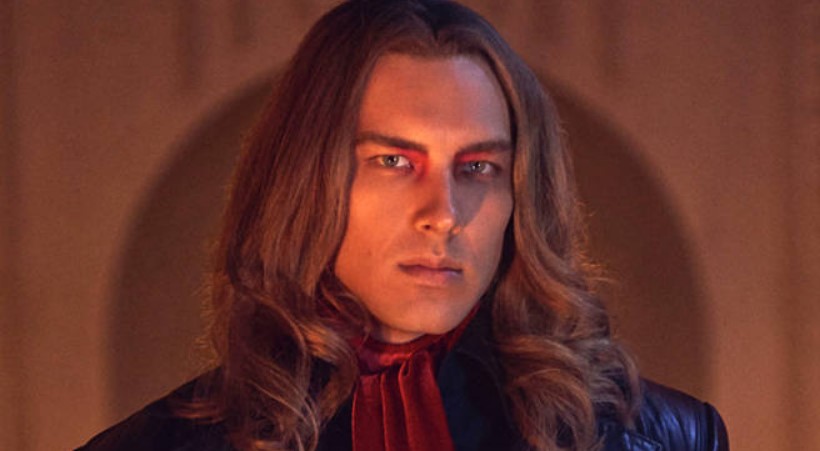 Apocalypse
The synopsis above may also offer a big clue as to the role the witches play: "underneath the surface of humanity's salvation lies a battlefield for the final conflict between good and evil."
Are the witches playing the good side here?
Regarding another Murder House and Coven connection that has yet to be explored, and one which kind of puts the brakes on my theory above that Murder House is a flashback, is that Emma Roberts returns as Madison Montgomery, and she has scenes at Murder House. Last we saw of Madison, Kyle had killed her and Spalding had taken her body. So does Cordelia bring Madison back? Possibly because Cordelia needs all the witch help she can get to take on Michael Langdon and the Cooperative (Illuminati)?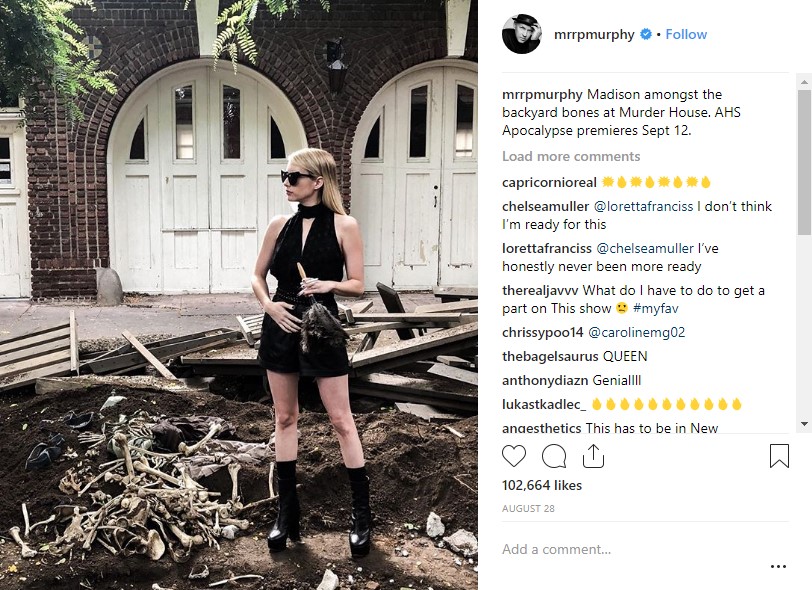 You might even ask the question why would the witches fight against Michael and Lucifer? Aren't witches supposed to be the "brides" of Lucifer? Coven didn't actually portray the witches as being "bad' (per se), and as we saw in the finale, Cordelia "outed" the witches as being benevolent. Of course, it could also be two "bad" groups fighting for control. Or maybe the witches raised Michael, hence the flashback theory would then fit?
Let me know if I missed anything obvious or drop some of your own theories in the comments below.
"American Horror Story: Apocalypse" airs Wednesdays at 10 pm EST on FX also starring Kathy Bates, Gabourey Sidibe, Billie Lourd, Billy Eichner, Leslie Grossman, Adina Porter, Cheyenne Jackson and Joan Collins.