Tonight saw an all-new episode air for American Horror Story: Apocalypse, which features the return of the witches from Season 3's Coven.
Spoilers follow.
The episode kicked off with Michael Langdon interviewing the various candidates for the Sanctuary, where it was revealed Dinah had some sort of power, but not enough to take down Langdon. Likewise, Mallory is also revealed to have some sort of power as when Langdon wouldn't let her leave the room, Langdon was blasted back and fire erupted from the fireplace. Michael Langdon then revealed his anti-christ demon form, with Mallory further showing off her power, much to the surprise of Langdon.
It's only at the end of the episode where we learn their true identities — they're witches along with Coco.
The episode also confirms what many have speculated, that the witches are going up against Langdon, which the plot synopsis hinted at.
Tonight's American Horror Story: Apocalypse episode also featured all of the members of the Outpost getting killed off, as Venable and Ms. Meade poisoned the apples that were sent from the Sanctuary. It was further revealed that it was Michael Langdon's plan all along, with Ms. Meade also shooting and killing Venable, with Langdon have been responsible for the creation of the robot Ms. Meade.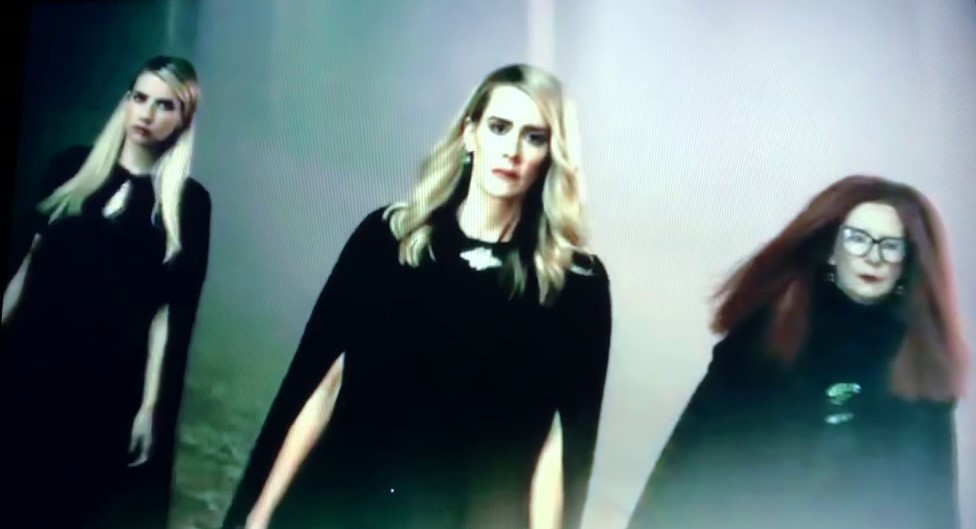 The episode concluded with Sarah Paulson's Cordelia, Frances Conroy's Myrtle and Emma Roberts' Madison arriving at the outpost, getting the bodies of Dinah, Mallory and Coco, and reviving them.
The preview for the next episode, "Could It Be … Satan?" teases more of the confrontation between the witches and Michael Langdon. Watch below.
Tonight's episode was probably the best episode to date from American: Horror Story: Apocalypse, which airs Wednesdays on FX at 10pm EST.