The Amber Heard petition to remove the actress from Aquaman 2 now has over 1.6 million signatures which involves the controversy surrounding Johnny Depp.
The "Remove Amber Heard from Aquaman 2″ petition at change.org currently has 1,642,130 signatures and in part offers: "As Amber Heard is a known and proven domestic abuser, Warner Brothers and DC Entertainment should and must remove Heard from their Aquaman 2 film project. They must not ignore the suffering of Heard's victims, and must not glamorize a domestic abuser. Men are victims of domestic abuse, just like women. This must be recognized, and action must be taken to prevent a known abuser from being celebrated within the entertainment industry.
"Do the right thing. Remove Amber Heard from Aquaman 2," states the petition.
The latest regarding the controversy is that Johnny Depp lost a libel lawsuit in the UK, but Depp is now suing Amber Heard in the United States for $50 million with the trial scheduled for May in a civil court in Fairfax, Virginia, outside Washington D.C.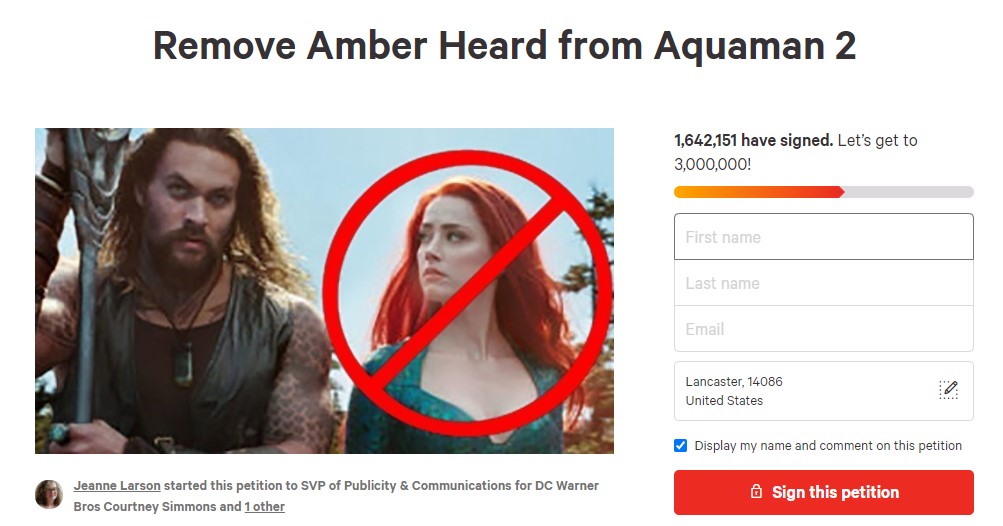 Fans want Amber Heard gone from Aquaman 2
Following Johnny Depp losing in the UK, Warner Bros. and Depp announced the actor had left Fantastic Beasts 3 (Depp was fired), with Amber Heard refuting rumors she was out of Aquaman 2.
"I'm super excited about the amount of fan love and the amount of fan appreciation that Aquaman has acquired and that it has garnered so much excitement for Aquaman and Mera that it means we'll be coming back," Heard recently said. "I'm so excited to film that."
Regarding the rumors of her leaving Aquaman 2, Heard said it was all made up.
"Paid rumors and paid campaigns on social media don't dictate [casting decisions] because they have no basis in reality," Heard added. "Only the fans actually made Aquaman and Aquaman 2 happen. I'm excited to get started next year."
There is a rumor that due to all the controversy that Amber Heard's role as Mera has been drastically reduced in Aquaman 2 and that another female actress and character will be featured in the sequel.
Another rumor also offers that Amber Heard is eyeing a Marvel role and wants to play Invisible Woman for the MCU's Fantastic Four.