DCEU fans aren't happy with Warner Bros. who disses the Ben Affleck Batman and the Henry Cavill Superman on National Superhero Day.
Tuesday saw Warner Bros. tweet happy National Superhero Day and included four images: The Gal Gadot Wonder Woman and the Jason Momoa Aquaman from the DCEU, but WB used the Michael Keaton Batman and the Christopher Reeve Superman.
"To the ones who inspire us to be larger than life and teach us that anything is possible, Happy #NationalSuperheroDay!" tweeted WB.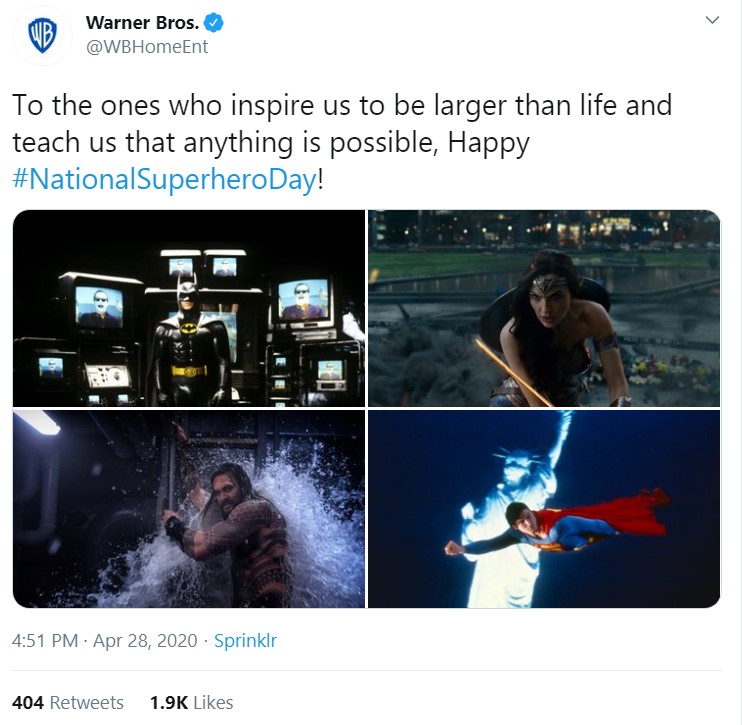 The fans, especially the Snyder Cut fans, immediately noticed the absence of both the Ben Affleck Batman and the Henry Cavill Superman; check out reactions below.
We do know that Ben Affleck left the Batman role, with Robert Pattinson taking over along with Matt Reeves.
Regarding Henry Cavill as Superman, Cavill did say that he is not giving up on the Superman role, but reportedly he did tell fans at Comic-Con last summer that he dropped out of the role to do The Witcher series for Netflix.
I was also told by DC insiders that J.J. Abrams is rebooting Superman.
DC fans react to no Ben Affleck Batman and Henry Cavill Superman for National Superhero Day:
If only you'd be heroes pic.twitter.com/J0ImKkZxFZ

— Pacino #ReleaseTheSnyderCut (@SnyderPacino) April 28, 2020
You could have been the hero instead you chose joss pic.twitter.com/Wps1BVwEh0

— Pacino #ReleaseTheSnyderCut (@SnyderPacino) April 28, 2020
Hahahaha nope. #ReleaseTheSnyderCut#ReleaseTheAyerCut pic.twitter.com/MZHzYsG0of

— ♣Alex♣ (@Alex5107) April 29, 2020
Great quote from Batman v Superman. Being inspired by a selfless hero who sacrificed his life for the world, it inspired Batman to become better.

As you said anything is possible. Need the sequel to see how the story continues from here#ReleaseTheSnyderCut of @justiceleaguewb pic.twitter.com/7AGx2y6ZNb

— ZSFAN_PARADEMON_No.33!!!#ReleaseTheSnyderCut (@Superfan2016) April 28, 2020
Wtf!!?! Reeves and Keaton???? Really WB?????#ReleaseTheSnyderCut

— #ReleaseTheSnyderCut (@gvalladare) April 28, 2020
Batfleck Forever ---- #ReleaseTheSnyderCut pic.twitter.com/WzfWiQ0rCj

— ---------------------------- ------ (@truthlovefaith) April 28, 2020
#NationalSuperheroDay #ReleaseTheSnyderCut

Batfleck forever pic.twitter.com/JdZ26ZANRY

— SFORZANTO2711 ~ RTSC (@SFORZANTO2711) April 28, 2020
They'd continue to inspire if you can resist yourself from ruining their movies. Understand what made these characters special to us in the first place and who achieved that for you. Let us relive the special moment we felt with the current DCEU Trinity again.#ReleaseTheSnyderCut pic.twitter.com/cjr9Pc48m2

— Nacitav Osimac #ReleaseTheSnyderCut (@NacitavO) April 28, 2020
#ReleaseTheSnyderCut pic.twitter.com/zsvfLamfCm

— Black Adam (@Teth_Adam_) April 28, 2020
We want this Superman @WBHomeEnt #ReleaseTheSnyderCut pic.twitter.com/lY3leMAJxb

— Davi_Wayne (@WayneHellblaz3r) April 28, 2020
#ReleaseTheSnyderCut of#ZackSnydersJusticeLeague
Please ------ @WarnerMedia @warnerbros @wbpictures pic.twitter.com/UzQIUbRtxF

— Ma(x)c (@MacPawarut) April 28, 2020
The DC Trinity #ReleaseTheSnyderCut of Justice League pic.twitter.com/KFeMaZ7Qux

— ---------------------------- ------ (@truthlovefaith) April 28, 2020
Cavil Superman #ReleaseTheSnyderCut pic.twitter.com/oaTL25l3F5

— Pedro Giuffra Ch. -------- #ReleaseTheSnyderCut (@loganpg) April 28, 2020
1. You have this Superman
2. But you posting this Superman
Yeah Reeve was good ---- but it was 40 years ago --
Sometimes need moves forward!!! Never heard about it ?!#ReleaseTheSnyderCut of #ZackSnydersJusticeLeague and give us a fresh view of Superman pic.twitter.com/Jdj9W60zOj

— Andrew Yaroslavcev (@AndrewYaroslav2) April 28, 2020
Ahem... as much as I loved Keaton & Reeve growing up, I think Affleck & Cavill are more suitable to accompany Gadot & Momoa.#ReleaseTheSnyderCut #ZackSnydersJusticeLeague@ATT @wbpictures @warnerbros @WarnerMedia @hbomax pic.twitter.com/lmeUjtEp0d

— Dario Jugovic #ReleaseTheSnyderCut (@JugovicDario) April 28, 2020