This past weekend saw Danai Gurira as Michonne leave The Walking Dead, with the scene making its way online.
Watch below, and spoilers follow.
The good news, at least, is that AMC decided not to kill off the fan-favorite Michonne as they tease more to come as Michonne continues her search for Rick.
It's known that Andrew Lincoln is supposed to star in his own movie surrounding The Walking Dead so it's safe to assume Danai Gurira and Michonne will be involved with the film.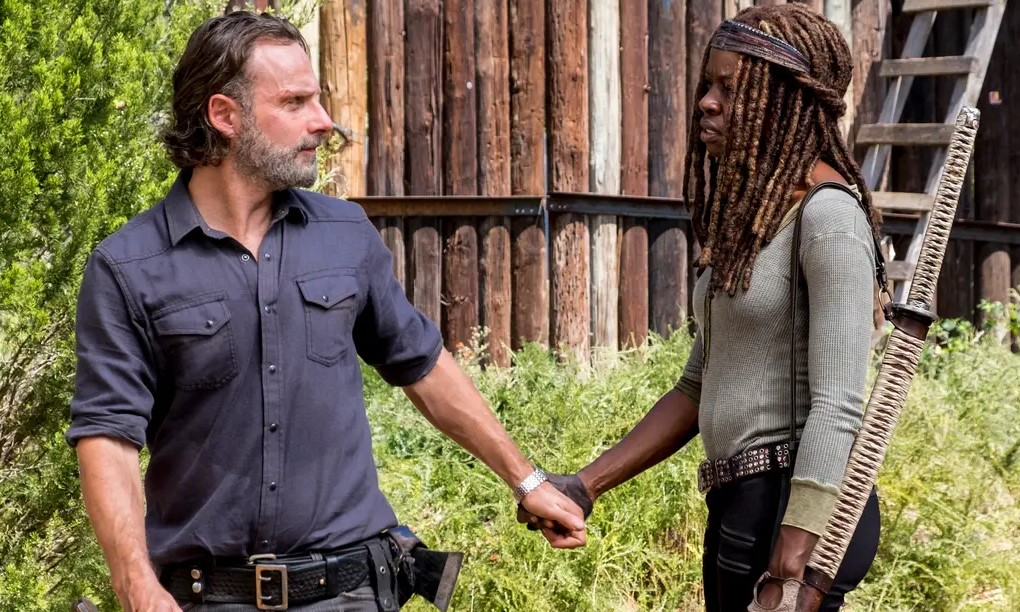 Michonne, Danai Gurira likely returning for The Walking Dead movie
Deadline caught up with Danai Gurira and showrunner Angela Kang who, while they can't say much, offer a bit of a tease:
DEADLINE: So, Danai, the way Michonne exits, in search of her love Rick Grimes, are you really gone from the world of TWD or just walking out of sight for awhile?

GURIRA: (LAUGHS) Well, you know I would never tell you yay or nay to that, but I think there is an open-endedness to how she exits. I will agree with you on that.

DEADLINE: Angela? Is there more Michonne to come with Rick on the big screen?

KANG: Certainly, that option is open there, and I really hope that they will reunite sometime. However, I think it's more of a question for Scott Gimple.
Gurira also filled in EW.com:
EW: And if you look ahead, it ends with Michonne on this mission to find Rick. Does that kind of confirm that you're going to be part of this Walking Dead movie with Andrew Lincoln?

GURIRA: [Laughs] I mean, we'll see how it goes, man. You know what I mean?

EW: That's all you're going to give me?

GURIRA: [Laughs] How many years have I been dipping and diving from your questions, man?
Scott Gimple was the previous showrunner on The Walking Dead who is now in charge of the overall brand as AMC announced Gimple is the new "Chief Content Officer, overseeing the entire Dead television universe, including The Walking Dead, Fear the Walking Dead, and potential brand extensions on a variety of platforms."
AMC also teased The Walking Dead movie starring Andrew Lincoln will get a theatrical release.
Danai Gurira first appeared in the first episode of Season 3, "Seed" back in 2012.
Danai Gurira (Michonne) leaves The Walking Dead final scene: