Sony Pictures, Tom Holland, and Mark Wahlberg have started filming in Germany on the new Uncharted movie, which adapts the popular video game franchise.
The 24-year-old actor known for playing Marvel's Spider-Man posted an update on his Instagram account which shows his cast chair with his character name: Nate.
"Day one," said Holland.
Tom Holland plays the young Nathan Drake, with the older version the focus of the Uncharted video games.
Mark Wahlberg also plays Victor Sullivan, with Wahlberg recently posting a video of himself working out, so Wahlberg should be in great shape for the movie.
Speaking of great shape, Holland also revealed that he extensively trained for the film as Holland posted updates on Instagram live which were captured by fans and includes a look at his new hairdo and buff bod.
Tom Holland, Mark Wahlberg now filming Uncharted: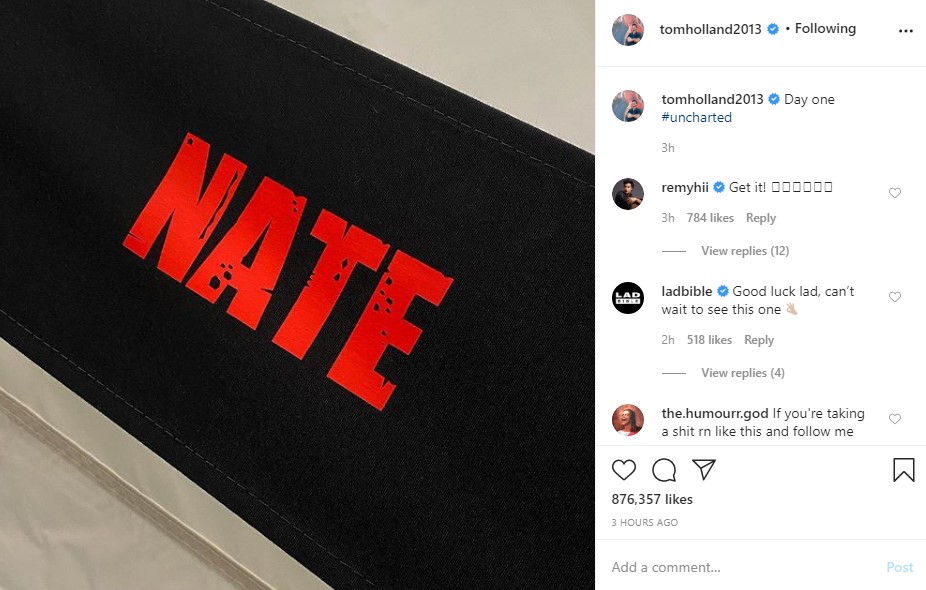 Spider-Man 3 to film after Uncharted
The film also stars Antonio Banderas in an unknown role, Tati Gabrielle plays Elena Fisher, and Sophia Ali is listed on IMDb as playing Chloe Frazer.
Uncharted is directed by Ruben Fleischer, who directed the first Venom movie for Sony, and gets released on July 16, 2021.
The film has Tom Holland playing the young Nathan Drake as "Nate" grows into becoming the treasure hunter everyone knows from the video games.
Mark Wahlberg plays the older Sully, described as an American treasure hunter, fortune seeker, and businessman, as well as a friend, mentor, and father figure to Drake.
The movie has also been described featuring a new story said to be inspired by Uncharted 3: Drake's Deception which focuses on the young thief Drake (Holland) and his first encounter with the professional rogue, Sullivan.
If you are wondering about the untitled Spider-Man 3, Tom Holland and Marvel will film following Uncharted; due to the coronavirus, the Spider-Man 3 release date got pushed back to Nov. 5, 2021.