I just finished binge-watching The Umbrella Academy on Netflix, and while I won't spoil things, the show is really great and comes highly recommended by yours truly. It's the best superhero comic book show currently on the streaming network!
I went into The Umbrella Academy not know really anything about it. I didn't even watch any of the trailers, and all I really knew was that it starred Ellen Page of X-Men and Super fame, in addition to it being a comic book published by Dark Horse.
What I treat I was in for!
If you haven't watched The Umbrella Academy or are familiar with the comic, I suggest you stop reading this and start watching the series ASAP. I think it's all the better if you go in not knowing what to expect — and definitely don't read up on any wiki articles or the comics. I was actually looking forward to reading some of the comics, but then SPOILER happened. Guess I'll have to keep waiting.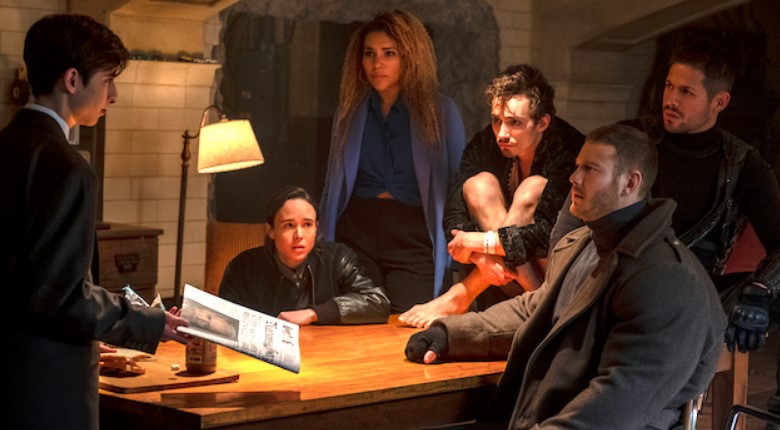 Again, without spoiling anything, the series revolves around orphans who are granted superpowers and raised by an eccentric billionaire. The Umbrella Academy is cosmic in nature, it's a science-fiction superhero tale, there is all that family drama and laughter that you would expect, but with many, many, many twists and turns. There is also lots of action, the special effects are done really well and the story is stellar. The show also has a supreme soundtrack!
The acting is also top-notch, with Robert Sheehan (Misfits) being a standout as Klaus. Actually, they are all good including Tom Hopper (Percival from Merlin) as Luther, who would make a great Captain America; Emmy Raver-Lampman as Allison, whose powers you don't even want to hear about; David Castañeda made an awesome Diego, and I am looking forward to seeing more from him in other stuff (Sicario: Day of the Soldado);15-year-old Aidan Gallagher from various Nickelodeon series was a riot as Number Five, and Ellen Page, of course, was great as Vanya.
The supporting cast was just as good. I knew the actor playing Sir Reginald Hargreeves looked really familiar, but I couldn't quite recognize him; it's Colm Feore, known for a plethora of movies and TV shows! Cha-Cha and Hazel, played by Mary J. Blige and Minhunter's Cameron Britton, respectively, were great and could star in a spinoff show of their own. Adam Godley, who is also known for lots of various shows plays Pogo who comes off as a very heartfelt character; Jordan Claire Robbins plays Grace / Mother and John Magaro also plays Leonard Peabody, each playing their respective roles to a tee; Justin H. Min's Ben also lends a helping hand or two, and it will be interesting to see what becomes of him in Season 2.
Speaking of Season 2, Netflix better get their behinds moving and get the second season into production fast. The wait for The Umbrella Academy is nearly unbearable and I don't want to have it spoiled by reading the comics. Again, I haven't read the comics and they could very well be better than the show, but the show came off for me as being extra ordinary, so I can't wait for the next season. Watch it!