Now on Disney Plus, the Ugly Sonic returns in the new Chip N Dale: Rescue Rangers movie, and of course the internet is on fire about it.
Back when the first Sonic the Hedgehog movie was being released, the first look at the visual effects of Sonic caused a firestorm on social media as fans absolutely despised the design.
The backlash was so strong that the Sonic was redesigned into the cool look we now have today, though there is some question if it was all on purpose as part of a brilliant marketing strategy.
Regardless, the Ugly Sonic is back where he actually plays himself, so it is definitely intentional that they used him in the Chip N Dale: Rescue Rangers movie where Ugly Sonic is basically a parody of himself.
Watch the footage below and check out reactions from Twitter where the Ugly Sonic has a booth at a comic book convention where he makes fun of himself and comes off as a burned-out celebrity that is the butt of jokes and who fans make fun of, and yep, they even make fun of his human-looking teeth.
Tim Robinson, known for Saturday Night Live, Star Trek: Lower Decks, Our Cartoon President, and more, provides the voice for Ugly Sonic.
While it is a bit cringe (especially if you are a hardcore fan of the character, games, and movies), you have to admit, it does come off as really funny.
Chip N Dale: Rescue Rangers is directed by Akiva Schaffer and features John Mulaney as the voice of Chip with Andy Samberg as the voice of Dale.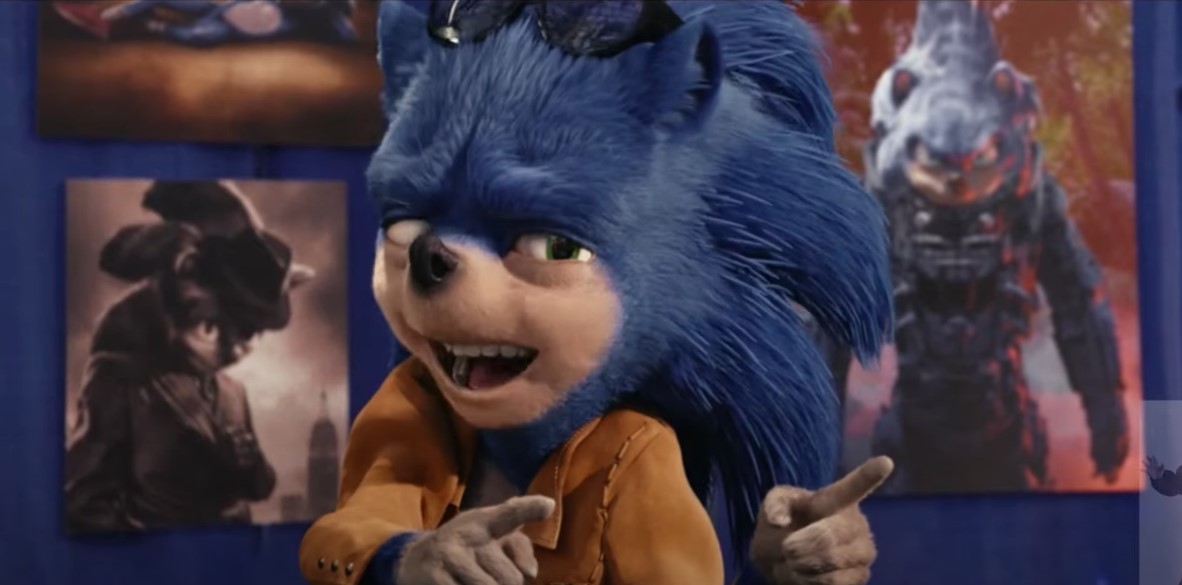 Ugly Sonic footage:
Ugly Sonic reactions:
UGLY SONIC IS BACK!!! pic.twitter.com/gZiX8zHPTq

— Sam Procrastinates (@SamsProStation) May 20, 2022
I'M DYING LMAO!!! pic.twitter.com/sQTCeLAkc0

— Sam Procrastinates (@SamsProStation) May 20, 2022
CAN I JUST ADMIT : the Ugly Sonic in Chip and Dale Movie makes 2019 DESIGN LOOK MORE TOLERABLE IN COMPARISON

— SonicHacki (@SonicHacki) May 20, 2022
I'm telling you guys, Sonic can't fail, even when the franchise has done something monumentally stupid it'll be the source for comedy and parody for decades to come! Ugly Sonic is the Sonic series' next big superstar. This is only the start. https://t.co/iQiq98321d

— Ti "Stardust", Unprofessional Conversationalist™️ (@RefreshingStars) May 20, 2022
The irony of Ugly Sonic's appearance in Chip N Dale Rescue Rangers is the fact that he had his own booth at a comic convention.
As for today, I'll be off cosplaying as Dr Robotnik at MegaCon Orlando.

If I see that rachet blue rodent in person, I'll beat his ugly looking teeth.– https://t.co/Pnh47z8Cd2 pic.twitter.com/HXJkJNtqhX

— Woody and Daffy Duck (Daniel) (@DaffyWoody) May 20, 2022
Ugly Sonic… my beloved has returned! — pic.twitter.com/f9HCP8vMGJ

— SpeedSuperSonic (@RicFromSSS) May 20, 2022
The time is fulfilled, and the kingdom of Ugly Sonic is at hand; repent and believe in the gospel https://t.co/kW6jlPTBFi

— ViewerAnon (@ViewerAnon) May 20, 2022
Gonna be fr.
I originally do not give two shits about hearing that an "ugly Sonic" scene was in this movie.

But this thing like no joke, made me cringe the hardest I've ever cringed at something in ages. https://t.co/bkS8iA95l3

— CraftyAD360 (@CraftyAD360) May 20, 2022
I wouldn't get too mad at Disney for bring back ugly sonic , they made us one of the greatest sonic models we've ever seen pic.twitter.com/mop9z3G3s4

— Andres Lopez (@AndresL_1997) May 20, 2022
Oh my god they actually did it.
How are we in a timeline where we got a redesigned Sonic for the Sonic Movies after massive backlash but also got the same ugly Sonic fans hated in a Chip and Dale Movie on Disney+!? pic.twitter.com/WEdPT1kVpl

— Jacob  (@Mega_Mii51) May 20, 2022