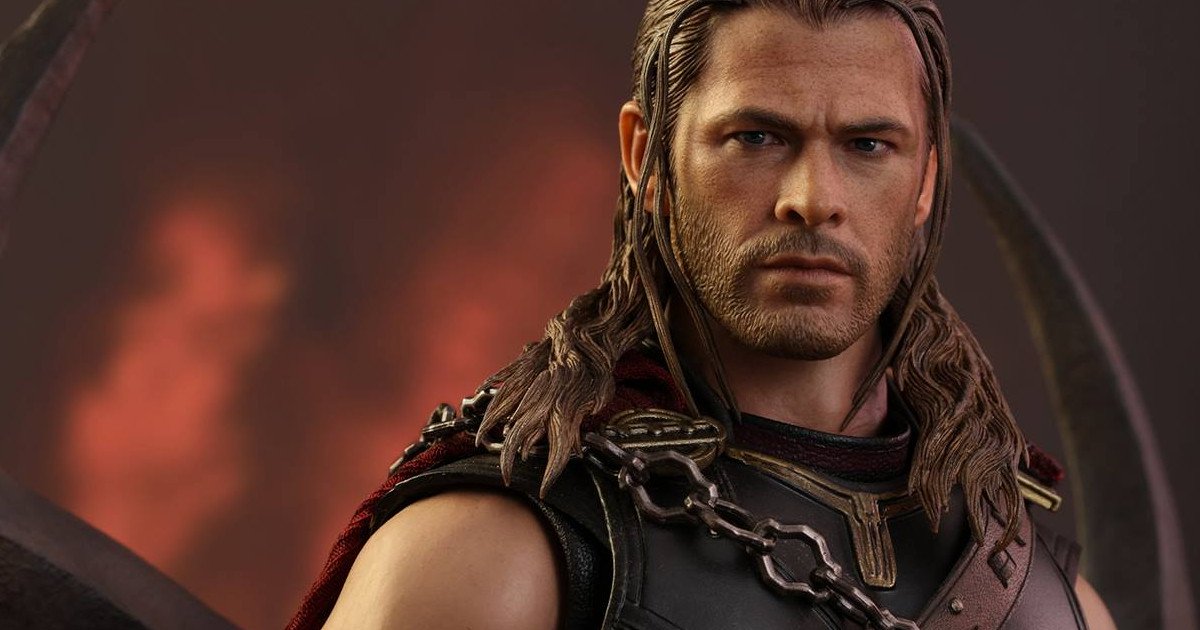 In addition to the reveal of Gladiator Hulk, Hot Toys has unleashed a look at the new Chris Hemsworth Thor figure for Thor: Ragnarok, which comes with Surtur's skull!
Hot Toys is pleased to present the new 1/6th scale Roadworn Thor collectible figure as an Exclusive item only available in selected markets.

The figure captured impressive likenesses of Thor portrayed by Chris Hemsworth in Thor: Ragnarok featuring a newly painted head sculpt, an intricately tailored new armor, a metal Mjolnir, a blue-colored LED light-up Mjolnir with lightning effect accessory that can be attached to the weapon, and a Thor: Ragnarok themed figure stand.

Additionally, the most distinctive feature of this collectible figure is the Surtur's skull that can be magnetically attached to the back of the figure along with a metal chain!
Thor: Raganarok has a November 3, 2017 release directed by Taika Waititi starring Chris Hemsworth as Thor, Mark Ruffalo as Hulk/Banner, Tom Hiddleston as Loki, Idris Elba as Heimdall, Cate Blanchett as Hela, Tessa Thompson as Valkyrie, Jeff Goldblum as Grandmaster, Anthony Hopkins as Odin and Sam Neill in an unknown role.
Synopsis:
Thor's world is about to explode in Marvel's Thor: Ragnarok. His devious brother, Loki, has taken over Asgard, the powerful Hela has emerged to steal the throne for herself and Thor is imprisoned on the other side of the universe. To escape captivity and save his home from imminent destruction, Thor must first win a deadly alien contest by defeating his former ally and fellow Avengers… The Incredible Hulk!