Check out a first look at Christian Bale on the set of Thor: Love and Thunder as Gorr The God Butcher, the villain of the flick.
Set pics from Malibu, California, in what looks to be added photography and/or reshoots, have hit the net offering a look at Christian Bale in full costume wearing a silver costume that includes a full face prosthetic where we can guess CGI will finish the look of the character.
The pics show the crew attempting to keep Christian Bale covered by using a black robe, but the actor is then fully revealed which includes that Bale is completely covered in silver.
Christian Bale seen for FIRST TIME in character as villainous Gorr The God Butcher in Thor: Love and Thunder https://t.co/pvIzKqFftX

— Daily Mail Celebrity (@DailyMailCeleb) August 4, 2021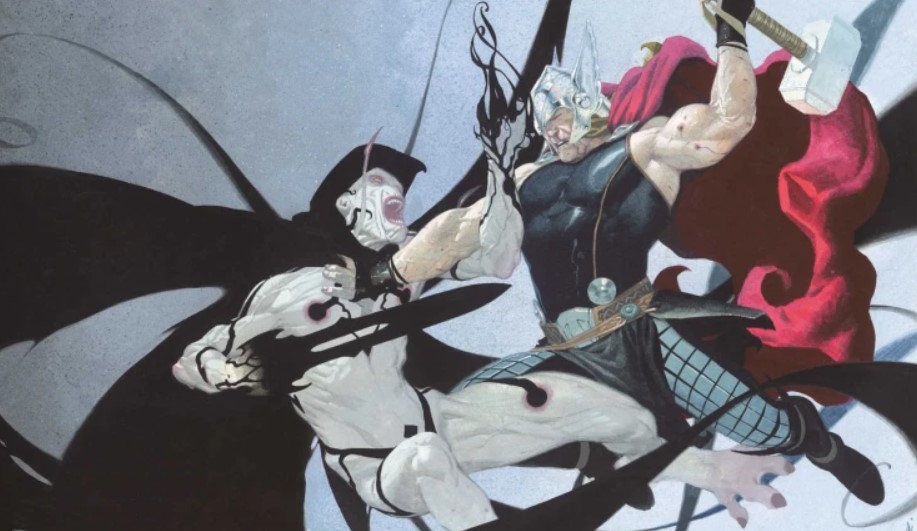 Gorr The God Butcher hunts Thor, the gods
In the comics, Gorr The God Butcher is an alien who lost everything around him and blames the gods for his misfortune. When he comes upon a dying god who he fought in battle, Gorr takes the god's sword, the All-Black the Necrosword, and kills the god, and continues to hunt gods across the universe which led to confrontations with Thor.
Additional set pics from when Thor: Love and Thunder filmed in Australia have also shown off Chris Hemsworth, Chris Pratt who returns as Star-Lord, and Natalie Portman who will be featured as the Jane Foster female version of Thor.
Chris Hemsworth and Chris Pratt are seen in full costume for the first time on the set of Thor: Love and Thunder https://t.co/h5rVUyPret

— Daily Mail Online (@MailOnline) February 1, 2021
Thor: Love and Thunder FIRST LOOK: Natalie Portman transforms into Chris Hemsworth's Norse god character during filming in Sydney… with a little help of movie magic https://t.co/cjqDMEVpv2

— Daily Mail Online (@MailOnline) March 6, 2021
Thor: Love and Thunder has a May 6, 2022 release date directed by Taika Waititi who also returns to voice Korg, and the flick also stars Tessa Thompson as Valkyrie, Karen Gillan as Nebula, Sean Gunn as Kraglin, Russell Crowe as Zeus, Jaimie Alexander as Sif, Matt Damon, Sam Neil, Luke Hemsworth, and Melissa McCarthy.
(via Daily Mail)