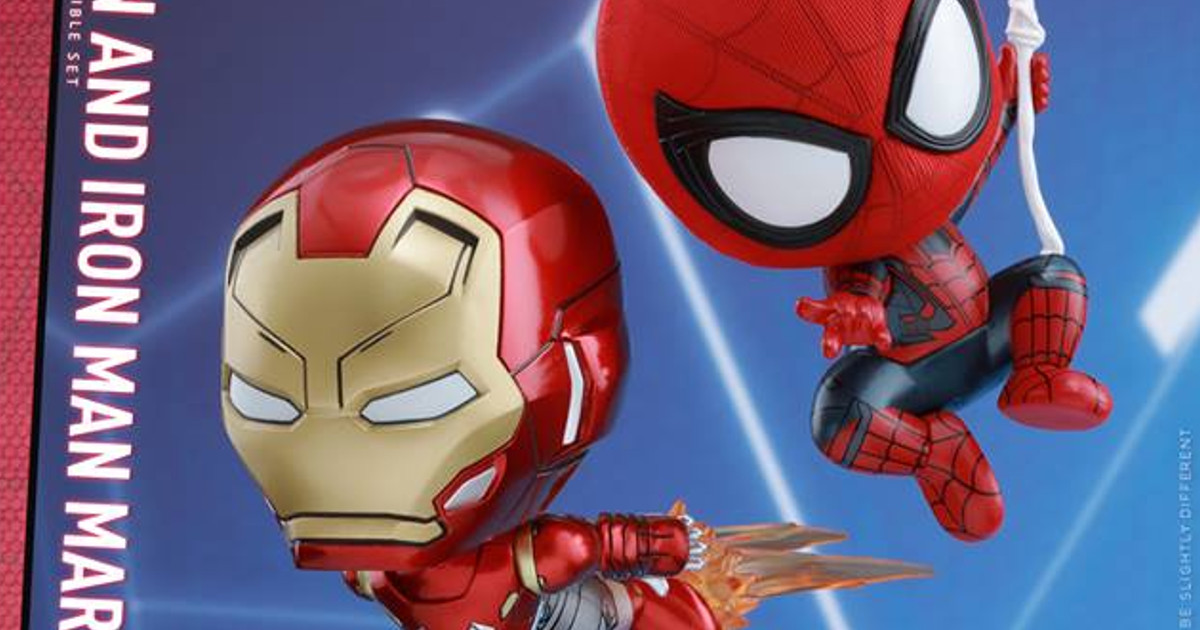 Hot Toys revealed their Spider-Man: Homecoming Cosbaby figures which includes Spider-Man, the homemade Spider-Man costume figure, Tony Stark, Iron Man and Vulture.
Designed with additional magnetic feature, fans can display their Spider-Man Cosbaby in unique styles. Spider-Man and Iron Man Mark XLVII Collectible Set will include the iconic Spider-Man hanging on the spider-web with a flying Iron Man Mark XLVII.

Fans will be astonished by the set of 3 "Spider-Man Cosbaby (S) Bobble-Head Collectible Set" with Spider-Man in signature squatting pose, flying pose and the classic crawling pose respectively. All of the above Spider-Man Cosbabies come with the new magnetic feature.

Another highlight of the series is the "Spider-Man: Homecoming Cosbaby Bobble-Head Collectible Set" featuring Spider-Man in his homemade suit, cool-headed Tony Stark with his kitty shirt as well as Peter Parker carrying his Spider-Man face mask. If you look careful enough, the set also includes a mini flying Iron Man Mark XLVII.

Last but not least, of course if you are a Cosbaby full-set collector, you wouldn't want to miss the "Spider-Man, Iron Man Mark XLVII, Vulture Collectible Set". Bundling Spider-Man upside-down dangling pose, Iron Man signature flying move and the villainous Vulture floating in mid-air.

Each Cosbaby in this series stands approximately 7-10 cm tall with bobble head function!!
"Spider-Man: Homecoming" has a July 7, 2017 release directed by Jon Watts starring Tom Holland, Zendaya, Michael Keaton, Donald Glover, Jacob Batalon, Laura Harrier, Tony Revolori, Tyne Daly, Bokeem Woodbine, with Marisa Tomei, and Robert Downey Jr.
Synopsis:
A young Peter Parker/Spider-Man (Tom Holland), who made his sensational debut in Captain America: Civil War, begins to navigate his newfound identity as the web-slinging super hero in Spider-Man: Homecoming. Thrilled by his experience with the Avengers, Peter returns home, where he lives with his Aunt May (Marisa Tomei), under the watchful eye of his new mentor Tony Stark (Robert Downey, Jr.). Peter tries to fall back into his normal daily routine – distracted by thoughts of proving himself to be more than just your friendly neighborhood Spider-Man – but when the Vulture (Michael Keaton) emerges as a new villain, everything that Peter holds most important will be threatened.