Will the real MJ please stand up?!
Instead of the iconic red-haired Mary Jane Watson from comics created by Stan Lee and John Romita Sr., Kevin Feige, for some reason, decided to go with Michelle Jones, "MJ," played by Zendaya in the MCU Spider-Man movies.
Following the realization that Zendaya was indeed MJ, there was a lot of fan backlash which saw Feige speak out and say that Zenadya wasn't actually playing Mary Jane:
In setting up this will be a very different thing, she's not Mary Jane Watson, that's not who the character is. But giving her the initials that remind you of that dynamic certainly is intriguing about what could go forward.

We never even looked at it as a big reveal necessarily but more of just a fun homage to his past adventures and his past love. She's not Mary Jane Watson. She never was Mary Jane Watson. She was always this new high school character, Michelle…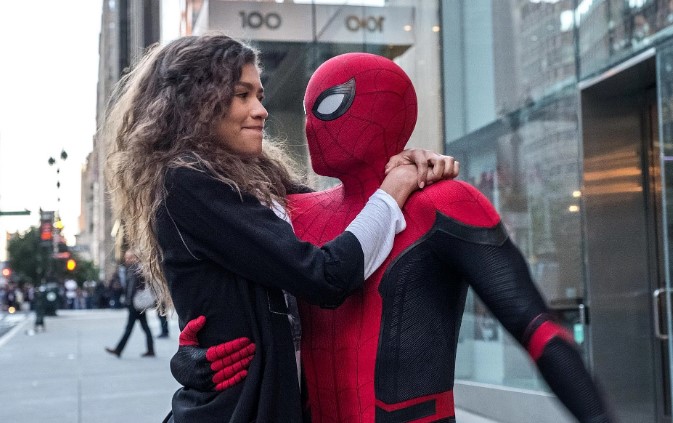 Zendaya officially not Mary Jane Watson
So with Zendaya officially not Mary Jane Watson, does that mean the real MJ could actually be introduced in the MCU? Well, that's what seems to be implied by a photographer out of Atlanta who is known for photographing the MCU movies and TV shows.
Atlanta Filming posted the following photo from a Spider-Man: Homecoming deleted scene which shows Spider-Man swinging with a red-haired girl. The context of the scene sees Spider-Man in Germany for Captain America: Civil War where Spidey goes out to swing around Berlin and comes across a party where he takes the girl for a ride.
The photographer says to remember this photo and that it's significant in relation to something that comes out next year, which sounds like Spider-Man 3 that gets released in 2021.
You can watch the scene unfold in the 4:14 mark in the below video featuring all the Homecoming deleted scenes.
Whether the tease actually means Mary Jane Watson for Spider-Man 3 is unknown, but if that is the case, it's curious to see how Feige will deal with two "MJs" in the MCU.
The untitled Spider-Man 3 has a Dec. 17, 2021 release date directed by Jon Watts.
Photographer says to remember the "significant" scene:
Spider-Man: Homecoming deleted scenes: