Shrek is now going viral and trending on Twitter due to not only the release of Marvel's She-Hulk trailer for the Disney Plus streaming service, but "coincidentally," today also happens to be the 21-year anniversary of the first film.
Presently as part of Twitter's trending "What's happening" feature, there are over 25k tweets about Shrek as well as over 20k tweets about Disney Plus, as the tweets are referencing the questionable CGI in Marvel's She-Hulk trailer which features actress Tatiana Maslany as Jennifer Walters, the cousin of Mark Ruffalo's Bruce Banner, who becomes She-Hulk, as well as the anniversary of the release of the animated movie from 2001.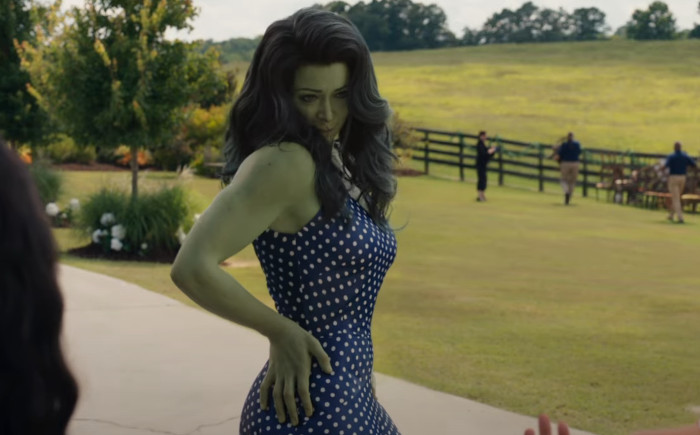 Marvel fans think She-Hulk looks like Shrek
In regards to She-Hulk, Shrek happens to feature the titular character as a green ogre (voiced by Mike Myers) with Princess Fiona (voiced by Cameron Diaz) who becomes a green ogre and who happens to resemble She-Hulk, according to most Marvel fans.
Those fans have been posting images of Shrek, Princess Fiona, and She-Hulk and questioning why the CGI looks so bad, with some MCU fans coming to the show's defense offering there is still time to fix the visual effects before the series premiers on Disney Plus in August.
Fans offer She-Hulk is Shrek 5.
Rumors from the trades have offered She-Hulk is "stupid" and a "mess," which is something easily proven by watching the trailer, which can be viewed below followed by Twitter reactions.
She-Hulk: Attorney at Law​ premiers on August 17 on Disney+ consisting of nine episodes and follows Jennifer Walters as she navigates the complicated life of a single, 30-something attorney who also happens to be a green 6-foot-7-inch superpowered hulk.
She-Hulk trailer:
Shrek and She-Hulk Twitter reactions:
'CGI' is trending because of the #SheHulk trailer

"We went from Thanos-level CGI to this? –" pic.twitter.com/hCQAoVupR0

— Culture Crave — (@CultureCrave) May 18, 2022
Always tried to be positive with the cgi but this one is seriously bad, it looks like it's from a 2000s animated movie or a video game.

As people day, Fiona from Shrek — https://t.co/2arFjBer0p

— Majin Isy (@MajinIsy) May 18, 2022
Shrek 5 coming along nicely https://t.co/ZqwfRsZVvD

— — ℝ——– —— ℝ——– — (@quasar2967) May 18, 2022
cant believe they made a shrek spinoff to fit in the MCU pic.twitter.com/0LLFv1KhLj

— Owl Enjoyer — (@FreyaSenshi) May 17, 2022
Even Fiona from Shrek has bigger calves. https://t.co/H5XTYPnUU4

— The Real Don DaDa (@gabby_donz) May 18, 2022
Shrek 5 coming soon. https://t.co/ccXGNJYbx7

— Adam Birney (@Adam_had_em) May 17, 2022
she-hulk seeing people say her cgi looks like a live action background character from shrek pic.twitter.com/g3tb5NFxBf

— wiLL (@willfulchaos) May 18, 2022
"She-Hulk looks like a Shrek animation" pic.twitter.com/3XrP6r3y50

— Di. (@HailEternal) May 18, 2022
the VFX are shrek 1 quality https://t.co/TNpiMglT9V

— ModernGurlz (@ModernGurlzz) May 17, 2022
Shrek 2 (2004) pic.twitter.com/hb0q2S8zts

— my chemical joe-mance (@goulcher) May 18, 2022
Like I know Hulk and She Hulk have always had that "MMO Gender variants" problem but in action it looks kinda like someone shrek'd up a snapchat Na'vi filter

— Kelly Turnbull (@Coelasquid) May 17, 2022
"SHE HULK TRAILER BAD!"

They forgot to make her smoking hot. She comes off like Shrek's wife on a diet.https://t.co/6KZBm2pKw3

— MALIN- Flat Earth runs it! (@JonMalin) May 17, 2022
Am I the only one who thinks this CGI of Jennifer is complete ass. I thought I saw Fiona from Shrek with green hair. #SheHulk

— Emerald Richardson (@okay_emerald) May 17, 2022
Idc if the She hulk cgi looks like a live action background character from shrek. That's mother pic.twitter.com/IiebxrpHUw

— partna ˣ (@onIychloexhalle) May 17, 2022
SHE HULK é o SHREK LIVE ACTION

●A THREAD pic.twitter.com/pmAcq3iIeO

— Thay || (@somebodyinshit) May 17, 2022
do you think disney intentionally released the she-hulk trailer on the anniversary of shrek's release https://t.co/XOQZn7M9S3

— belle (@cgichipmunk) May 18, 2022
Live action Shrek looks cool #SheHulk pic.twitter.com/aMyZFvem5g

— Puggapillar (@puggapillar) May 17, 2022