Following the epic conclusion to Crisis On Infinite Earths, trailers for the upcoming DC shows have been released including Arrow, The Flash, Batwoman, Supergirl, Legends of Tomorrow, Black Lightning, and the new DC Universe series Stargirl, which will also air on The CW.
Crisis On Infinite Earths also happened to feature a cool DCEU connection and reboots the Arrowverse.
Watch below.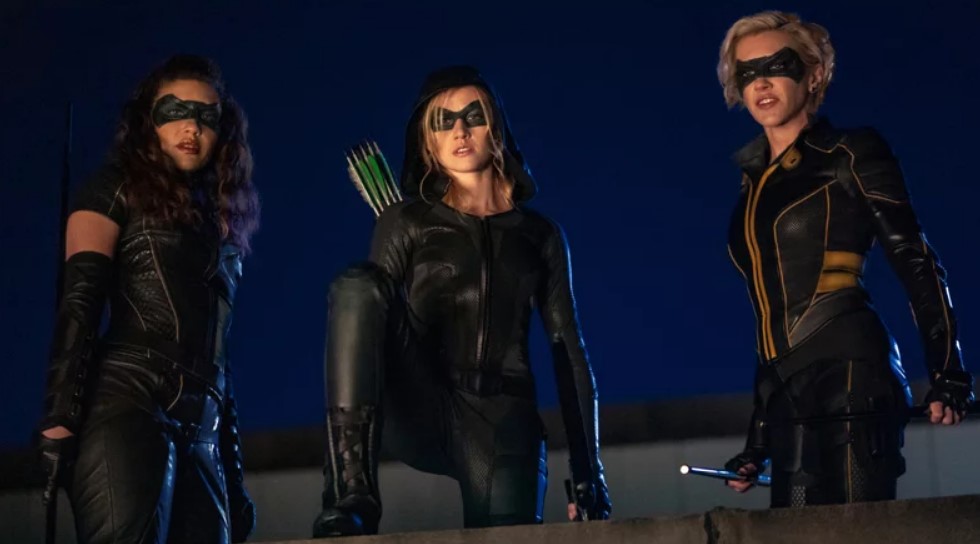 Arrow 8×09 "Green Arrow & The Canaries" trailer:
Arrow Season 8 Episode 9 "Green Arrow & The Canaries" airs January 28th on The CW.
The Flash 6×10 "Marathon" trailer:
The Flash Season 6 Episode 10 "Marathon" airs February 4th on The CW.
Batwoman 1×10 "How Queer Everything is Today!" trailer:
AFTERMATH – While Gotham busies itself reacting to Batwoman's (Ruby Rose) awkward encounter, Alice (Rachel Skarsten) celebrates her ultimate act of vengeance with Mouse (guest star Sam Littlefield). A devastated Mary (Nicole Kang) focuses on Jacob Kane's (Dougray Scott) trial, while Sophie (Meagan Tandy) seeks advice about her love life from someone unexpected. As they tackle the newest threat to Gotham, Luke (Camrus Johnson) prioritizes protecting Batwoman's secret, and Kate must decide what she is willing to do to honor Batwoman's identity…and her own. Jeff Hunt directed the episode written by Caroline Dries (#110). Original airdate 1/19/2020.
Supergirl 5×10 "The Bottle Episode" trailer:
MEAGHAN RATH GUEST STARS – The subsequent complications from the Crisis leave Supergirl (Melissa Benoist) to face a chaotic threat. Tawnia McKiernan directed the episode with story by Derek Simon and teleplay by Nicki Holcomb & Jen Troy (#510). Original airdate 1/19/2020.
DC's Legends of Tomorrow Season 5 Trailer:
After defeating the demon Mallus by cuddling him to death with a giant stuffed animal named Beebo, the Legends are ready to ease off the gas. Sara (Caity Lotz) and her team join Ava Sharpe (Jes Macallan) and the Time Bureau to help clean up the last few remaining anachronisms. The job seems straightforward enough until Constantine (Matt Ryan) arrives to inform them that, in solving one major problem, they have created another, much larger one. When the Legends let time crumble in order to release and defeat Mallus, the barrier between worlds softened. History is now infected with "Fugitives" – magical creatures from myths, fairytales, and legends. Having been expelled throughout time by people like Constantine, these Fugitives are now returning to our world in droves and making a real mess of things. As the Time Bureau is distrustful of and ill-equipped to deal with magic, the Legends must team up with everyone's favorite demonologist to set history back on track. Sara and Constantine are joined by compassionate inventor Ray Palmer (Brandon Routh), hotheaded ex-con Mick Rory (Dominic Purcell), rebellious totem-bearer Zari (Tala Ashe), and heartbroken historian-turned-superhero Nate (Nick Zano) as they set out to save the world – and their legacy. It's the familiar fun of the Legends time-travelling across historical events and encountering famous figures with an added shot of magical craziness! Based on the characters from DC, DC'S LEGENDS OF TOMORROW is from Bonanza Productions Inc. in association with Berlanti Productions and Warner Bros. Television, with executive producers Greg Berlanti ("Arrow," "The Flash," "Supergirl"), Phil Klemmer ("The Tomorrow People," "Chuck") and Sarah Schechter ("Arrow," "The Flash").
Black Lightning 3×10 "The Book of Markovia: Chapter One: Blessings and Curses Reborn" trailer:
LYNN'S TROUBLES BEGIN TO INTENSIFY – Jefferson (Cress Williams) navigates his new reality following the events of the Red Wave, and Lynn's (Christine Adams) determination to save the meta kids deepens her troubles. Meanwhile, Anissa/Blackbird (Nafessa Williams,) faces new challenges. Lastly, Jennifer's (China Anne McClain) bond with Brandon (guest star Jahking Guillory) begins to grow. James Remar, Damon Gupton, Marvin Jones III and Jordan Calloway also star. Tasha Smith directed the episode written by Lamont Magee (#310). Original airdate 1/20/2020.
Stargirl (The CW) "Destiny" trailer:
Stargirl premieres Spring 2020 on DC Universe and The CW. Stargirl follows high school sophomore Courtney Whitmore (Brec Bassinger), as she inspires an unlikely group of young heroes to stop the villains of the past. This new drama reimagines Stargirl and the very first superhero team, the Justice Society of America, in an unpredictable series.