It's learned that Marvel demanded the She-Hulk CGI to be made smaller, which follows the release of the new trailer and all the backlash the design has received with fans comparing it to the likes of Shrek.
A Twitter user who is an animation and comic artist and voice actress tweeted "When that the character creator doesn't let you make buff women," and included a screenshot of the trailer of She-Hulk side-by-side with her cousin, the Hulk.
Another Twitter user who worked on the VFX for Moon Knight and Infinity War chimed in that Marvel apparently said to keep making She-Hulk smaller than what the artists were designing with a comparison to the Ugly Sonic design.
"I was at a company that did VFX for this. Apparently, she was bigger early on, but the notes kept saying to 'make her smaller,'" claims the Twitter user. "We always roll our eyes (like we did on Sonic) but at the end of the day artists gotta follow orders."
The animation and comic artist replied back, "Yeah, that's what I expected. People should listen more to their artists."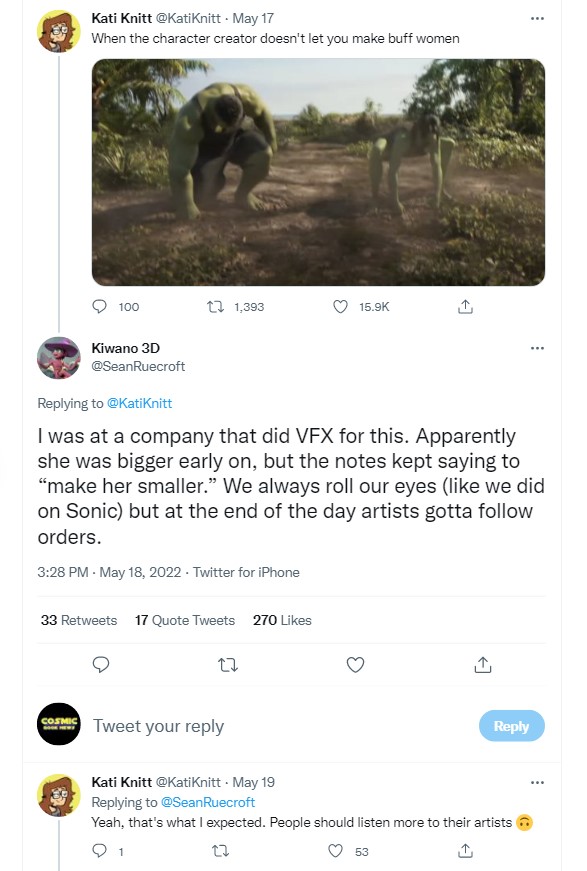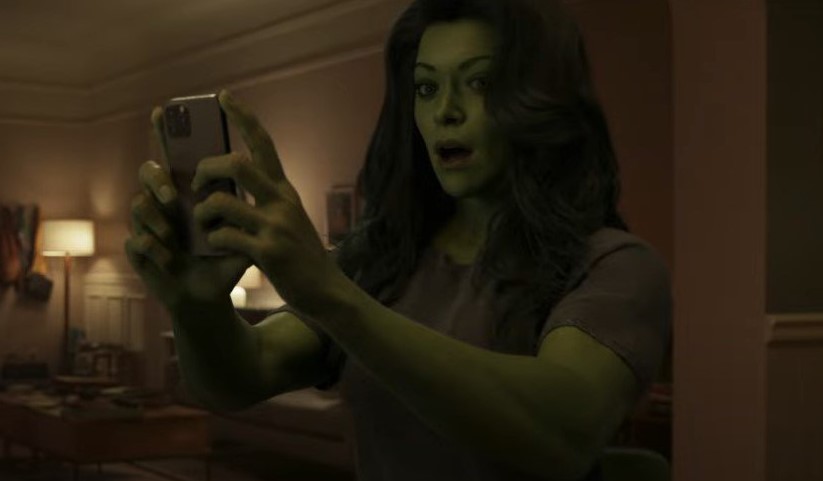 She-Hulk CGI is unforgivably atrocious
Regarding the reactions, of which there are thousands and thousands on social media and Twitter, a good point is brought up by a lot of fans who questioned why the CGI for She-Hulk is so bad while previous visual effects have been so good with comparisons to Marvel's previous work on Thanos, and even from years ago with Lucasfilm and Yoda.
I agree and think the CGI is unforgivably atrocious and I am completely embarrassed for Kevin Feige and Marvel as there is no excuse this should look as bad as it does in this day and age. I mean, The CW has better special effects. Wow. The people at Marvel are no dummies, yet they released the trailer as is, which says it all in regards to how highly they think of the fans.
At least the artists agree with the fans and realize the design of She-Hulk is atrocious (can you imagine this being a part of your portfolio?), but per above, it comes down to the bosses in charge. Good job, Kev.
The series starts streaming on August 17 on Disney+.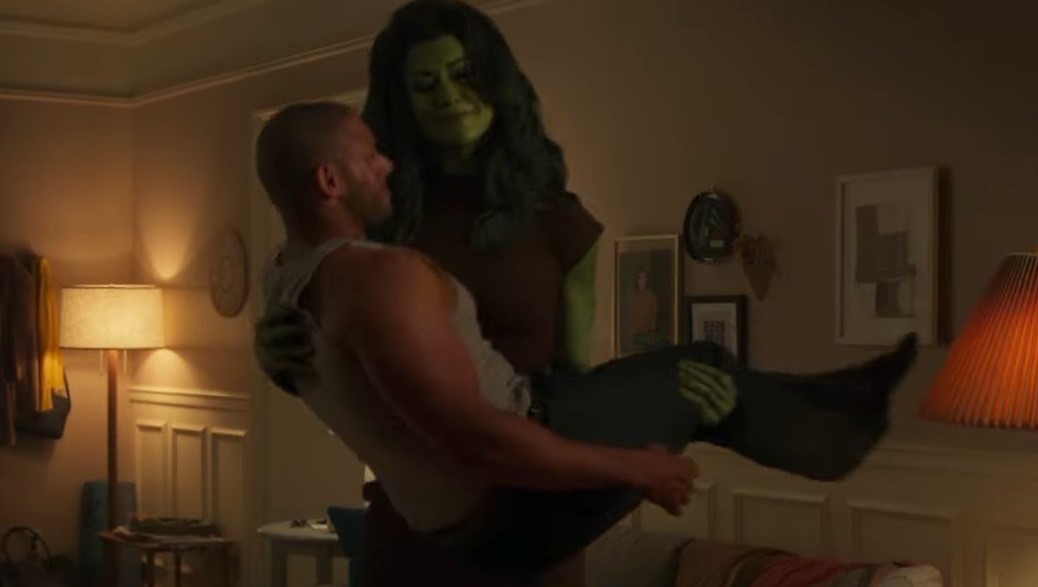 She-Hulk: Attorney at Law trailer and synopsis:
She-Hulk: Attorney at Law follows Jennifer Walters as she navigates the complicated life of a single, 30-something attorney who also happens to be a green 6-foot-7-inch superpowered hulk. The nine-episode series welcomes a host of MCU vets, including Mark Ruffalo as Smart Hulk, Tim Roth as Emil Blonsky/the Abomination, and Benedict Wong as Wong. The cast also includes Ginger Gonzaga, Josh Segarra, Jameela Jamil, Jon Bass and Renée Elise Goldsberry.
Directed by Kat Coiro (Episodes 1, 2, 3, 4, 8, 9) and Anu Valia (Episodes 5, 6, 7) with Jessica Gao as head writer, the series is executive produced by Kevin Feige, Louis D'Esposito, Victoria Alonso, Brad Winderbaum, Kat Coiro, and Jessica Gao. Co-executive producers are Wendy Jacobson and Jennifer Booth.